Photo: Elle Monroe
Snapchat was the app a generation was waiting for. By 2011 – the year the service launched – the narrative around social media was essentially: be wary. Every word, image and video you post online is stored in some distant subterranean server complex. Future employers might scout you out and spot that photo of you doing Buckfast eye shots. Your mum might google your name and find years-old tweets where you call her a "raging turbo dickhead" and plead for the sweet release of adoption.
In the Sharing Age, the thinking went, you'll never escape your past.
Snapchat did away with that worry: every message you send is deleted from the company's servers as soon as it's read or has expired, meaning you can post whatever you want in relative peace. This, unsurprisingly, led to people posting photos of themselves not wearing any clothes, because give ten people an arena to get their junk out and at least a quarter definitely will.
Snapchat announced a ban on "risque images" in its Discover area earlier this year, following complaints from parents, and the company advises users not to "distribute sexually explicit content" on public Stories. But private Stories and snaps are another matter; in fact, an entire cottage industry has emerged in which young women use the service to distribute sexually explicit content on a pay-per-view basis.
I happened to meet one of these young women when I first moved to London a couple of years ago. I didn't know it when I met her, but after following her on Snapchat it became fairly clear, i.e. she started posting photos of her boobs – not "sexy night-out selfies", just full on tit-pics – and details of how to access "premium shows", which were teased with safe-for-work clips.
My initial thoughts, as a Business Studies student, were that this girl, @StaceyCarlaa, was a low-key genius. It's £20 to enter the show, and a virtual guest list with the names blacked out showed 15 people had been watching the one I was locked into. If Stacey holds two shows a week, with at least 15 people paying £20 a head, that's £600 for a couple of hours of work.
So the money's good, but after avidly following Stacey and noticing a boyfriend disappearing from her Stories, I wondered if her chosen line of work had affected any other parts of her life. "It's caused tension between myself and some of my family," said Stacey when I asked. "My mum has been so supportive, though."
---
WATCH: The Digital Love Industry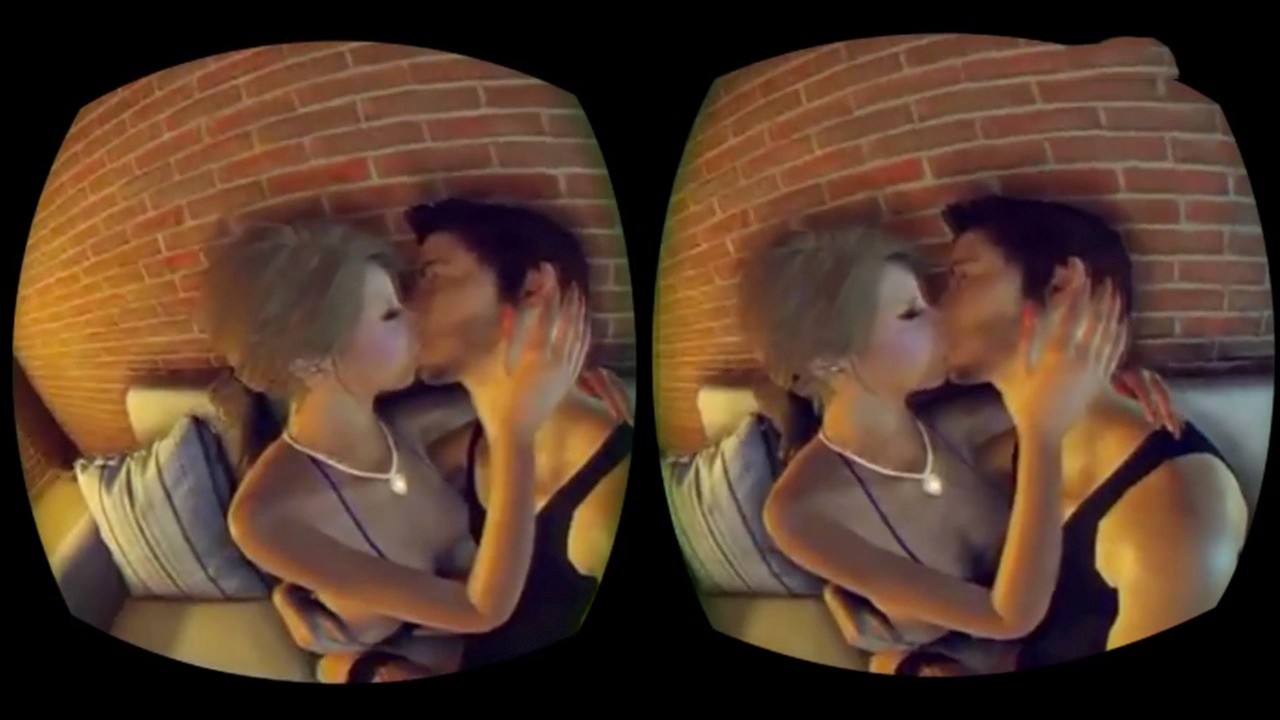 ---
Getting naked online is nothing new. Ever since webcams became available to consumers, those same consumers have been using them to broadcast images of their gemitals, whether for profit or pleasure. For many, the introduction to this concept was the – in retrospect, fairly problematic – American Pie scene in which lead character Jim tries to surreptitiously stream himself losing his virginity to Shannon Elizabeth's Nadia without her noticing, but mistakenly invites everyone on his email contact list to watch him blow his load before he gets anywhere close.
For others – the frontiersmen of the early world wide web – hardcore online sex shows, available pretty much as soon as you could connect webcams to the internet, were the way in. And as bandwidth and the quality of consumer electronics improved, more and more people started to get involved, paying for access to adult sites or being charged by individuals for shows. While online porn has suffered from the proliferation of free material available online, the camming industry – which, importantly, unlike porn, offers people live communication with models – has only continued to grow, and is now worth an estimated £1 billion a year.
My Free Cams, one of the biggest sex-cam sites, boasts over 100,000 models and 5 million users. Members purchase tokens to pay for different services, such as private shows, full sound, large video and the ability to private message members, and the site takes a percentage of the money paid for tokens before the models receive anything. On Snapchat, because models are being transferred the money direct, they get to keep every penny. (It's impossible to tell how much money is being generated overall, however, as the accounts are difficult to find, and Snapchat won't comment on the trend and declined to be interviewed for this piece.)
In the age of the gig economy, you can see why this is so appealing. Most of the women I spoke to for this article said they started getting naked on Snapchat because they were sick of mundane, badly-paid work. Once you get going and realise you can earn £600 for a few hours in front of your phone, it's understandable that people stick at it.
"I went on my normal Snapchat and said, 'Who wants to pay to see me naked?' And it all started from there."
There are two main revenue streams for these accounts. The first, and most popular, is a dedicated Snapchat account, posting daily content, for which customers pay a one-time fee to unlock. The second are premium shows, in which you pay to get on a list on the model's personal account, and they start a "live" show where you personally receive content for several hours.
Fewer women take the latter route, perhaps because it's considered to be more personal – more intimate still than conventional webcam shows. The thing about camming is that it's very much a stationary kind of gig. You sit in your bedroom – or in a studio full of sets build to look like your bedroom – in front of a laptop. There's a structure to it; the viewer sees the model and their surroundings from one or two fixed angles. It's transactional. On Snapchat – in followers' minds, at least – more access is offered to the models' lives. They might post a video of themselves walking their dog, before a video of their boobs; a photo of a new outfit before an X-rated selfie.
Elle Monroe is a Snapchatter from London who charges £50 for lifetime access to her premium account. On a good day, she says she gets around 20 sign-ups – earning her £1,000 in the space of 24 hours. She told me something that came as no surprise: that she feels no need to take another job as she's already earning enough money via Snapchat to fully support herself.
"I was sat there a year ago with no money and couldn't figure out how to do the webcam sites, so I went on my normal Snapchat and said, 'Who wants to pay to see me naked?' And it all started from there," she explained, adding that she was "so nervous I had to drink a bottle" when she first started, before eventually becoming more comfortable.
"Sometimes I go through bouts of feeling bad about myself, but then I realise it's this that gives me the financial freedom to work on my art, have an open schedule and really be in control of my life."
Like any online sex-related work, the job has its benefits – "I like that I don't have to get up early in the morning, that I'm my own boss and that I get to live a luxury lifestyle" – and its relative drawbacks: "The strangest requests include asking me to slag off their girlfriend, to piss on my feet – which I've never done, obviously – humiliating them for having a small dick… the list goes on."
A model from the US – who asked to remain anonymous, as only four people close to her know she has a premium account, so let's call her Rochelle – told me she started posting for the same reason as Elle: a lack of money and a desire to control her own schedule. I asked her how she differentiates herself from other accounts in what's already a competitive market.
"I think people kind of establish crushes on certain girls who fit their taste," she said. "The only thing I really do that some may not is anal. I don't always appreciate the way some people talk to me, but it doesn't bother me as much as it used to. It can make you feel dirty, and not in a good way, but I've learned to just block those people and move on. Sometimes I go through bouts of feeling bad about myself, but then I realise it's this that gives me the financial freedom to work on my art, have an open schedule and really be in control of my life."
Minimum wage in the US is $7.25 (£5.60), meaning a full working week (40 hours) only brings in $290 before tax. Zero-hours contracts – where employers aren't legally obligated to provide a minimum number of working hours – are as prevalent in the US as the UK, leaving plenty of people no reliable source of income. If you're a young aspiring artist, like Rochelle, why not make a little extra money where you can?
The last model I spoke to goes by the name "CrazyyCatt", and is a tattooed, pink-haired premium girl operating out of the US. Like the others, she got into Snapchat because "it's decent money". She charges a $65 one-time fee. "In some weeks I get up to 15 sign-ups, and other weeks five," she says, meaning her income works out at between $325 and $975 a week. She's only been doing it for six months, but seems to enjoy it – for now. "I'll stop doing this whenever I get bored of it," she told me.
And therein lies the appeal: Snapchat gives these women the ability to generate a substantial income, with full autonomy over when and where. They might post a naked selfie from a changing room; they might stream a live show from their kitchen. Unlike cam sites, they receive 100 percent of the money they make, and can invest that in whatever they want. Elle is ploughing her earnings into future business ventures, Rochelle has the time to pursue her art thanks to her newfound financial freedom.
Some people work in offices, some Snapchat their boobs. And as long as everyone's happy, it's hard to find any issues with that.
More on VICE:
Wet, Hot Summer: Why So Many People Are Having Sex in Public