If you were asked to name fighters who epitomized modern mixed martial arts, I would hazard a guess that the four fighters at the head of UFC 194 would be among the first out of your mouth. Jose Aldo and Conor McGregor, Luke Rockhold and Chris Weidman: two matches which will restore faith in even the most tired and alienated MMA fan. In a year of too many cards, too many weak main events, and a host of other bad stuff happening in the industry, those two fights are enough to reassure you that this business is, in fact, moving forwards.
We will discuss Jose Aldo versus Conor McGregor on Wednesday, but Rockhold versus Weidman deserves to be lavished with attention. Were skill a tangible commodity, Herb Dean could suffocate or drown underneath it when he is locked in the Octagon with Chris Weidman and Luke Rockhold on Saturday night. Every time there is a big fight we are treated to "these guys are dangerous everywhere", but every year we have to revise what that everywhere means. Back in the day some decent punches and a guard game made you a rounded threat, but every year we expect more.
Chris Weidman's rise to the top came almost overnight and despite being tremendous in almost every one of his outings many fans still don't know what to make of him. It could be a case of what happened to Sandy Saddler when he beat Willie Pep. A. J. Liebling put it best—the people didn't like him simply because he wasn't Pep. In a sport which prides itself on the fact that anything can happen, Anderson Silva was one of the few constants—a star and a brand that people could put stock into and get behind. Weidman didn't just beat Silva, he made Silva look completely ineffectual. This is something which the fanatics refuse to touch on when they make excuses about Weidman's two 'fluke' victories over the middleweight great.
And this is what I mean by revising our view of roundedness and certainly of 'perfection'—a dangerous word to start throwing around in a sport of constant evolution. Anderson Silva's career was built around convincing lesser strikers to overcommit and eat counters. Of course, it would still work on a huge number of fighters in the middleweight division, I'm sure, but Weidman showed that through proper boxing strategy all of Silva's favorite holes could be shored up. He made Silva an opportunist with no opportunity.
You have heard my heap praise on his discipline in that fight before but I'm going to show you something else now. I wrote it in How Holly Holm Killed the Queen, and I've probably written it a dozen times before now, but we still get caught up on it: it doesn't matter who a fighter is, it only matters what they do. Fighting as well as Weidman requires discipline, and that isn't something that you can just fall back on like strength or speed, that's part conscious choice and part mindset. When he leaves that discipline behind, he isn't half the fighter he can be.
Against Vitor Belfort, Weidman opened the fight thoughtfully, slowly circling the ring and staying on balance. Cutting the cage, he ducked in on a single leg, but was countered by Belfort who turned him to the cage and attempted to take advantage. Weidman came up holding a foot and Belfort stumbled backwards across the Octagon. Here Weidman's composure went to pot and he charged a man who is famous for being a one hundred percent more dangerous man in the opening minutes than at any other point in the fight.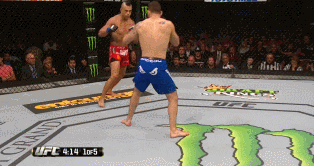 Weidman escaped unhurt and returned to the center of the cage but before he could even begin thinking about getting back to his usual pressure, that lightning left straight had struck him flush. He backed straight onto the cage and covered up, and suddenly it was Vitor Belfort versus Kazushi Sakuraba all over again.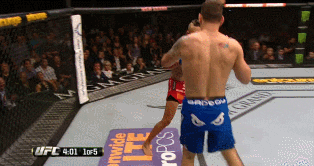 To Weidman's credit, he covered himself well: holding onto the back of Belfort's neck and pulling him off balance as he threw, using the elbow and upper arm to cover, changing position as he felt Belfort telegraphing the hook or the uppercut.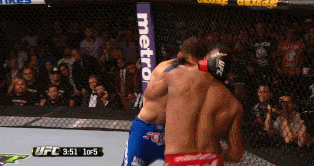 Weidman seemed to regain his composure and discipline while he was under fire, because as soon as Belfort stopped punching, Weidman was checking the lead hand and landing that skipping stone jab. A takedown came soon afterwards and Belfort's cardio having already failed him, Weidman advanced to mount and pounded the challenger out.
Luke Rockhold also had a run in with Vitor Belfort's thunderous power and while it had to sting as he was coming to on the Octagon canvas, it made him a much better fighter in the long run. Rockhold had always fought best coming forward, but against Belfort he found himself retreating. While his favourite check hook worked well against Belfort's usual linear charges, Rockhold's side on stance, almost on a tight rope, and narrow hand positioning saw him eat a flush wheel kick. Now part of that had to be the unexpectedness—Belfort had never shown a wheel kick to that point—but a great deal of it also came from always being the longer, rangier man.
Since the bout with Belfort, Rockhold has sharpened up his game on the feet while returning to the grappling that made him such a stellar prospect to begin with. Sometimes it takes a rattling to remind a fighter that this is not kickboxing and that the use of other facets of the game is not just possible, but to be encouraged.
Putting it into Reverse
The vast majority of Rockhold's best work is done on the front foot. He's a power kicker who likes to push to the fence and go to one of two options. If they circle to his left, or stand still, he'll put the boot in with a left round kick. You can see this in most of his bouts but most famously he put Costas Phillipou down in this manner.
If they move the other way or stand still and he's feeling in the mood for it, he'll cross his feet and throw the back kick. Or even the new addition to his game, the lead leg Brazilian kick—the old Glaube Feitosa special.
Though you will notice that generally Rockhold is not nearly so skilled a ring cutter as Weidman. Where Rockhold paces around, almost striding when he takes an occasional lateral step before returning to that very side on stance. Weidman is always in position and always making small, quick movements which leave him on balance to slip and return at all times.
Rockhold gets really interesting when he is forced to take a step back. Both Weidman and Rockhold are forward moving fighters but both deal with the threat of a return very differently. Weidman is always on top of his feet and ready to take a slight step back and drop away from the blow with head movement.
Rockhold, however, does the same thing every single time his opponent presses in on him. He skips back. And because of his long stance and the fact that he's tall and rangy, his opponent will almost invariably fall short. Almost everyone he has fought has fallen well short when they have tried to move in on him.
After falling short a good number of times, opponents get into the mindset of "if I can just move faster…" and begin sprinting at Rockhold. Whereupon he is happy to mark them up with the check hook.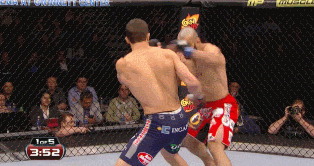 Phillipou, Bisping, Machida, even Belfort, they were all caught by this hook, so you can understand why Rockhold seems to be looking for it constantly. The downside of this method is that the fighter is retreating on a straight line—discouraged in boxing for the reason that you can quickly hit the fence. In fact this has happened to Rockhold a couple of times just in the UFC. He'll skip back from the middle of the cage and he'll already be in position to be pushed onto the fence. It was against Phillipou and Bisping, so it was hardly where those men wanted to be, but against Weidman it might be doing half of the champion's job of cutting the cage for him.
Though here is a wobbly Weidman getting caught with a similar hook as he paws at Belfort to fuel wild speculation: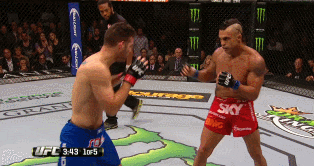 Match Up Specifics
In terms of this being a southpaw versus orthodox match up, it's interesting in the fact that this is Chris Weidman's fifth fight in a row against a southpaw. In fact if you go all the way back to 2012, in Weidman's last seven fights only one has been against an orthodox opponent. Weidman has had success with the jab against southpaws, and that might seem to be significant against Rockhold with his often low lead hand. More interesting is Weidman's consistent use of a double right straight—this is a brilliant distance closing method against a southpaw and allowed Weidman to set up many of his clinches and takedown attempts against Lyoto Machida.
Meanwhile we haven't seen all that much of Rockhold's left straight, he is very much a one handed puncher. In fact, he doesn't even throw many other punches aside from that right hook. He'll jab when he's about to kick fairly often, but aside from that he's pretty inactive. And you'll very, very rarely see him throw any kind of combination with his fists.
With both men being such strong grapplers, the wrestling match up becomes a fascinating one. Weidman is masterful as hiding his shots amid his striking—the high kicks he used to raise Mark Munoz's hips before shooting in on him is just one example of his kickboxing making his wrestling easier:
But Rockhold's ability to shuck off and deny takedown attempts has been impressive. His striking was pretty meat and potatoes in Strikeforce, but he managed to hold off Ronaldo 'Jacare' Souza's takedown attempts for five rounds and take the decision with his kickboxing. Furthermore, Rockhold's submission game when scrambling has been a big part of the story in his recent bouts. When Tim Boetsch attempted to take him down, Rockhold scrambled through to a sprawl position and then locked in an inverted triangle choke that he used to take top position and finish the bout with a kimura.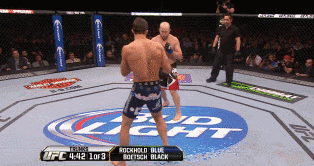 And against a hurt Michael Bisping, Rockhold showed confidence in his submission game by going to his back on a guillotine choke. This is a decision we have seen cause fighters to lose rounds they were winning or even fights, but Rockhold dropped to the choke, rolled Bisping over, and finished from the mount with a one handed guillotine. It was certainly impressive.
With Weidman being at a height disadvantage, he suffers in the stand up portion of the bout, but it does mean that he has an advantage in the level change. As he hits a surprising number of takedowns off of shots out in the open, rather than on the fence where most takedowns come from in the modern game, you would think he could make use of this better than many of Rockhold's opponents who suffer the same height disadvantage.
In terms of perfect fights, to do their best work both need to be on the front foot but as Rockhold's offence is almost entirely kicking, you would have to think that it has to be of most importance for him to avoid being put on the back foot. With Weidman crowding him his kicks will be muffled and lead to clinches, and it's pretty much impossible to kick well if you are consistently forced to retreat. Weidman would do well to utilize his feints to force Rockhold to waste energy and backtrack himself towards the fence as he did against Lyoto Machida.
But more than that, it would be interesting to see Weidman utilizing low kicks as Rockhold skips back. With one leg trailing and in no position to check, these could really be the telling blows of the match.
In an ideal world for Rockhold, I would like to see some front kicks. Whether they be to the head or the body, front snap kicks serve excellently to punish the smaller man as he attempts to move forwards through the gulf of distance. Body kicking is a great strength of Rockhold's, setting up that terrific head kick against Michael Bisping most recently, but performing wide round kicks onto the arm is only going to result in clinches against such a pressuring opponent.
That is one of the great intangibles of the match—how the two will fight in the clinch. We remember Weidman dropping Anderson Silva while in a loose clinch, and Rockhold throwing off Souza, Belfort and Bisping, but both have always been the better wrestler. In a match against a wrestler of more ability, you would have to think the clinch would take on great importance.
There's an awful lot of unknowns here for the champion. It's the tallest, longest opponent he's faced. The best wrestler—spare Mark Munoz who was pretty one dimensional. And most importantly perhaps is that Chris Weidman is considered somewhat like Rocky Marciano in our sport. His biggest wins have come over legends of the game—Anderson Silva, Lyoto Machida, Vitor Belfort—but all were hovering around forty years old when he fought them. Many believe he is simply beating up men who are entering the twilight of their careers. Luke Rockhold is a tremendous fighter in the prime of his athletic career and if anyone can provide a test for the champion, it's him.
Get back here Wednesday and we will talk about Jose Aldo versus Conor McGregor.