Photo by John Warren/Courtesy Brampton Beast
They say that professional hockey is a young man's sport. Players get drafted by NHL teams at 18 and, for those who make it, the average retirement age is somewhere in the mid-to-late 20s. Some players put in a few extra years in the minors or overseas, looking for another paycheque before transitioning into life after hockey.
That's the way things usually work. And then there's David Ling. A veteran of 22 professional hockey seasons, he's played pretty much everywhere you'll find a Zamboni. Ling made his pro debut two years after being selected as a seventh-round draft pick of the Quebec Nordiques in 1993. Since then, he's played in the top three tiers of North America's hockey hierarchy: the NHL, the AHL, and the ECHL. He's played in the Russian Super League and its successor, the KHL, as well as myriad other leagues that you may or may not have heard of.
These days, Ling is plying his trade with the ECHL's Brampton Beast. A greybeard on a team full of prospects looking to earn a shot in the second-tier AHL, he's found a role providing a veteran presence in the locker room. Connor Crisp, a third-round pick of the Montreal Canadiens in 2013, describes him as an exemplary teammate, quick to share stories and lessons that he's accumulated, as well as words of encouragement. And despite his years spent bouncing from team to team and league to league, he's never let his love for the game wane.
"I've never heard anybody say 'I just love the game' more than I've heard him say it," Crisp says.
All praise aside, Crisp, whose locker room stall is right next to Ling's, recalls their initial meeting just a few months prior. "The first thing I had to say was, 'Whoa, how old is this guy?'"
That's a fair reaction, considering the fact that Crisp, at 23, was born the year after Ling was drafted by an NHL team.
When I reach Ling by phone he's in Wheeling, West Virginia. The Beast are in the midst of an end-of-season, three-games-in-four-nights road trip that also included stops in Cincinnati, and Reading, Pennsylvania. This is their day off, and he's passing time before hitting the gym. He's been fortunate to avoid serious injuries throughout his career, which is a fact he's the first to acknowledge. However, if you're expecting him to be a posterboy for extensive warmup routines, you'd be mistaken. "I joke around that my coffee's my warmup," he says. "I do a five minute, quick little warmup, and I don't stretch after. I'm not sure it would work for everybody, but it works for me."
That last line nicely summarizes Ling's circuitous hockey career.
Ling, whose Beast are in the middle of a first-round playoff series with the Reading Royals, initially gained attention as a 14-year-old playing for the Charlottetown Abbies, his hometown Junior A club. After three years he moved on to the Kingston Frontenacs of the OHL, where he blossomed into a fan favourite. He put up 275 points, including 115 goals, over the course of three seasons. During the 1994-1995 campaign he won the OHL scoring title, as well as the league's most outstanding player, and was named the Canadian Hockey League's player of the year.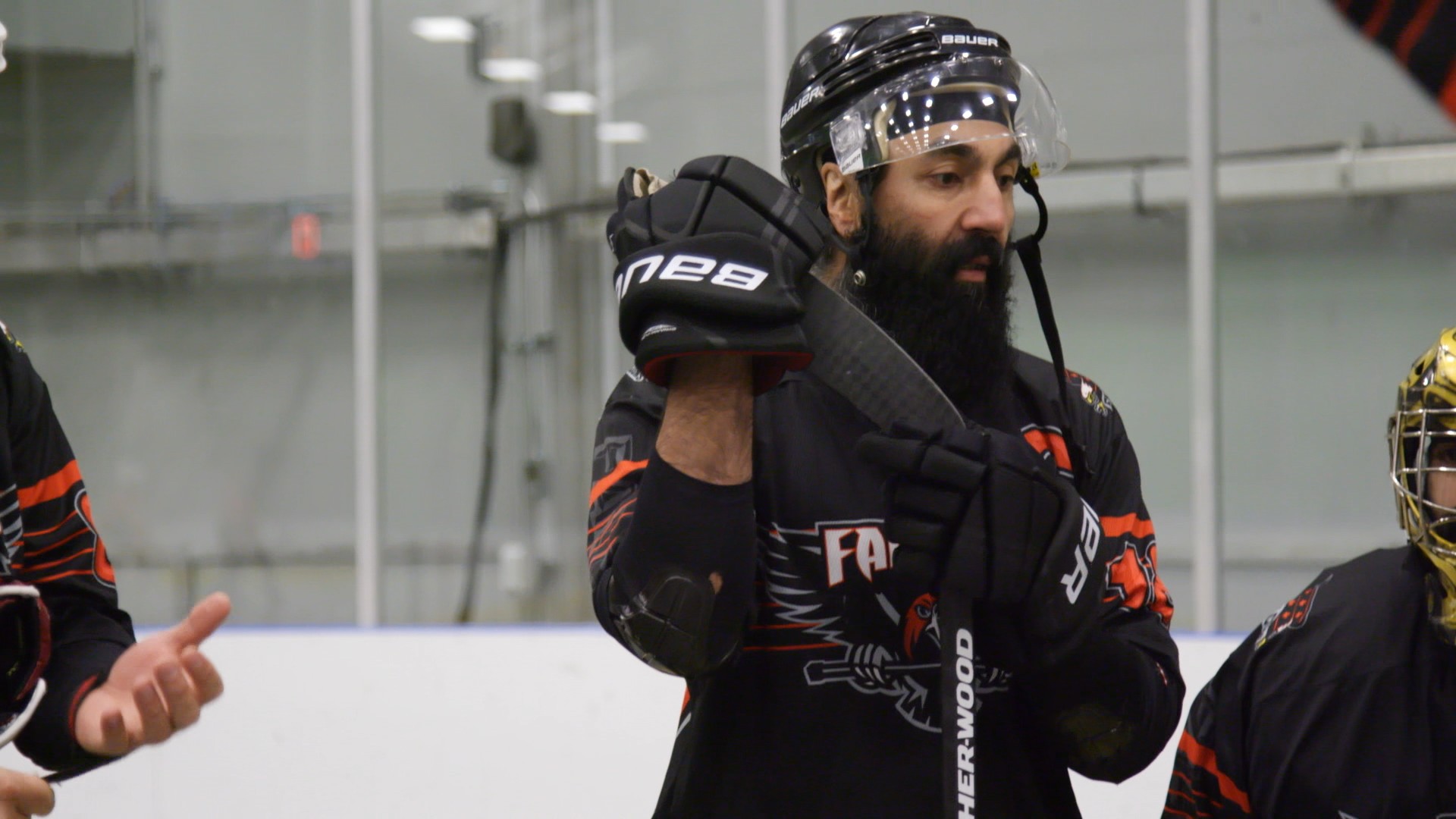 Aside from the obvious scoring touch, Ling has always played a physical brand of hockey. Teammates and fans describe him as chippy; opponents and their supporters call him dirty. Unlike your run-of-the-mill pests that incite altercations but back off from dropping their gloves, Ling was always a willing combatant. In his last year of junior, coach Gary Agnew cut a deal with the forward: he could continue to fight, but only against the opposing side's top line. He went on to record 118 fewer penalty minutes than the previous season. Nonetheless, he still ended up with 136 PIMs that year. "Linger," as his teammates call him in hockey-talk, liked to fight.
Ling came by his love for a good hockey scrap honestly. His coach with the Abbies, Forbes Kennedy, was a feared pugilist during his NHL career, having once fought four times in a particularly wild 1969 Maple Leafs-Bruins playoff game. "I was young and I looked up to him," recalls Ling. "I knew I had to prove myself physically and Forbie was a guy that you wanted to impress. You wanted to get in the lineup, and a lot of times that was with physical play and fighting."
Upon turning pro, Ling put up good offensive numbers. Between 1995 and 2000, however, he was traded four times, having played just three games in the NHL. At 5'9", he was considered undersized, a significant impediment for a player looking to earn his break during the big league's obstruction-filled clutch-and-grab era.
At 26, Ling became a free agent. No longer a young prospect and three seasons removed from his last taste of NHL action, he figured the likelihood of getting back to the big leagues were growing faint. He ended up signing with the Columbus Blue Jackets. Behind the bench of their AHL squad (the Syracuse Crunch) was Agnew, his former coach with the Frontenacs, while Ling's fellow Prince Edward Islanders, Doug MacLean and Gerard "Turk" Gallant, served as general manager and assistant coach. He reckoned signing with the second-year expansion club was his last, best chance to get back to the NHL.
The gamble paid off. Over the next three seasons, Ling played 131 games in the AHL, and 90 in the NHL. The process of moving back and forth between leagues was met with varied expectations. "I was a points guy in the American League, but when I went up to the NHL I was a fighter. One [night] I'm going looking for fights, and the next night I'm looking to score on the power play." He engaged in 23 fights in the NHL regular season, including one where the southpaw shattered his opponent's orbital bone with a devastating right.
When the NHL lockout cancelled the 2004-2005 season, Ling was back in the AHL, playing for the St. John's Maple Leafs. Although he led the team in scoring, at season's end he was a 30-year-old journeyman that could see his NHL window had probably closed. Unwilling to hang up his skates, he looked across the Atlantic for his next opportunity. As he reasoned, "I was ready to go to Europe and make more money than you could make in the North American minors." Despite hearing eyebrow-raising tales from his friends and colleagues who had played in the Russian Super League, he opted to give it a chance. But Ling wasn't exactly prepared for life in Russia.
"The first year in the Super League we were getting paid in cash. We were hiring gunmen to take us to the bank. It was scary." Further alarm bells went off when Ling's apartment was broken into on payday. "It couldn't have been a coincidence," he reasoned. After this, he began leaving his pay in a safe at the team's rink in an effort to throw off would-be robbers.
After a second season in Russia, Ling signed with the Toronto Marlies in order to be closer to his father, who was in the late stages of a battle with cancer. Once again, he led the Leafs' AHL squad in scoring, but at season's end he returned to Europe. By now, his career, going from short-term contract to short-term contract, became less about planning ahead than responding to circumstances. As he explained, "If you're overlooked in June or July [the opening of free agency] it could be September or October before somebody needs a player; you almost got to jump at the opportunities when they present themselves. Sometimes it's not that you make a plan, it's the opportunity that presents itself at the time you need work."
The next season was split between Italy and Finland, before moving on in 2009-2010 to Amur Khabarovsk, a KHL club located in the Russian Far East. After leading the team in scoring, the next year he joined the Providence Bruins, Boston's AHL affiliate, which was followed by a season in Italy.
Then, in 2012, Ling joined the Nottingham Panthers of the UK's Elite Ice Hockey League. "They offered me the opportunity to do my MBA and I thought that was perfect timing." At 37, he was thinking about life after hockey. But it turned out to be a strong season, individually and for the team. Ling topped the EIHL scoring race and was named the league's player of the year; the Panthers, meanwhile, pulled off a rare "triple crown" victory, winning the League Championship, the British Championship, and the Challenge Cup.
Ling even went viral during the 2012-2013 season. During a match against the Braehead Clan, the game was temporarily suspended and a Zamboni was sent out to clean broken glass off the playing surface. While the rest of the players could be found at their team benches, Ling was trailing behind the Zamboni, pretending to waterski. Footage of the incident racked up thousands of views and the North American sports media was quick to point out this obvious case of European sports oddity. Asked about the incident, Ling had a chuckle and explained that, "I started doing it in practice one year in Kansas City," where he played for the Blades of the now-defunct International Hockey League. "The Zamboni came out and it was spur-of-the-moment. I said to one of the guys, 'Watch this.' It wasn't planned and I hadn't done it in years. I don't know why it came into my head." It proved popular with the fans, and ever the crowd pleaser, he reprised the waterskiing act after the Panthers won the league playoffs.
It was a year to be proud of, and would have made for a happy note to go out on. And for a while, he admits, "I almost thought that I was going to end my career and start working in the real world." He only played a handful of games that next season, split between Italy and the Newfoundland senior league, before landing a desk job with the PEI Liquor Commission. But when the Brampton Beast came calling in December 2014, looking to add some scoring and veteran leadership to their club, Ling packed his bags once again.
Now in his third season with the Beast, Ling would like to continue playing. As a development league, the ECHL limits the number of veterans each team can dress, which means the odds of re-signing with the club are slim. Unlike earlier in his career, he's become choosy about his next, hypothetical signing. With two young sons, he doesn't want to play overseas. He'd also like to be in a situation where he could utilize his business degree during his downtime. These considerations no doubt limit his options, but he's learned better than to declare that his playing days are coming to an end. "I always say that 'This is it' and I always go back on my word. Everyone jokes around, 'Yeah, OK, David,' so now I just don't say it."
Whether Ling laces his skates up for another season of professional hockey is, at this point, anybody's guess. With an MBA in-hand, the lure of getting a regular job is most definitely there. He's also expressed interest in getting into coaching, which seems like a natural fit for somebody with his sort of experience. The options are there—now it's just a matter of seeing how things play out.
With the ECHL's Kelly Cup playoffs underway, one thing's certain: Ling is savouring every moment of his playing career. This does not go unnoticed by his younger teammates on the Beast. As Crisp explained, "After a nine-hour bus ride I always ask him, 'Linger, what are you doing, man?' He's like, 'I love it, Crispy, I love it,' with a big grin on his face."
After 22 years of professional hockey, that says a lot.