No one on the internet is sure how to react to Hi Stranger, a scary-soothing short film by Kirsten Lepore that somehow blends nudity, innocence, ASMR, leeriness, and positive affirmation into a single hairless, genderless, polymer clay fellow with no name. Throughout the film, the character, voiced by previous Lepore collaborator Garrett Davis, speaks lovingly and intimately directly into the camera. If you imagine the stranger as a friend, confidant, or lover, it comes off as soothing, but otherwise can feel intrusive and assuming—an ambiguity the LA-based CalArts alum seems to delight in.
Hi Stranger was produced for an anthology of work by animation collective Late Night Working Club, on the theme of "Strangers." It recently premiered to the public at SXSW, and hit the internet on Monday. Redditors immediately began trying to describe their weird feelings about the film with phrases like, "What a sweet little nightmare," and, "I am extremely uncomfortable and extremely comfortable at the same time."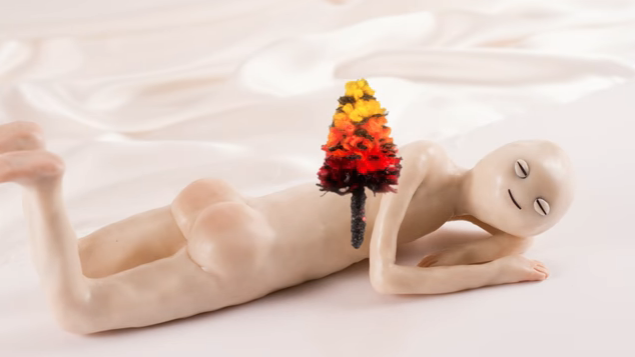 In an interview with Skwigly, Lepore says she thinks these reactions are due to Davis' spot-on voice acting. "I knew that he could tackle the tone that I was going for and the sort of weirdly intimate, weirdly creepy kind of gender-ambiguous voice I was going for, and he really nailed it."
Lepore's award-winning films including Bottle and Story from North America has earned her real estate at Banksy's dystopian theme park, Dismaland and a spot guest animating Adventure Time. episode "Bad Jubies." In fact the design for the stranger was inspired by a drawing that Adventure Time Head of Story Kent Osborne loaned her while she was in the studio. She asked if she could use it, and you can see the creepy-cute result below.
See more of Kristen Lepore's work on her website.
Related:
This Animated Music Video Feels Like Watching an Edgar Allen Poe Poem
The Late Night Work Club Collective Brings Punk Rock Ethos To Indie Animation With 'Ghost Stories'
Adorably Spooky Stop-Motion Animation Explores Life After Debt