Canadian trio 3 Doors Down have confirmed that they will play at the inauguration of noted racist Donald Trump next week in Washington D.C. The quintet, best known for hits like "Blurry" and "Last Resort," announced the news on Instagram this morning.
The event, now known as the "Make America Great Again Welcome Party," sets a once-unimaginable landmark for the band. Their lead singer, Scott Stapp, recently confirmed that he wrote the song "With Arms Wide Open" with the president-elect in mind. "The lyrics 'Wake me up, wake me up inside I can't wake up,' were actually a reference to economic stagnation during the Clinton era," he said. "MAGA!"
The inclusion of the Halifax, Nova Scotia-based group provides some much needed star power to Trump's inauguration ceremony. As we have previously reported, Donald Trump is a tremendous loser who has no famous friends. But 3 Doors Down is a different story. Those who don't know their biggest hits from the Billboard charts will remember the band from their 2002 track "Alive," featured on the soundtrack to popular comedy Freaky Friday. Their debut album, Silver Side Up, was nominated for six MTV Video Music Awards in 2004, but failed to lock down any of the coveted gongs for the band.
Also on the lineup is a sentient cowboy hat and the daughter that Trump always forgets when the family goes on vacation. View the full line-up below via Dan Ozzi on Twitter.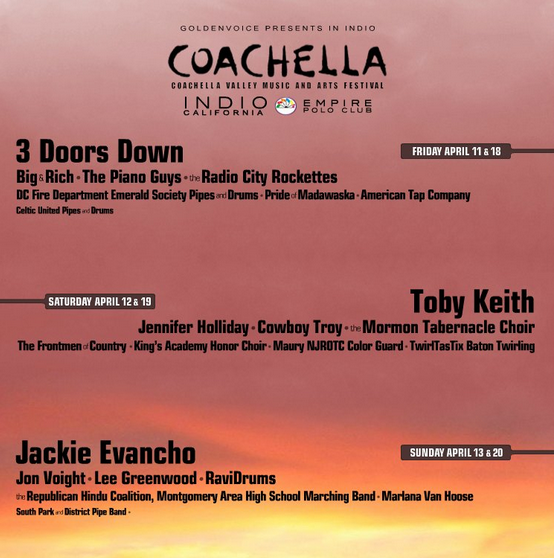 Follow Noisey on Twitter.