Getty Images
An Iranian military commander said Tuesday that his country would respond to Washington's threats of harsh new sanctions by punching Secretary of State Mike Pompeo.
"The people of Iran should stand united in the face of this and they will deliver a strong punch to the mouth of the American Secretary of State and anyone who backs them," said Ismail Kowsari, deputy commander of the Sarollah Revolutionary Guards base, Iran's Labour News Agency reported.
"Who are you and America to tell us to limit the range of ballistic missiles… History has shown that with the attacks on Hiroshima and Nagasaki, America is the top criminal with regard to missiles."
The threat came after Pompeo outlined the Trump administration's broader terms Tehran would have to meet if it wished to enter into a new deal with Washington, following Trump's decision to pull out of the 2015 nuclear deal.
New laundry list of demands
Pompeo warned that Iran was set to face the "strongest sanctions in history" that would bring "unprecedented financial pressure" to bear on the regime — unless it made sweeping changes to its behavior. That included not just scrapping its nuclear and missiles programs, but pulling out of Syria, halting support for Hezbollah, the Taliban and its Quds Force external special operations unit, and releasing all U.S. citizens.
If Iran agreed to those terms, he said, the Islamic Republic would benefit from the lifting of all sanctions, the re-establishment of full diplomatic relations and gain access to advanced technology. If they refused, he warned, Iran would be left "battling" to keep its economy alive — a tactic he believed would eventually force Iran back to the negotiating table.
READ: The EU is trying to fight Trump on Iran sanctions, but European businesses are already fleeing
"Iran will be forced to make a choice: either fight to keep its economy off life support at home or keep squandering precious wealth on fights abroad," he said. "It will not have the resources to do both."
Iran's government spokesman Mohammad Baqer Nobakht said Tuesday that Pompeo's proposal would only increase the hostility of the Iranian people towards America.
"Do the Americans think that the silk glove that they've taken out and the iron hand that they've extended to the people, a hand that's backed by Israel and the [Mujahedin-e-Khalq Organization, an exiled Iranian armed opposition group], will make Iranian people think that America wants democracy?" he said, according to state media.
Europe still committed to deal
Pompeo's speech also drew alarm from Washington's European allies, who have vowed to try to keep the Iran nuclear deal alive without the United States.
British Foreign Secretary Boris Johnson said in response that he was committed to trying to shield European companies from renewed U.S. sanctions, in order to allow trade with Iran to continue under the auspices of the deal — although he acknowledged it would be difficult.
"We are going to do everything we possibly can," he said. "I'm not totally pessimistic about the situation."
Federica Mogherini, foreign affairs high representative of the European Union, said Europe remained committed to the nuclear accord despite Pompeo's threats.
"Pompeo's speech has not demonstrated how walking away from the [deal] has made or will make the region safer from the threat of nuclear proliferation or how it puts us in a better position to influence Iran's conduct," she said Monday.
The European Union has vowed to try to shield European companies trading with Iran from American sanctions, and has begun the process of reactivating an old blocking law to achieve this.
But it's unclear how effective that will be in protecting European companies. Already, a number of European corporates have said they are winding up their Iranian operations to avoid U.S. penalties.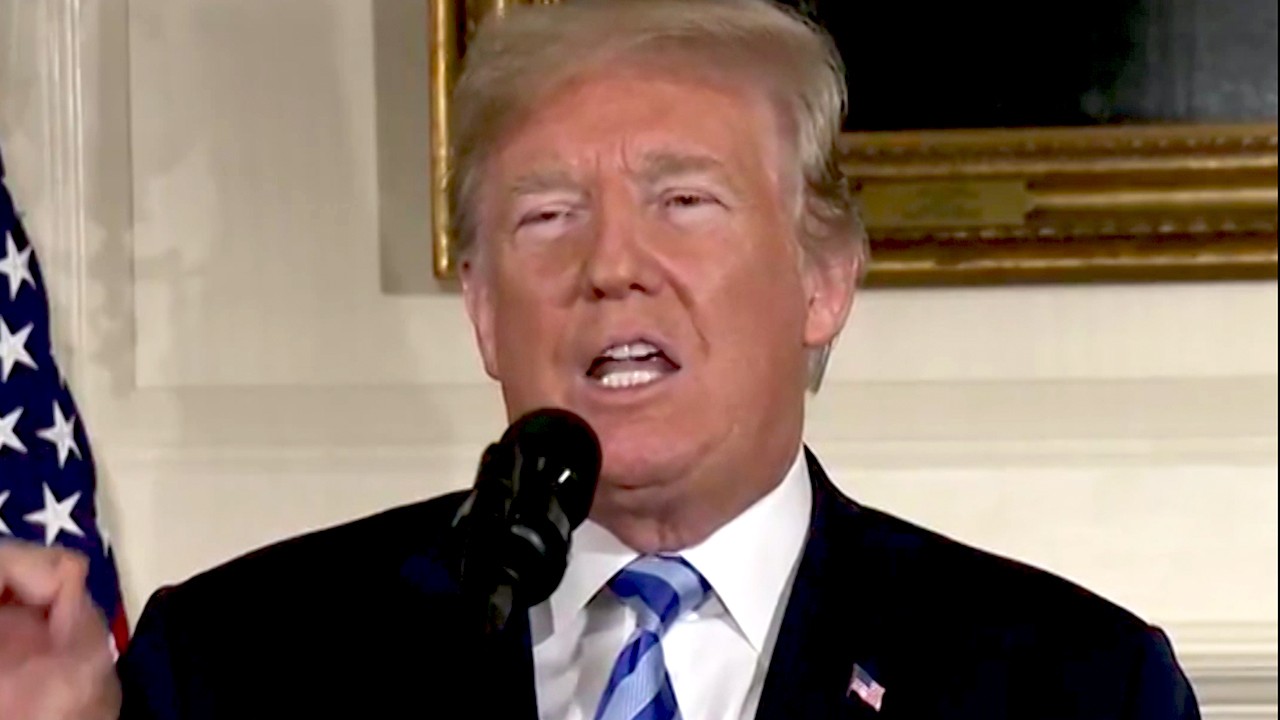 Cover image: U.S. Secretary of State Mike Pompeo speaks at the Heritage Foundation May 21, 2018 in Washington, DC. Pompeo spoke on the topic of 'After the Deal: A New Iran Strategy.' (Win McNamee/Getty Images)