Spencer Platt/Getty Images
Experts hoped 2015 would be an aberration, but it wasn't: Life expectancy in the United States fell for the second year in a row, according to a new report from the Centers for Disease Control and Prevention (CDC). The 2015 decline was the first drop since 1993 and now we've hit the dubious milestone of the first back-to-back decrease since the 1960s. A second report released today found that the drug overdose death rate increased by 21 percent from 2015 to 2016.
Americans can now expect to live 78.6 years on average, a decline of 0.1 years from 2015, which the CDC researchers said was statistically significant. (The average in 2014 was 78.9 years.) But life expectancy only fell among men, not women. For women, it remained the same from 2015 to 2016 (81.1 years), but for men it fell from 76.3 to 76.1 years.
Disturbingly, death rates per 100,000 people actually rose for young adults. Death rates in the 15 to 24, 25 to 34, and 35 to 44 age groups increased by 7.8 percent, 10.5 percent, and 6.7 percent, respectively. The only other age group that saw an increase was a 1 percent uptick in people ages 55 to 64. The report notes that changes in death rates in younger people have a larger impact on life expectancy than changes in older people and says quite plainly that higher mortality in young people is what caused life expectancy to drop: "The increases in death rates at the younger ages from 2015 to 2016 resulted in the decrease in life expectancy observed during that period."
The 10 most common causes of death remained the same (and heart disease and cancer are still the leading causes of death), but there were shifts within that group. Death rates for seven of the top 10 causes decreased: Age-adjusted death rates were lower for heart disease, cancer, chronic lower respiratory diseases, stroke, diabetes, flu and pneumonia, and kidney disease. Rates increased for unintentional injuries, Alzheimer's disease, and suicide.
Worth highlighting: Unintentional injuries include car crashes, falls, and most drug overdoses. In terms of total number of deaths, not age-adjusted ones, unintentional injuries became the third leading cause of death last year, up from the fourth in 2015. The report notes that unintentional injuries made "the largest contribution" to increases in deaths.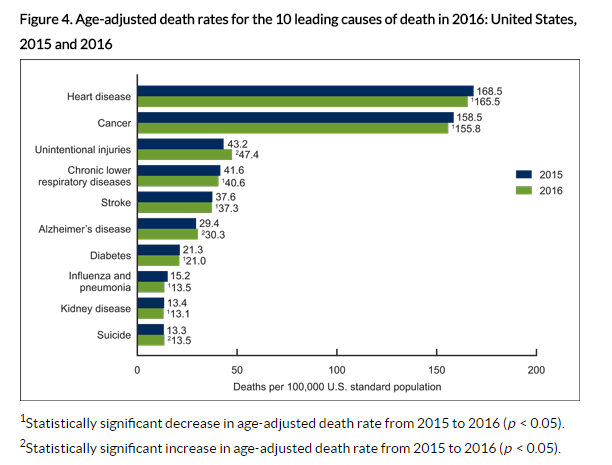 Men fared worse than women and black men specifically have the highest age-adjusted death rates in the country. Death rates among black men increased by 1 percent last year while rates among white women fell 1.1 percent. There were no significant changes in other groups in the report.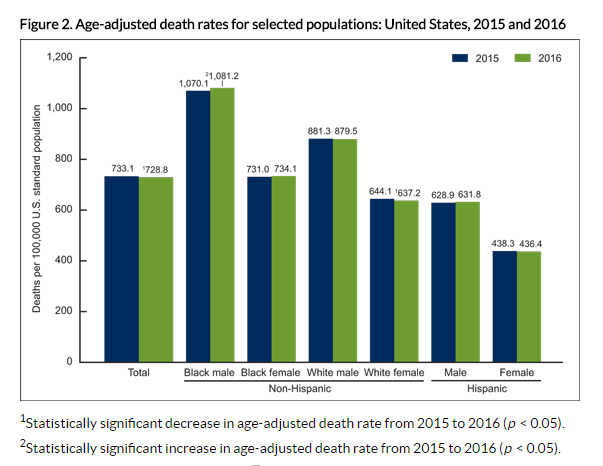 A separate CDC report released Thursday found that drug overdose deaths climbed to 63,600 in 2016, up from 52,400 in 2015 and 47,000 in 2014. When adjusted for age, the 2016 overdose death rate was 19.8 per 100,000 people, up 21 percent from the rate of 16.3 per 100,000 in 2015. Drug overdose deaths are increasing faster than in recent years. They climbed 10 percent annually from 1999 to 2006, went up by only 3 percent per year from 2006 to 2014, and then jumped by 18 percent per year from 2014 to 2016.
About two-thirds of the overdose deaths were from opioids like heroin and painkillers: There were 42,000 opioid-related overdose deaths in 2016 compared to 33,000 in 2015. That means more people died from opioid overdoses in 2016 than died from guns or car accidents. The National Cancer Institute estimates that 40,000 people will die from breast cancer in 2017. While death rates involving synthetic opioids like fentanyl doubled from 2015 to 2016. West Virginia, Ohio, New Hampshire, Washington DC, and Pennsylvania had the highest rates of drug overdose last year.
Drug overdose deaths are much more common among men than women (see below) and they're increasingly affecting young people. The greatest percentage increases in drug overdose death rates from 2015 to 16 were among people aged 15 to 24, 25 to 34, and 35 to 44 (increases of 28 percent, 29 percent, and 24 percent, respectively.) Unlike the first report, the analysis on overdose deaths doesn't look into deaths by race, but we know from previous data that overdose deaths are much higher among white people than among people who are black or Hispanic.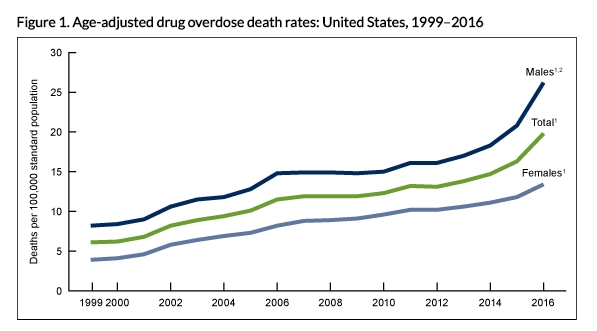 Having life expectancy fall two years in a row is worrisome but we can't really call it a trend yet. "I still don't think you can call it a trend, because you really need more than two data points to call something a trend. But it's certainly concerning to see this two years in a row," Bob Anderson, chief of the mortality statistics branch at the CDC's National Center for Health Statistics, which published both reports, told CNN.
Early data from 2017 suggest overdose deaths will increase again, which Anderson said he's very concerned about. "If we're not careful, we could end up with declining life expectancy for three years in a row, which we haven't seen since the Spanish flu, 100 years ago," he said.
Read This Next: The Faces of Americans Who Died From Opioid Overdoses