James Guillory-USA TODAY Sports
The third star: Paul Maurice – He's either unhappy with a call, or he's doing an impression of me every time I check in on the comment section of something I wrote.
The second star: John Tortorella – Speaking of angry coaches, here's the perpetually crusty John Tortorella finding out that his "my way or the highway" approach didn't work as well as he thought on the 2004 Lightning.
The first star: Jonathan Drouin – Uh, Jonathan? What are you doing Jonathan?
(For the curious, an explanation of what was happening can be found here.)
The NHL Actually Got Something Right
Holy crap, you guys, the NHL had a trade this week.
And not just some piddling little move, where some guy you'd never heard of gets shipped out in a contract dump. This was a genuine blockbuster, one involving three teams, two first-line centers and a whole bunch of picks and prospects. Matt Duchene is an Ottawa Senator. Kyle Turris is a Nashville Predator. And the Colorado Avalanche picked up a whole bunch of stuff.
And maybe the best part of the whole story is that all three GMs involved had to think outside the box to make it happen. As regular readers know, I don't have much time for modern-day GMs, most of whom spend more time making excuses than doing their jobs. The NHL has slowly morphed into a league run by risk-averse front offices who are terrified of making a mistake, and would rather ride their loser point-inflated records to a playoff bubble than actually swing for the fences and try to win.
Well, fair's fair. If we're going to hammer away GMs who hide under their desks, we have to applaud three guys who didn't.
It's no surprise to see David Poile show up in a major trade. He's always been one of the exceptions to the "timid GMs" rule, having pulled off several blockbusters over the years. He's well into his fourth decade as an NHL GM, and he's not here to screw around. We'll have more on him in a bit, but for now let's just state the obvious: David Poile rules.
Joe Sakic, at least as a GM, has not ruled. He's been ripped pretty much constantly, here and elsewhere, and seemed to have made a mess of the Duchene situation. But he largely salvaged it with this deal, which is getting rave reviews from an Avs perspective. And he did it by getting away from that old GM staple of insisting on a player, a pick and a prospect in every trade. We've had some fun with that whole concept around these parts before, but it's become a crutch for GMs under the gun to make a move. When you hear the guy in charge of your favorite team mindlessly repeating "a player, a pick and a prospect" to friendly media members, there's a good chance you're screwed.
Sakic seemed to be heading down that road. But in the end, he understood that what matters in a trade like this is getting as much value as possible, and that can come in different shapes and sizes. Sakic didn't get a single player back in the deal who comes close to making up for the loss of Duchene today. But that's OK—he got the value where he could, even if that meant veering away from what he'd originally wanted. And now he has assets he can flip in other deals to get better right now, if that's what he chooses to do with them.
That brings us to the real star of the deal, Senators' GM Pierre Dorion. Nobody stuck their neck out further to make this deal than Dorion, who's been kicking around front offices since the 90s but has only been a GM for a little over a year. He doesn't have Poile's resume or Sakic's name value. If things don't go well in Ottawa, there's no guarantee he gets another shot somewhere else. If you could excuse anyone for being more focused on playing it safe and covering their behind instead of taking chances, Dorion's the guy.
But he didn't. Not only was he the driving force behind making the deal happen, but he took on far more immediate risk than anyone else in the move. Strip away the three-team aspect, and this trade is admirably old school in its simplicity for the Senators. They had a guy. They saw some other team's guy. They decided that the other guy was better than their guy. And so they made a trade to get him.
For Ottawa, this wasn't about balancing the present vs. the future. It wasn't even about dealing from a strong position to shore up a weak one. This was them saying "Matt Duchene is better than Kyle Turris, and we'll pay a premium to prove it." We won't really know how well Sakic really did on this deal for years. Poile has a window of a few years to win a Cup to make his end pay off. But Dorion will be judged immediately, because everyone is going to spend the rest of the season comparing Turris and Duchene on a game-by-game basis. If the Senators screwed up, we're going to know about it, and soon.
It took some serious nerve to pull the trigger here, for all three teams but especially Ottawa. Fans of those teams can draw their own conclusions about the deal, and whether they feel better or worse about their outlook going forward. But for the rest of us, it was refreshing to see that somebody out there is still willing to put on their big kid pants and do their job. It will be fascinating to see how it all plays out.
And in the meantime, let this be yet another reminder: When the GM of your favorite team makes a well-rehearsed frowny face into a camera and starts mumbling about how you just can't trade anymore these days, he's lying to you. Blockbuster deals aren't dead in the NHL. They just take some hard work, a little creativity, and some guts.
Obscure Former Player of the Week
The Duchene deal felt like the sort of deal you'd have seen back in the 1990s, when three-team deals were relatively common. So for this week's obscure player, let's go with a guy who was included in quite possibly the biggest three-way trade in NHL history: defenseman Brian Benning.
Benning was taken by the Blues in the second round of the 1984 draft, one pick after legendary Maple Leafs blueliner Todd Gill. In a weird historical quirk, that made Benning the first Blues draft pick in two years—the team had no-showed the 1983 draft, and traded their first-round pick in 1984. Benning got a cup of coffee in St. Louis that year and then spent a season with the Canadian national team before earning a full-time NHL job in 1986. As a rookie, he finished fourth in Calder voting, one point ahead of Pokey Reddick.
He was dealt to the Kings for a draft pick in 1989, and stuck around until 1992, when he was traded again. Twice, technically. Benning was part of a massive three-way trade between the Kings, Penguins and Flyers that saw Paul Coffey come to L.A., Mark Recchi go to the Flyers, and Rick Tocchet head to the Penguins, among many other pieces. It was a jaw-dropping deal, one in which the defending champion Pens shipped out two future Hall-of-Famers in an effort to get tougher, and it saw Benning make a brief stop in Pittsburgh before ending up in Philadelphia. (He'd cross paths with the Penguins again a few months later, when he speared Mario Lemieux.)
He'd spend a year with the Flyers before heading onto Edmonton and later Florida. In all, he played ten NHL seasons for five teams, recording 296 points before retiring in 1995. And yes, the name probably sounds familiar to today's fans. His son Matt is currently a defenseman with the Oilers, and his brother Jim is the GM of the Canucks. Jim has yet to pull off any three-way blockbusters of his own, although if he needs any advice on how to make one work he won't have to look far.
This was a tough and divisive week in the world of politics. It's normal and even healthy for two sides to disagree on the issues. But this week, the debate transcended mere right and wrong. Instead, we found one side unable or unwilling to acknowledge even the plain facts sitting right in front of us, leaving the rest of us to wonder if we're still living in a political world where concepts like "facts" and "truth" even matter anymore.
I'm referring, of course, to the debate over whether Troy Crowder won his fight with Bob Probert.
Yes, in what has to stand as just about the ultimate "Meanwhile, in Canada" story of our time, Ontario politics was momentarily embroiled in a dispute over a fight from an NHL game in 1990. This really happened.
---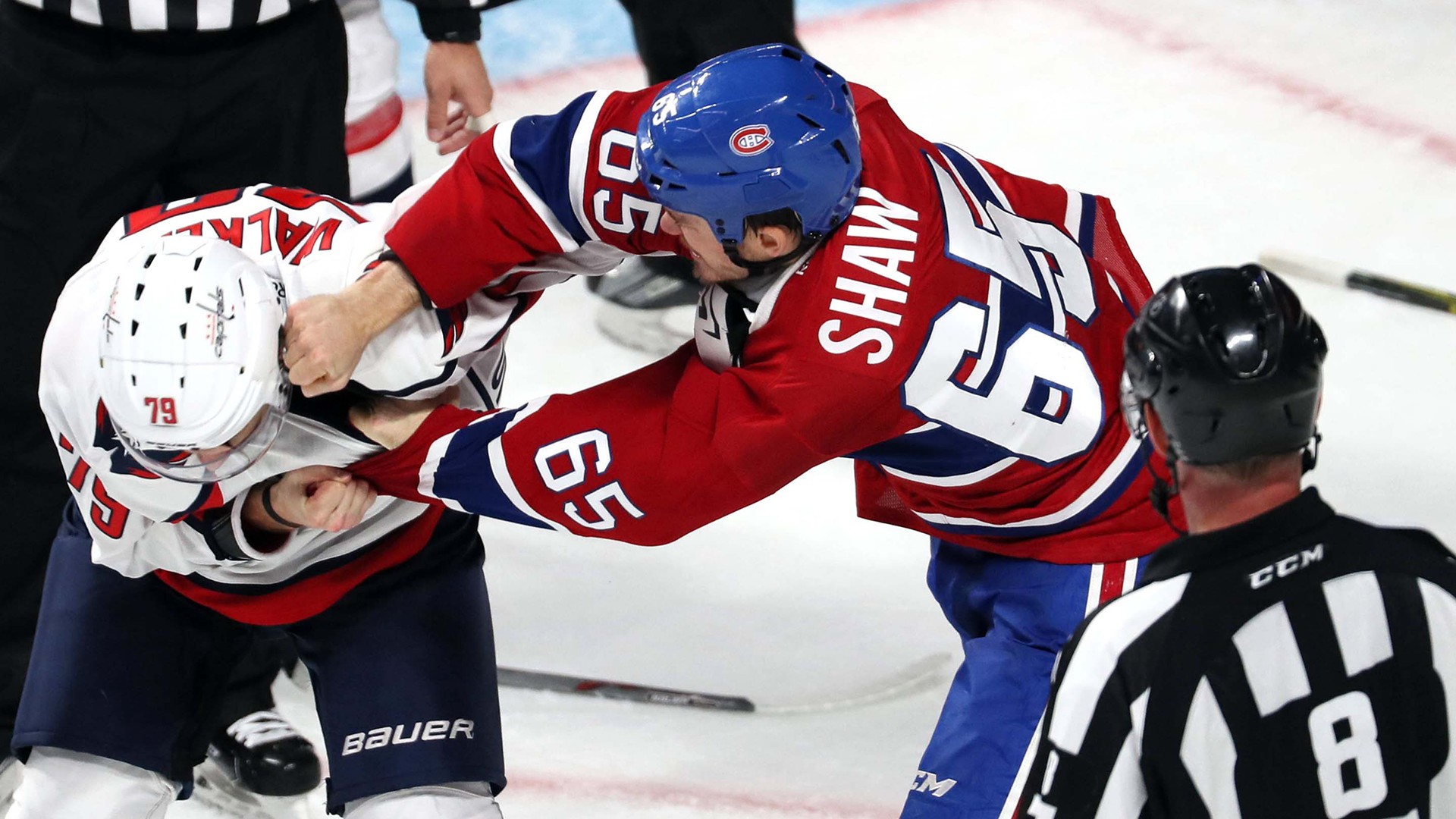 ---
Here's the backstory: Troy Crowder is running as a candidate for Ontario's Progressive Conservative Party in the Sudbury riding. Crowder is also a former NHL tough guy, one who played 150 games, scored nine goals, and logged 433 penalty minutes. At a speech, PC leader Patrick Brown said this about Crowder: "He actually as a rookie beat up Bob Probert."
That's quite a claim, given that Probert almost never lost. And the province's Liberal Party quickly jumped on it, emailing out an instant fact check. Their conclusion? "Fact: Troy Crowder did not fight Bob Probert in his rookie year. It's also debatable who won when they actually did fight."
Two problems here.
One, Crowder certainly did fight Probert as a rookie. Three times, in fact. This one's forgivable, because you can see where the confusion comes in. The 1990-91 season wasn't Crowder's first in the NHL, as he'd played a handful of games in previous years. He was still technically a rookie in 1990, but sure, you can imagine someone who's not completely fluent with the ins and outs of Calder Trophy eligibility rules getting this wrong.
But as for whether Crowder beat Probert…well, just watch.
That's a clear win, almost certainly the most decisive defeat of Probert's career. And it was big news at the time, since Probert was the undisputed heavyweight champion of the league. It was one of two high-profile defeats Probert would suffer to young challengers of the era, coming a few years before the better-remembered loss to Tie Domi.
As with Domi, Probert won the eventual rematch handily to regain his title. But that doesn't change the fact that Crowder absolutely won the first bout. (He also won a big free agent deal to join the Red Wings and team with Probert a year later.) So be it resolved: Crowder did beat Probert, and the Liberal fact checkers were dead wrong here.
So how did all this end? In the most Canadian way possible: With an apology.
See? That wasn't so hard. If there are any other countries out there that may be struggling with the whole "telling the truth" thing, there's probably some sort of lesson here. So smarten up and learn it, before we send Troy Crowder down there to start smacking people in the head.
Classic YouTube Clip Breakdown
So yeah, David Poile made yet another big trade and is pretty much the best GM in the NHL right now.
Yes, yes, hockey fans around the world are thinking, that may be true. But how can you make this about the Toronto Maple Leafs?
Don't worry, gentle reader. I've got you covered.
Have a question, suggestion, old YouTube clip, or anything else you'd like to see included in this column? Email Sean at
nhlgrabbag@gmail.com
and follow him on Twitter @DownGoesBrown.