Around midday on January 27, Murad Awawdeh was posted up in Foley Square in downtown Manhattan, waiting for Donald Trump to make his move. The president's first executive order banning travel from Muslim-majority nations was thought to be just hours away—an anti-immigrant executive order had already been signed—and Awawdeh, as political director of the New York Immigration Coalition (NYIC), had organized a Jummah (Friday) prayer service in response. The Muslims present were kneeling in prayer, with others forming a circle around them by way of protection.
"No matter what happens moving forward, we got each other's backs," Awawdeh later said to the crowd. "They came for immigrants on Wednesday, they are coming today for us Muslims, and they are coming for everyone else tomorrow."
Later that afternoon, Trump did, in fact, announce the ban, the second iteration of which is now on its way to the Supreme Court. And the next day, in no small part due to Awawdeh's long-established organizing connections in New York City and his social media presence, thousands of people amassed at John F. Kennedy airport to protest.
He hasn't been profiled in the New York Times or become a fixture on MSNBC, but Murad Awawdeh has been a critical figure in mobilizing New York City's Muslim and immigrant communities since Trump took office. The 30-year-old was born and raised in Brooklyn, and the events of 9/11 bifurcated his adolescence. "I went from being called a spic to terrorist overnight," he told me in an interview.
Growing up in the poor and predominately Latino neighborhood of Sunset Park, Awawdeh said that he was routinely stopped and frisked by the cops. In the days after 9/11, he continued, neighbors harassed his family because of his faith, and years down the line, he'd see his faith community torn apart and traumatized by NYPD surveillance.
---
Check out the VICE News look at the protests that broke out after Trump's first Muslim ban.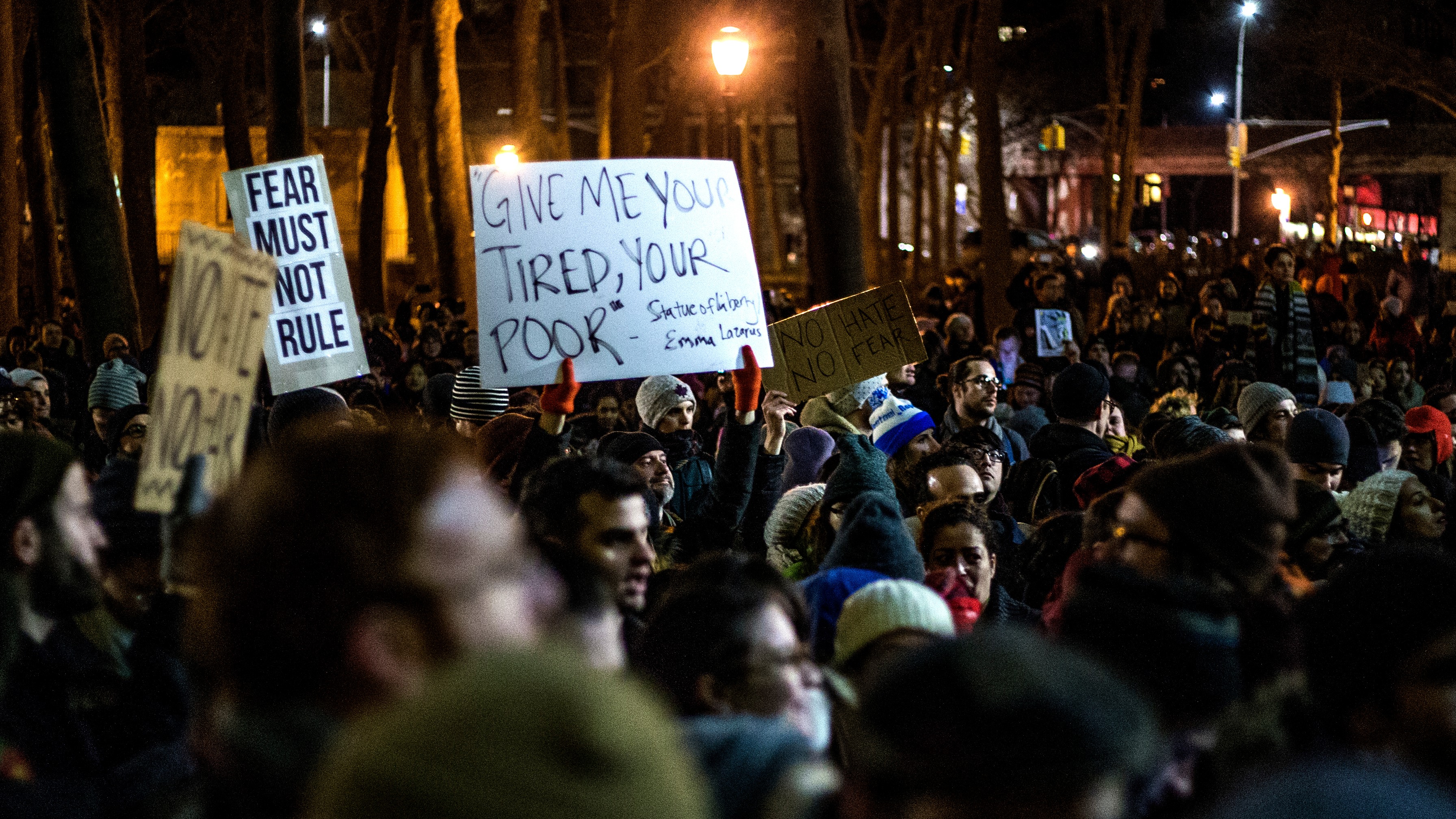 ---
It's his unique vantage point of "before" and "after" 9/11 that has enabled Awawdeh to grow into the organizer and political thinker he is today. For many Muslim American millennials mobilizing in the age of Trump, organizing is not just a matter of ideology or self-preservation. With a far-right presidency and a galvanized white supremacist movement—one whose loosest adherents are unafraid to use lethal violence, even against men coming to the defense of young women sitting on a train—organizing in tandem with other targeted communities is vital.
Awawdeh is the son of Palestinian immigrants who immigrated to the United States beginning in the late 1970s. As he was growing up in Sunset Park, the fourth of seven children, he began to take note of how his daily life compared to those of family members living in other neighborhoods. The crack epidemic, along with a heavy gang presence in Sunset Park, meant that it was dangerous just to walk to school, Awadeh recalled. Even as a kid, he understood that there was a clear relationship between Sunset Park's demographics—as a low-income community of color—and the dangers neighborhood residents faced every day. "The violence didn't come out of anywhere," he told me. "It was happening because our community was being neglected."
It wasn't just gang violence, either. Awawdeh, who was in elementary and middle school during Rudy Giuliani's tenure as mayor, recalled how he always experienced more police harassment in his neighborhood than elsewhere in the city. "That helped changed my analysis, especially after Amadou Diallo got shot up," Awawdeh told me. "He was Muslim. That was a huge travesty in my life."
Sunset Park has high traffic volume and significant industrial activity, and when Awawdeh was coming of age the neighborhood also had an elevated rate of asthma. One of his sisters used to get asthma attacks, and making the connection between local air pollution and rates of illness helped propel him into activism. As a young organizer, Awawdeh helped lead a successful campaign to prevent construction of a new power plant on the Sunset Park waterfront.
The 9/11 attacks shifted Awawdeh's experiences of racism both in Sunset Park and New York at large. Not long after the Twin Towers fell, young people in the neighborhood threatened and threw rocks at Awawdeh's mother, who wears a headscarf, he recalled. From then on, the kids were constantly worried about her safety. Estifan, one of Murad's sisters, told me that, like so many others, the family put an American flag on their car and hung another one in front of their home in order to demonstrate patriotism. About a decade later, the Associated Press investigative reports on NYPD spying were released, confirming what New York's Muslim communities already knew: They were being targeted for systematic infiltration.
Awawdeh, who now has a 21-month-year-old son, sees his struggle in part as a generational one. "The current fight that's happening [against Trump's Islamophobic policies] is being led by young people who were kids at the time of September 11, who've seen what our community went through, and understand what the fight looks like ahead," he said.
One of the few things that has kept Awawdeh going in recent weeks is imagining an alternative future for his child.
"Murad is one of the most humble and strategic organizers I know."—Ayisha Irfan
Even before the election, when most of America was expecting a Hillary Clinton presidency, Awawdeh and his colleagues and fellow activists started planning for the worst. The morning after the first travel ban was announced, Awawdeh arrived at JFK with a legal team, tweeting out a Facebook post calling for people to gather at Terminal Four. News of the event, which was also organized by Make the Road and endorsed by a host of other groups, spread quickly on social media.
Only a handful of people materialized at first, but as the day wore on the crowd grew exponentially. By 6 PM, the numbers had swelled into the thousands. Bodies crowded into the pick-up zones and the parking lot outside the international arrival area, creeping into the parking garage, where protesters hung signs from upper-story railings. "Even in light of all the craziness that this man has created, you still saw that there was goodness in people, who are going to fight back at every step," Awawdeh said of that day at JFK.
He recently moved from Sunset Park to Bay Ridge, where I live, and when we met at a coffee shop on bustling Fourth Avenue, I was struck by the man's self-effacing nature. In contrast to some other organizers prominent in New York politics, he didn't seem to derive his power or impact from being commanding or even especially visible.
"Murad is one of the most humble and strategic organizers I know," said Ayisha Irfan, currently a policy analyst at the Office of the Manhattan Borough President. Herself a longtime activist within NYC's Muslim community, Irfan got to know Awawdeh at a meeting in 2014 about NYPD surveillance. "He recognizes that transformational organizing is only possible when we invest in uplifting the voices of those who are directly impacted," she said.
When I asked Awawdeh what's been most difficult about being in the spotlight, he didn't even hesitate. "Getting hacked!"
In February, he explained, someone broke into his personal Twitter account and posted hundreds of messages about pornography (the tweets have since been deleted). "I think the intent was to discredit me within the community," he said. People have since tried hacking into his Facebook, his Apple ID, his email and even credit card account, he said.
When Awawdeh started getting trolled recently, as well, he turned to another, more prominent Muslim power player in New York City, Linda Sarsour, for advice. "After a while, you see that however much they try taking you down, you continue to do the work you're doing, and your work becomes even more successful that it did before," he recalled her saying. "It gives you the fire in your belly you need to keep fighting."
Since the protest at JFK—which may have helped convince judges to block that ban and stymie its replacement—Awawdeh and his allies haven't slowed down. Most recently, NYIC pushed Mayor Bill de Blasio to reconsider his proposed budget, which called for restrictions on immigrants convicted of certain crimes from receiving city-funded legal services when facing deportation. While that fight was unsuccessful, the city council did agree to pony up the cash for those immigrants' legal defense independent of the mayor's office.
Meanwhile, in such a hate-filled political climate, the ongoing holy month of Ramadan has added significance. "As a member of the community, we're in a time where our faith is being tested. Our values within our faith are being attacked every day," Awawdeh said. "Being resilient in the face of that is actually really empowering."
Follow Aviva Stahl on Twitter.