CFO Bulletin from 1982 — Screenshot via Internet Archive
The Internet Archive is full of gifts: malware museums, secret public domain books, random VHS tape collections, basically any esoteric interest you can think of, there's probably an archive collection of it, built by volunteers who are just really into that thing. Now, we can add "furry fandom history" to that list. 
Started by Internet Archive member wolfin last year, the Furry History Collection includes years of materials and videos from conventions like Anthrocon and ConFurence, as well as livestreams, meetup flyers, and con books. Contributors are still adding more content to the collection; it's at 435 items as of writing, and growing. 

Much of these items are scans were originally made by members of the Prancing Skiltaire household—one of the oldest furry households, established in the 1980's—as part of their ConFurence archive of 3,000 pages of content.
Most of the collection is made up of recording from conferences, including concerts, dance competitions (like this one from Anthrocon 2018), and endearingly awkward skits.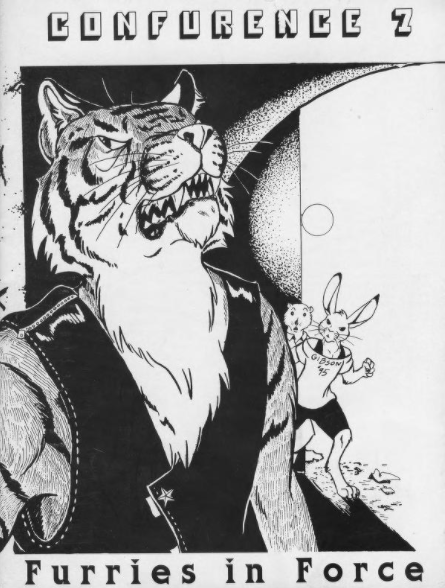 A lot of the furry fandom's early history happened on the pre-web internet over telnet chat servers, before archiving websites and screenshots was even possible. In this collection, the earliest contributions are paper event flyers—the oldest is a flyer from 1979 advertising a film screening with the Cartoon/Fantasy Organization, a group founded in Los Angeles in 1977 for enthusiasts of Japanese animation and anime featuring animals. This was before the World Wide Web, and before "furry fandom" was even a thing; C/FO co-founder Fred Patton has called this time "proto-fandom."  
Much of furry life takes place online, but attending cons and in-person meetups is a big part of some peoples' experience of the fandom. After COVID-19 restrictions killed most in-person conventions for the last two years, a trove of videos and nostalgia like this one could hold fans over until they're running again. And for the uninitiated, it's a valuable historical knowledge base of what being part of the fandom actually looks like.