Cotillon is the project of one Jordan Corso, an LA native who started making music during his lunch breaks while he was working an office job near Elysian Park. He got together a band, quit his job to follow his dream, and after a couple of EP's, Jordan and the rest of the guys started recording their first LP with the help of Chet "JR" White (formerly one half and the producer of San Francisco's Girls, the former band of Christopher Owens). After a year of recording and mixing, Cotillon are streaming the first cut off their self-titled debut album, due early next year via Burger Records. In contrast with the beachy, summery tracks on their White Roses EP, "Before" is a dark, beach noir-ish track, whose hazy vocals speak of looking for love in all the wrong places. Listen to it below:
We spoke with Jordan to know more about Cotillon, and ended up chatting about making it in LA, LSD in Tijuana in the sixties and kimonos.
NOISEY: Where are you guys from, and how did you get started?
Jordan Corso: I moved to LA with my college girlfriend after we graduated and after a really rough year of trying to work it out, we broke up. Like most people in their early 20's, it was hard for both of us to figure out what we wanted out of life and how we could include each other. I ended it and moved into an old building downtown with some space to record and not a lot to do other than an office job I really disliked. I started writing songs in Elysian Park during my lunch breaks about the things me and people close to me were going through. I recorded the songs on my phone and then went home and recorded them at night after work until I had an album's worth of material. I put a band together, we started playing them live, and I never felt better in my life.
You guys just recorded your first record with JR. How did that come about and what was the experience like?
I met Brian Hughes, who started Castleface Records, sitting by a swimming pool around 4 am at a Coachella after party (laughs). We both seemed to be equally nocturnal and have a lot in common. Brian had seen Cotillon play but we never met until then. He asked me to email him some songs and we ended up talking more. I had a lot of demos and needed some help recording them. He put me in touch with JR and after JR agreed to work with us we prepared for the sessions by sending demos and notes back and forth throughout the summer.
We went into the studio the first week of October 2013 and tracked as much as we could at East/West studios room 3, where the Beach Boys recorded Pet Sounds; one of my friends worked there and got us in on a friend rate. After we ran out of time there we moved everything over to this guest house owned by a friend of our managers that had a studio built into it. The studio had never been used before and was filled with brand new stuff. Some rich dude in the Hollywood scene built it for fun, apparently. It's not very often you have people asking you to try out their studio. At one point we were doing vocals through one of Prince's purple Fender reverb amps. We spent another few weeks there before we headed up to SF to finish overdubbing and mix the record in JR's house. Some of his music friends in San Francisco showed up to play on the record as well. As far as working with JR, he kicked our ass pretty good. He never chopped anything up, every take had to be a performance.
JR and Jordan at the studio.
The band's still pretty young, but how do you think you've evolved since you started out?
It has been the kind of thing where you learn as you go. I'm having fun and trying not to take myself too seriously. I started this in a park on an iPhone with no expectations a few years ago. The music I'm writing now is more developed than the stuff I was writing then, but the focus is the same —I'm still writing for me. I'm writing to deal with shit.
You once said in an interview 'Cotillon is really about "songs." Each song kind of exists separate from the other.' Is that the case with this LP?
I listen to a lot of different genres of music, so my influences are constantly changing. I experiment a lot, but for the most part try to stick to what I'm good at. Sometimes I want to do slowed down melancholy, and other times I want fast power pop. I feel like I would like a record with that kind of diversity; it would keep me interested.
How hard is it to make it in LA?
It all depends on how you measure success. I think good songs find their way out, if that even matters to you. Sometimes the best songs are the ones that don't find you. By that I mean, songs that are written with no intention of sharing. I know some amazing songwriters that refuse to publish their music, and it's fucking awesome, I wish I was that cool.
What's the Cotillon lifestyle like?
I've spent the last few months getting to know San Francisco; I moved here full time two months ago and the only other time I've spent up here was recording part of the record and sleeping on JR's couch during a cold winter, which is pretty hazy for me memorywise. I take really long walks around the city and spend a lot of time figuring out where I'm going to get espresso in the morning. Most of my friends here work in and/or play music, so I'm getting really spoiled with shows, festivals, and free drinks. There is a lot of talent in this city, even though people have been saying otherwise. I have a girlfriend here that I'm crazy about and a lot of other things to be grateful for at the moment.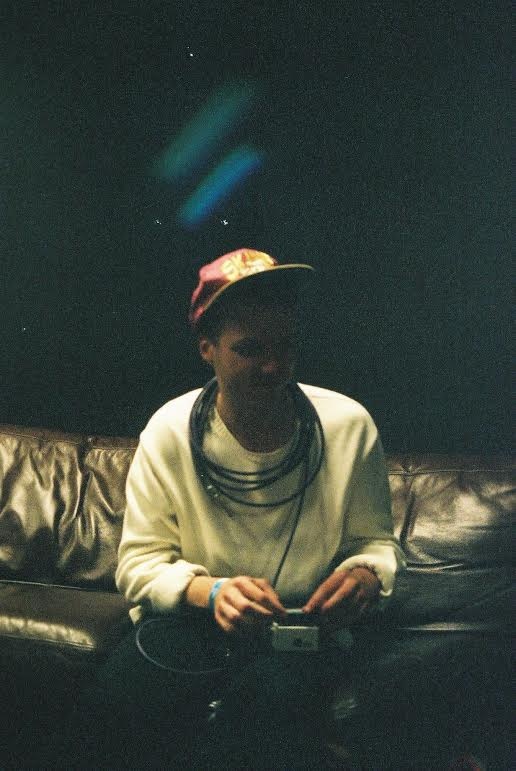 Photo by Laura-Lynn Petrick
I read somewhere you guys have had pretty wild experiences in Tijuana. Tell me about that.
In the 60's surfers were doing things down there that they could only rely on Huxley for education on at the time. After I visited I would have preferred that it remained the mythical party it was described as by my father, but I made the most of my time. It's really interesting because the pharmacies are fully stocked with any drug you can think of and they don't ask for a prescription. I'm pretty sure I saw Thomas Pynchon down there, too. Time is disguised there. I like to exist in places where it feels like i'm in another time —like Midnight in Paris, but Tijuana.
What's the craziest thing that's happened or that you've seen happen while on stage?
My brother's amp exploded during a guitar solo one time; everyone's mind was blown.
What do you think is the perfect setting for listening to Cotillon?
A Mexican bar in Amsterdam called Mexico City.
As part of your merch you have some awesome kimonos. How did that come about?
My brother and I would walk to little Tokyo for dinner a lot. We loved Shabu Shabu sushi when we could afford it, Ramen… We were raised on izakaya style Japanese food. Anyway, they sell really cool kimonos in Lil Tok for 15 dollars in this strange store that also sells scales and anime vhs. I just figured that would be cool, to you know, have something different.
Tell us a little about the track we're publishing today.
Yeah, well, at this particular point in time I was looking for love in Los Angeles and writing about my failures at that. My brother Zach played guitar on it, Michael Medeiros played drums, Bret Leinen played synth, and JR played bass, produced, mixed, and recorded it. This particular song was recorded in Room 3 at East/West.
Follow Cotillon on Facebook, and listen to more of them in their Bandcamp.