You know when someone mentions a band name and it sounds vaguely familiar, so you politely say you think you've heard of them? I'm in one of those bands. We were never a household name or a band who sold out a tour, but maybe we were one of those bands you accidentally saw open for a band you really love. As kids, we played music because it was fun and we had nothing else to do. Twelve years later, I'm sitting at my computer after getting out of my part-time retail job, writing about the life and death of my mid-level band, the Swellers.
The summer after eighth grade, I started a band with my brother, Nick. Like all young musicians, we didn't have a sonic focus so we'd just play pop punky originals like "Zombie Pirates From Outer Space" and "I Wanna Be In The Mob," then throw in covers like the Mario Brothers theme. Not only were we one of the only punk bands in our area, we were the youngest. I still have fond memories of performing during our school lunch and kids throwing breadsticks at us because according to them, we were wussies. Full of angst, we needed a new scene and began volunteering at our local venue running the sound, stage and concessions. From working there and meeting so many new people, the shows we were thrown on got better and better until Michigan heroes Mustard Plug and the Suicide Machines let us open for them. Our crowd went from a dozen people to a couple hundred in a few years. We were finally becoming a local headliner and it felt awesome.
Things were starting to go somewhere and we were one of the few bands to get out of our town. We signed to a local label right in time to play a week of Warped Tour and released what we consider our first real EP. We'd invite touring bands to stay at our parents' house for a home-cooked meal and without realizing it, began making some crucial lifelong friends. One of these bands, A Wilhelm Scream, showed our EP to Nitro Records and they were interested in signing us. Occasionally, we'd make it to California and meet with the label's owner, Dexter Holland of the Offspring to be fresh in their minds. Each time we returned to the Nitro warehouse, we noticed the shelves went from being stocked with albums to eventually just supplies for his hot sauce company, Gringo Bandito. A few months later, we got the call saying they were going out of business and dropping almost of all of their bands so they could no longer sign us. It was devastating news for a band potentially getting their first break. At an early age, we found out the music industry doesn't always keep its promises.
A week after I graduated high school, we embarked on a five-week tour to California and back. Shows ranged from us opening with 50 people attending to headlining in San Antonio for only the venue's bartender. We got used to bizarre circumstances, sleeping on floors and spending days driving in the van. After booking our own tours for years, bands like A Wilhelm Scream, Streetlight Manifesto and Less Than Jake noticed and started getting us on our first package tours. This went on for a while, but we didn't want to be the opening band forever. We recorded a few demos and sent them to a ton of labels in an email with only a few short sentences and an extensive touring history attached. Fueled By Ramen was the first label to be interested which blew our minds. FBR had the likes of Paramore, Panic! At The Disco, Gym Class Heroes, etc. With the news floating around, we were approached by a friend of a friend who wanted to manage us. He agreed to work for free until we felt like he proved himself. He organized a label showcase with several big indie and major label reps piled together in a small room in Manhattan. After tons of emails, phone calls, and freak outs, we decided on FBR, an agent, and kept our manager. We signed a contract and used the advance money to pay off our van, upgrade our gear, and get us ready for the next step.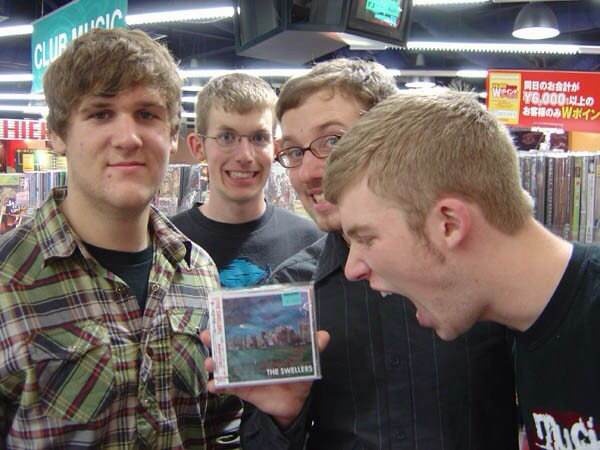 In 2009, we were launched into a new world when we toured with Paramore. Both of our albums came out the same day and the tour was bigger than anything we've ever done. Unfortunately, our first week album sales were not sent in properly to SoundScan in addition to the first week of the tour being postponed. It wasn't a smash hit like it could have been, but we made up for it by personally walking around after shows and selling around one hundred albums a night. The idea of catering, tour buses, a large crew, and sold out shows was so foreign to us. Every tour we wanted, we were getting. We even got a publishing deal and got a song in one of the Tony Hawk Pro Skater games. In typical Swellers fashion, the game ended up being the dud of the franchise. To people back home, we finally made it. To us, we were just now able to afford our already cheap rent. Since I was technically living in the poverty level, I was getting groceries with food stamps. Imagine that, a band being on a big indie record label and still living off of food stamps. We weren't starving by any means, we were just getting by because we didn't have time to get jobs between tours. That's what happens when you try to dedicate your whole life to being in a band and it doesn't pay you back.
For our sophomore album, we convinced our label to let us record at the Blasting Room with producer Bill Stevenson. Not only was Bill the drummer of Descendents, ALL, and Black Flag, he was also responsible for producing most of our favorite Fat Wreck Chords releases and new mega mainstream crossovers, Rise Against. We were listening to Foo Fighters and Jimmy Eat World nonstop and finally wanted to make a big rock record without any fast punk beats. To us, it was a no brainer, but to the rest of our punker fan base, we were unknowingly committing sacrilege. Not only did we use almost our whole budget on the album, but we had no new tours coming in. In addition to that, the label felt it would be smart to release the album a month earlier. Without a proper game plan or major tour, the album had weak sales. The one major score for us was when our video for "The Best I Ever Had" played immediately after Paramore's new video on YouTube and got us a ton of traffic. It was the closest thing we've ever had to a hit song. The video has over one million views and is our biggest song to date on our most expensive album that sold less than the one we funded ourselves. Go figure. Frustrated with the direction things were going, we asked the label if we could leave. We were what is known as, "a band's band." Something that is a blessing for great opportunities and a curse by not instantly connecting to a wide audience. The major side of the label was going through massive changes and we got out right in time. We were stuck in mid-level band land.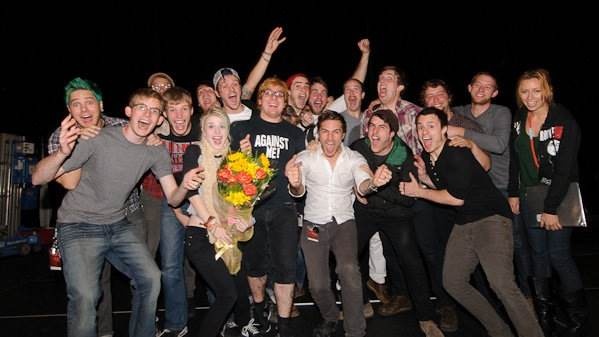 Every business decision can completely change the rest of your band's life and it was about to kick our asses. The label thing wasn't working out, so we did the "cool" thing and released an EP on our own. It was fine for a while, but we needed the financial and political push of a label again. The bad news started when our manager got a job at one of the labels trying to sign us, which was a major conflict of interest. I approached him about the situation and reluctantly agreed that it would be OK as long as we can still shop around to other record labels. Unfortunately, the industry likes to talk and the other labels assumed we were already off the market. Communication issues between our manager and us became a daily thing. Improper filing of taxes started to add up and we owed thousands of dollars. He somehow got us banned from a major international tour without us knowing. We missed several huge tour opportunities by committing to some smaller tours early on. Not necessarily were they all his fault, but we made the obvious decision to part ways with him. To no one's surprise, the label he was working for pulled out from wanting to sign us. We were stuck in limbo. Out of the blue I texted my friend Chris from No Sleep Records and a few hours later we had a contract. Nick and I decided we would manage our own band and we'd enter another strange, uncertain chapter of our band. I still have yet to hear from our ex-manager after the instance a few years ago.
As individuals, we have befriended a lot of cool musicians and important players in the industry, but as a band and brand, we were just around a bit too long without any major crossover. Our first major band discussion happened after the final show of our Brazil tour. Two of the guys were freshly in their 30s, my brother was getting married, and although I didn't like the idea, we decided to keep trucking at a slower pace. Having that talk in a country most people will never have the chance to visit in their lifetime still blows my mind, but I knew it was bound to happen. The album came out and again we had no big package tour to back it up. We booked our own house show tour across the country which ended up being one of our best-grossing runs and got a lot of people excited about us again. Band morale was finally through the roof until one month later when we received a few invoices and realized we owed close to eight thousand dollars. The business side was slowly killing us and the reality of things started to dawn on us the longer we were home. My bandmates were making more consistent money at their jobs than touring. I got a part time job that would let me tour and sadly by being off the road, I was making less money. We really didn't want to stop the band, but we knew things were plateauing. By getting out now, we could at least preserve some kind of legacy. On our last tour, I brought up the idea of booking some final shows and calling it a night. The guys were reluctant at first, but all agreed it was for the best. I wanted to be touring and creating new music full time because I have a lot of life left in me and not a lot of money in my wallet. After all, we never had the momentary major success like a lot of our friends did to fall back on. We just opened for them.
Maybe we missed our big shot by not cashing in at the right time. Maybe we could have set our artistic pride aside and written the same record over and over again. Maybe we released too much music. Maybe we shouldn't have been so accessible to our fan base. Maybe we could have picked a different record label or a different manager or changed our band name a few years in. You can question yourself forever, but it won't change a thing. I like the choices we made. I like that we took risks and kept it real. We traveled to over 18 countries and five continents, getting to play the music we loved and believed in. Now we're booking our final shows this fall. Maybe posthumously we'll become a big deal or just fade away. In retrospect, it doesn't matter if you've heard of us or not. No one ever said you had to be a household name to be successful. Regardless of whether we were a small, mid-level, or big band, we did things our way and I'll always be proud of that.
Jonathan Diener is the soon-to-be former drummer of the Swellers. Follow him on Twitter - @jonodiener
--
Want more band stuff from Jonathan? Here ya go:
How to Not Look Like an Opening Band Even Though You Most Definitely Are an Opening Band