Not to be confused with Young Jeezy's tune "Trap Star," London label Trapstar initially started making custom tees for their mates some seven years ago, but due to growing demand, Mikey Trapstar and his cronies eventually had no choice but to change the company policy to please the masses. Known for their bold, graphic t-shirts and hoodies, tough leather biker jackets and LDN-repping caps, the brand now boasts a boutique on London's Portobello Road, as well as online. With their clothes spotted on Rihanna, The Weeknd, Rita Ora, Iggy Azalea, and A$AP Rocky, and model Cara Delevigne rarely papped without her Trapstar beanie, these Londoners continue to bridge the gap between high fashion and street swag. So Noisey pinned down Mikey to find out what's up.
Noisey: It seems like everyone wants a piece of Trapstar these days. You've built up quite the brand. If it's not Cara Delevigne taking selfies looking ghetto in Trapstar beanies, then it's Rihanna getting snapped out on the town in her concept Trapstar pieces. Tell me about the grind from London cult label to in-demand international brand…
Mikey:[Laughs] Cara ain't ghetto, JP, she's G'd up! There's a big difference. Ghetto is jumping over a train barrier to dodge an £8 fare with £40 in your pocket. G'd up is sitting in a 5-star restaurant in a baggy tee and kicks, not giving a toss, while all the suits and dolly birds stare at you! That's Cara. She doesn't chase fashion; fashion chases her. Trapstar was founded by me and two friends—Lee Trapstar and Will Trapstar—nearly seven years ago. Online stores weren't popping then, and we had major problems getting stockists because the recession had just hit and they didn't want to take the risk on such a new brand. So, we got creative. We created a pop-up store system called Trapstar Invasion, and we called it that because we felt we were being black-balled and shut out of the industry—even though we had an army of supporters—so we had to take matters into our own hands. This system gradually expanded out of London, and we invaded Birmingham, Bristol, Manchester, and even New York. It eventually got to a point, in 2010, where we could afford to get our own flagship store in west London on Portobello Road.
Rihanna and models Cara Delevigne and Georgia May Jagger. Okay, but how much are you paying these stars to wear your garms? They can't be doing this out of the love…
I pay them with checks that bounce after 30 days! Nah, I'm messing with you. We don't pay people to wear our clothes, it's all been love so far and I'm very grateful for that. I believe that everything should be organic. How can someone say, "I'll wear your clothes to go shopping if you pay me"? That just proves they don't like your brand, so why force it? Forget fashion for one second, as a human with self-respect, you should only build with people who want to build with you.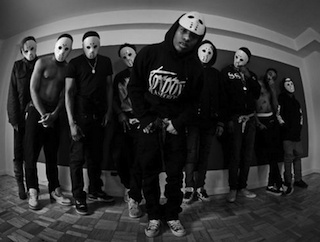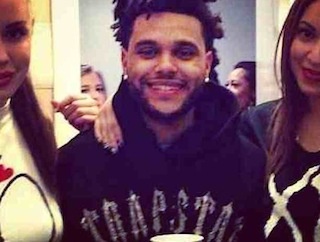 A$AP and The Weeknd in Trapstar.
Wise. You've got close ties with the hip-hop community, too. Over the years, Trapstar's hosted memorable parties with A$AP Rocky back in the early days, and Stalley, among others. How have you managed to build such a close relationship with these artists?
I guess we're pushing the same type of movement, I just happen to be in fashion. It gets to the point when you know someone who knows someone, and mutual friends would just refer the brand. We've put in a lot of work in the scene, so word gets around, relationships build, and then we just connect. I'd never beg-friend to get someone to mess with Trapstar, that's forced and corny at the highest level.
Benga fronted the campaign for your recent collaboration with computer game, Hitman: Absolution. How did that collaboration come about?
We were headhunted, due to our color and brand ethos. Benga's a good friend of mine, so I saw it as a good in-house decision. He suited the project to a tee! It was a really dope project, actually. I got to design with the darker side of my imagination, and was allowed to go to a gun range and shoot a crazy video, underwater, with bullets. And we didn't get arrested for it! That's a win in my books!
You've got a new thing with Glaceau Water called #shinebright, where you're looking for the next big fashion designer to shadow you and gain some much-needed experience in the industry. What kind of thing will you be looking for when it comes to decision day?
I just want to see some originality and hunger. They don't have to be the hottest or most well-rounded brand, because that involves finances and the whole point of the campaign is to try and help them. They've got to give off that energy that will make people think they'll be around for years to come. I know how it feels to need that little helping hand to get to stage two, and I feel we've had so much support that it's only right we give back and let some new talent through. [Check here for more details.]
Rita Ora in a Trapstar biker jacket. With Jay-Z. Casual.
Some people claim British streetwear is dead. Others say it's going through changes. Thoughts?
British streetwear? Dead? Wow! What bitter guys have you been speaking to?[Laughs] It's definitely going through changes, but that's the circle of life. Nothing is the same as ten years ago: music, fashion, sport, or even food. The way I see it, you have to adapt with the times or drop yourself out, hide in a cave, and become extinct. More and more people are proud to rep the UK, so I think things are going down the right direction.
Joseph 'JP' Patterson is a writer based in the UK. He's obsessed with underground music and he's on Twitter - @Jpizzledizzle.
Style Stage is an ongoing partnership between Noisey & Garnier Fructis celebrating music, hair, and style.