It's not an easy gig to feel hate and not become a hateful person. You start off wanting be the one guy in the church telling the truth and end up the prick making cheap jokes at a wake. Along the same lines, it's hard to talk about interactions between the sexes with any degree of honesty without being a swine. Not to say that love songs are inherently false—they're not, they're inherently awesome—but eventually you have to write the B-side.
So how do you sing about the horrors of the world, the horrors of your dating, the horrors of your own damn self, without being a complete fucktard? Same way you get to Carnagie Hall, son: practice.
The Native Cats are a two piece (bass, KORG and Nintendo DS, drum machine) from Hobart, Tasmania who have been successfully working this shit out. They often get compared to Young Marble Giants, but as neither I, nor they (not being Rough Trade shop clerks, but instead, rough and tumble Men of Today's World), have ever heard Young Marble Giants, I'm just going to say they may sound like Young Marble Giants. I think they sound like a lover letting you down easy, while holding your best friends hand. Over the course of two albums, and now a new split seven-inch (with UV Race), they've been wrestling with how to talk about love and crime without descending into empty dark vibes and girlfriend-as-victim/whore dramatics. It's not a particularly easy task, and most bands fail, but I think they handle it with aplomb.
Both Native Cats albums, Process Praise and Always On, are fine examples of how to stand apart, glowering like a step-child, without being a bully or a cheerleader to your fan's worst instincts. I mean, unless you're in U2 or Madball, being a singer in a band is about as ineffectual as a human being can get. Good luck effecting any change outside of making some ex-girlfriend feel bad or a dope in a hat feel like they're part of something bigger than themselves (note to fans: you're not part of anything larger, ,you're alone, unknowable and impenetrable to those around you, even yourself, always, 'til death, soooooorry), so the impulse for aggrandizement is understandable. But the Native Cats construct minimal, vicious songs that are catchy as hell and provide the strong comfort of no comfort at all.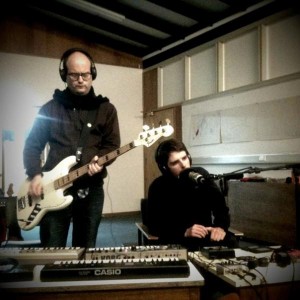 Peter Escott, the lyricist of The Native Cats (with Julian Teakle on bass) writes lyrics that are often vaguely threatening, sung with menace, but somehow aren't cartoonish. Look, I love Big Black too, and all the angry scrawny young-man-noise-rock that came from it, but it's hella easy to come off as a nerd who just needs a good slap to settle whatever misgivings he thinks he has with a world that's never given him anything but hugs and access to cheap printing for his caustic t-shirt slogans. So it's a relief that The Native Cats' words are more in line with the existential rants of Mark E. Smith than the aforementioned Albini provocations. And what crime drama is in them is more from Escott's day job as a legal transcription typist and the words of the "criminals that defend themselves, the kind of narcissism that goes into it" than any murder ballads or girl-death fantasizing. As he says on the very subject, "There's too many dudes pretending to be dry and cruel in music already. Especially in Australia, where it is entirely Nick Cave's fault. Let Love In is a great album, but now has this embarrassing legacy here of men love-hating women in an uncomfortable baritone." Rest assured, Peter, it's not especially in Australia. Well, actually, in the States, we tend to sing out our misogyny in a kind of whiney mid-range. But the point stands.
I may be making The Native Cats out to be an intellectual exercise in walking the middle path. If I am, I'm doing them a disservice. The music they make is driving, spare as fuck, and tense. "Thrilling" may be hyperbole, but I listen to their records often…and am thrilled. Their songs do walk a middle ground, but it's a middle ground between extremes that are only useful viewed from a distance. A good band needs a hint of bitterness and a hint of hope, but too much of either and you're a lie, And even if everyone falls for it, it's still a lie. So big ups to The Native Cats for telling the truth, and doing it entertainingly. I'd want them to be the band at my wake.
You're going to get an opportunity to see The Native Cats soon (here's a pretty rad video of them live) as they bring their self described brand of post-punk pub-rock to America in a couple weeks. I still don't know what "pub-rock" means, but I'm going. If you're a nice person, you can totally stand (not too close) next to me.
THU 9/20: Sierra Grille, Northampton, MA w/Potty Mouth, Flock of Sigall
FRI 9/21: P.A.'s Lounge, Somerville, MA w/Reports, Potty Mouth, Major Stars, Cuffs
SAT 9/22: Dead Herring, Brooklyn, NY w/Home Blitz, What Next?, Household
SUN 9/23: Cake Shop, NYC w/Estrogen Highs, Scott and Charlene's Wedding
MON 9/24: Kung Fu Necktie, Philadelphia, PA w/Pet Milk
TUE 9/25: Golden West Cafe, Baltimore, MD
WED 9/26: Velvet Lounge, Washington, DC w/Harness Flux, La Reproduction Interdite
SAT 9/29: Murphy's, Memphis, TN (afternoon show at Gonerfest)
TUE 10/2: the Funhouse, Seattle, WA w/Squib
WED 10/3: the Know, Portland, OR
THU 10/4:the Northern, Olympia, WA w/Survival Knife, Morgan and the Organ Donors, Vex
FRI 10/5: Casa Sandinista, Oakland, CA w/Uzi Rash, Body Swap, Yi
SAT 10/6: Hemlock Tavern, San Francisco CA w/Buttons