Record hustlers are dicks. There's no way around it. It's inherent and disappointing, but it's fact. This knowledge has been with me for some time, but recent observations have heightened my prejudice for this slime-drenched sect of humanity.
IN HIS NATURAL HABITAT, THE RECORD HUSTLER GETS LITTLE TO NO SLEEP.
Like a bird of prey residing after-hours in a dense, distant forest, the record hustler spends long evenings scouring websites like Ebay and Craigslist, while salivating at the thought of a fresh catch. The hustler is the first to early bird weekend record sales. He spends the better part of his time complaining about how tired he is from pulling an all-nighter to catch reruns of his favorite culturally-irrelevant 80's sitcom. His exhaustion-induced mania will often cause aggression and animalistic territorialism, occasionally resulting in a fist fight with a competing hustler.
THE HUSTLER HAS TERRIBLE CLOTHES AND HAIR.
The record hustler may sport a long ponytail. There have been reports of hustlers donning full sweatsuits of various colors. Their shoe of choice is generally a cheap sneaker, and they prefer Velcro to laces, as Velcro is quicker, and time wasted is a potential record score lost. Ironically, the record hustler will rarely sport a band tee shirt. This is a natural move, as the record hustler prefers the camouflage of a no frills outfit.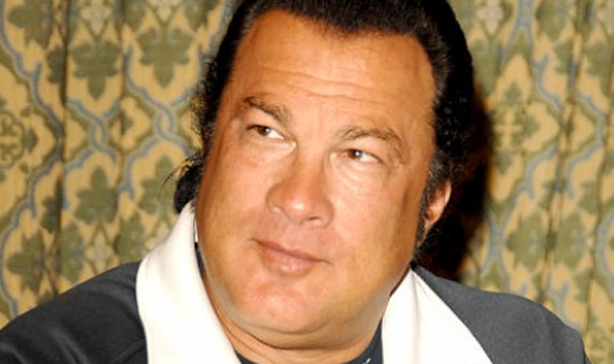 Many record hustlers choose an image that resembles an overweight Steven Seagal.
THE RECORD HUSTLER DOES NOT LISTEN.
The record hustler does not need to listen, since he already knows everything and is unwilling to compromise room in his elitist mind bank concerning petty insight on a group that "no one has cared about in at least six months".
THE RECORD HUSTLER IS CONDESCENDING.
If approached, he will say things like "I can't believe you've never heard of this group." If you are also involved in music, he might say "If you're going to be in this business, this is a band you should really find out more about." The record hustler may or may not choose to make eye contact when dishing out said insults and may or may not say things under his breath to exit any and all conversations as the victor. As was stated earlier, record hustlers are pompous assholes.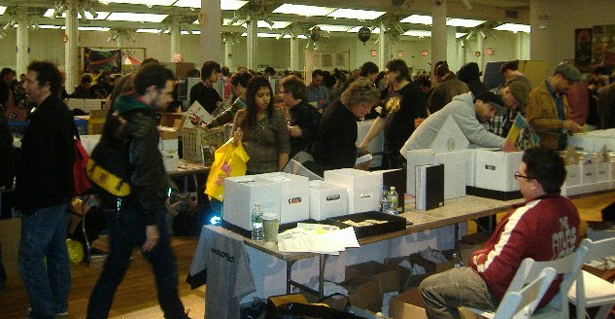 Here in their natural habitat at WFMU record fair, if you look closely you will notice a handful of record hustlers ready to strike.
THE HUSTLER IS AN ANNOYING EATER.
Since everything is a game, and winning is the number one priority, the hustler may opt for five items off of a .99-cent value menu. He will justify this by saying that $4.95 plus tax gets him more food than a value meals priced at $4.99 plus tax. The record hustler may decide to go mobile at times, and take smart treats with him such as granola bars, trail mix, or assortments of spiced jerky.
The Hot Pocket is a meal of choice for the record hustler. The portable meal can literally fit in his pocket and be reheated several times or eaten raw. Hot Pockets are ideal food when flea marketing or spending the night in the car.
In closing, one should fear the record hustler, as he will do anything to make a sale or get the records you have that he wants. He will stop at nothing. Deceit and an intense sense of urgency will play a large part in his strategy. The record hustler may resort to immoral lies to get what he needs. He may conjure up tales of a sick mother, or claim that his brother's dying wish was to own that rare Stonewall LP. He may even go as far as to insult you for owning the record, claiming that a listener with your taste level does not deserve a record of such caliber. The record hustler will stop at nothing, for (as stated above) he is a pompous asshole.
Previously - Five Amazing Records that are Impossible to Find