Hey Stamos! via iorr.org.
The mullet is arguably the most dubious hairstyle ever. Regardless, it was a good time to be a mullet in the 80s, with every Tom, Dick, and Jon Bon Jovi cutting one onto his head. The silver lining of course is that now we can Google image search "John Stamos 80s" and enjoy an endless array of head shots like this one.
If you haven't been distracted by some light afternoon John Stamos-inspired masturbation and want to go all the way down the mullet rabbit hole, may I suggest also checking out some of music's most famous/hilarious mullets: Billy Ray Cyrus (which might also change your opinion about Miley's experimental streak), Michael Bolton (who pushed the boat out with mini-bangs), and even Bono (someone should hold up a photo of his mullet every time he acts like a douche).
Billy Ray via popdust.com; Michael Bolton via papermag.com; Bono via u2interference.com.
But the mullet isn't the sole dominion of the man—because pfft, I mean, whatever boys can do, girls can do better, amirite feminism? Except that women should know better. Women shouldn't do such comically ridiculous things to their follicular topiary, especially in the spirit of doing things better than men. It's not a matter of gender politics or what women can and cannot do, because even women who are bad at hair are good at hair. Hair is the woman's peeing standing up; we can do it without even trying. Rihanna mullet via cocoandcreme.com.
Which is why I find Rihanna's current choice of mullet so perplexing. RiRi's new business-in-the-front, party-at-the-back hairstyle is questionable at best, unfathomably nauseating in general. I always loved her "Umbrella"-era reverse mullet, and overall Rihanna has consistently been winning at hair, even if her vagina-skimming boots, denim g-stings-as-outerwear and general "fashion" choices verge dangerously into crazy-hip-hop-cat-lady-with-cash-to-splash territory.
Here are two photos of Rihanna wearing silly outfits that look silly but with immaculate hair:
Rihanna Ridiculous 1 via fashionbombdaily.com; Rihanna Ridiculous via glamour.com.
But something's happened. One of my friends suggested she's so all-powerful her team must now comprise merely of yes people, and none of them are ballsy enough to tell her the mullet stinks. Oh, RiRi, what in the name of Michael Bolton has gotten into you? You could have borrowed an insane wig from Gaga or just shaved your whole head so smooth it reflected the sun and still looked like a divine angel sent to our Instagram feed, all weed smoke and illegal slow loris cuddles. But no, you just had to get a mullet.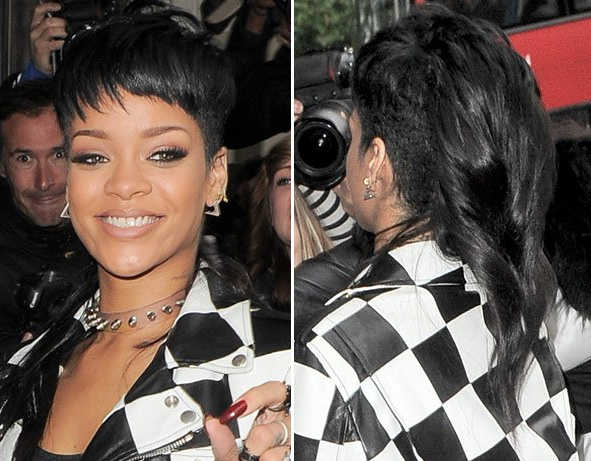 I've said before that the femullet is nearly impossible to pull off, and Rihanna—who once made me think a leather baseball cap was a good idea—is no exception. Her particular mullet is, unfortunately, verging on a rat-tail, which is the mullet's toothless, possibly inbred cousin; the hair style du jour of country boys called Cletus who spend their days propping up the bar and their evenings cow tipping with their buds. And so it is, on this tragic day of reckoning, that we've finally discovered the one thing in all creation that does not look good on Rihanna. Behold: the RiMullet. Mullet via hollywoodlife.com.
The continuance of the femullet is an unexplained phenomenon. There is no rhyme or reason for its persistent existence. Joan Jett is, to me, the ultimate female proponent of the femullet. But I won't lie, I didn't know about Joan Jett until Britney covered "I Love Rock 'n' Roll" in 2002. In my defense, even though the Britney video was earth-shatteringly amazing, once I'd heard Joan Jett do it, I preferred the original. However there is no defense for the fact that I also immediately went immediately to the salon to get a mullet myself.
Joan Jett via elle.com.
Joan Jett only just pulled it off because she was badass, and was probably like, "Oh I have a mullet? This old thing? Whatever. As if I give a shit," before completely shredding up a stage. I guess a lot of people would say RiRi is badass because she swears on Twitter and smokes weed, but a girl that gallivants around obnoxious Michelin-starred restaurants while wearing Chanel socks (probably) with a gaggle of bodyguards; whose politics revolve around the power play of farshun and styal, dahlink; who doesn't put pen to paper to write music and who spends the majority of her stage show crotch-slapping herself, is hardly badass to me. Joan Jett earned her mullet by being a hard rocking, ballsy, talented feminist who doesn't even give a crap about what you think anyway. Dolly Parton via tasteofcountry.com.
Chrissy Amphlett of the Divinyls and Chrissie Hynde rocked mullets for much the same reasons, and don't even get me started on Dolly Parton. The woman looked like a toxic pineapple embedded itself on her skull and promptly exploded, but tell me, are you really going to mess with Dolly? Remember also that all the aforementioned mullets were the product of a simpler time, a time before we'd seen how mullets looked with 20/20 hindsight. Now we have retrospect vision, is there any excuse for Rihanna's grievous summoning of the asymmetric hair devil?
Yolandi via stylebizarre.com.
The answer is no, no there is not. Especially when Yolandi is the closest thing you have to a hair twin (I don't get her "thing", and I don't think I want to). Rihanna needs to re-evaluate her hair priorities. If we let the Rachel go, surely we can let the mullet go too. For once I am almost too pleased to live in a world in which Rihanna's hair has a shelf life of three weeks maximum. Meanwhile, shout out to all the hardcore femullets documented here at MulletJunky.
If you ask nicely, maybe Kat will Instagram a pick of her own magical mid-2000s mullet. Go on Kat! She's on Twitter - @kat_george.
Style Stage is an ongoing partnership between Noisey & Garnier Fructis celebrating music, hair, and style.