Photo By David Waldman
In the span of two years and two albums, Toronto's METZ have played more than 300 gigs. Now, that might not break any records, but if you've ever seen METZ play, you'd understand why performing 150 times a year is such an impressive feat. During their high-octane 45 minute sets, you can see the heat rising up off their dripping bodies as they thrash into one another, clawing and hammering away at their instruments. Sometimes they get a little too engrossed, like when bassist, Chris Slorach cut his head open after head banging against his guitar. Needless to say, physical injury and all things punk are what brought the band together.
METZ formed when vocalist/guitarist, Alex Edkins and drummer, Hayden Menzies began playing together in the Ottawa punk scene. In 2007, the two relocated to Toronto where they met Slorach, who had spent time in local emo favourite, Moneen, and quickly bonded. Not long after they would start releasing 7-inch singles for Toronto label, We Are Busy Bodies, and eventually earned high profile gigs with Mudhoney, Japandroids, and Death From Above 1979. After recording their debut full-length, they sent it around to labels, and Sub Pop—known for signing loud and dissonant rock bands like Pissed Jeans, Six Finger Satellite, No Age, and Dwarves—liked what they heard. A deal was made, and when METZ was released in October 2012, the album caught fire, receiving accolades from numerous publications, including a spot on the Polaris Music Prize shortlist.
With their second album, II, METZ have followed the gut-punch of their debut with a solid kick to the teeth. The songs are more strapped, immediate and dynamic, and covered in a thicker layer of scuzz. The guitars screech and clang, Edkins' voice sounds like he swallowed an unidentified corrosive substance, and the rhythm section wallops like they're being attacked by a pack of dogs. We called up Edkins to discuss how the trio survives such a punishing tour regimen, writing music for Grand Theft Auto V, and the quickest way to mend a cracked open head.
Noisey: It looked as though METZ would never stop doing shows for the first album. How grueling was the tour?
Alex Edkins: It got a little bit out of hand. We just became unable to turn things down and it felt good so we didn't stop. We don't exactly have the same intentions this time around. We're still gonna tour a hell of a lot but not to that extent.
Did it have more to do with establishing yourselves as new artists?
I don't really know. We didn't discuss it, but when you get an opportunity to go on tour with Mudhoney or Fucked Up you just say yes. We kept on getting offers like that so I don't think there was any rationale like that. It just felt good for us to travel around and play for people.
In one interview, Slorach, said that METZ play with a "shit full of passion." Is that hard to do night after night?
It's exhausting but it's the best kind of exhaustion. I think we get legitimately excited when we're up there. It's not this difficult thing where you have to pep talk yourself each night. It's totally natural for us to play that way. When you do it for two years it starts to take a toll, but I don't think of it as laborious. I mean there were a couple of times where Slorach broke his instrument, cut his head open and stuff, which that might be attributed to exhaustion [laughs] but I think it's more flukey.
That's a pretty gruesome accident.
Yeah it's funny. We were playing the Bowery Ballroom, and it was our first time selling that place out. Anyways, we had brought Odonis Odonis and Soupcans with us—it was like "Toronto visits New York City"—and I think about halfway through, Slorach kind of headbanged and hit his head on his bass and split his head right open. There was blood everywhere although the crowd seemed pretty entertained by it. In fact, he just duct-taped his face together and kept on going.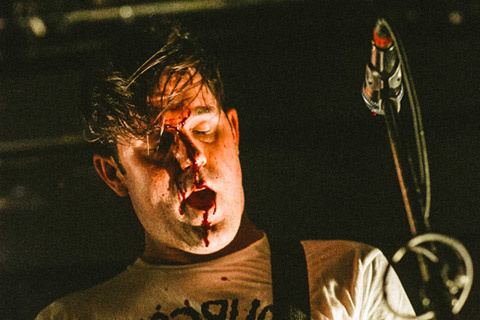 Chris Slorach with his head split/Photo By Dylan Johnson
After all of that touring, did you see recording II as some kind of break?
Certainly, it was a relatively big chunk of time at home in Toronto, so it was really nice to get off the road and focus on new stuff. We were genuinely excited to be writing new music and being able to add it to our sets the next time we hit the road. We gave ourselves about six months on and off to be at home to write and demo songs. And then we ended up recording the record about two months on and off.
What do you hear differently for your new album compared to your debut?
I think II is a little bit darker sounding, production wise and in the songs, but also less clinical and rougher around the edges. I can say for sure that we were really picky about getting the right sound for it. We're still that way every time we get into the studio, but we just enjoyed some of the things that just happened with this one. We tried not to overthink it and go with some of the happy accidents. For that reason, I think it's got a looser and an all-around better feel. It's not directly in the lyrics but I've had to deal with the loss of some loved ones over the past year and a half. I didn't touch on those stories specifically but I think it's does show mood-wise in some of the songs. All in all the album just feels more human.
You really took your time releasing your debut album. What was the plan with this one?
I think we were all excited to write new songs. Because of the amount of touring we did we had to leave our day jobs and I'm certainly not complaining about that, but you definitely have more time to commit to working on new tunes. Five out of seven days we would just work on music. We totally saw that as a luxury and a privilege to be doing that.
Continued below.
What is the story behind the non-video for "Acetate," with the guy making pancakes?
He's a guy named Travis [Millard] that we met in Denver. He was doing an art exhibit at this show we played with Run the Jewels. He introduced himself as a fan and we just hung out. A few days later he got in touch and said that he makes pancakes and films it so he asked if we wanted to do a ten second thing where our names would be spelled out with pancakes. And of course we said yes. So he came back to us with a four and a half minute video and we figured we'd put it out. It was certainly not our idea to do that.
For both your debut and II, the album covers feature people with their heads down. Is there a visual theme going on with the photography?
I definitely think there is similar aesthetic that runs through them. One of the reasons for that is the photographer—who's actually my dad—took those photos in a similar time and place. He is a hobbyist photographer and I always grew up looking at his work. So when it came time to picking album covers, his pictures just kind of worked out and I think it's a different approach to the usual covers people make for heavier music like ours; it's a bit more cinematic. And he doesn't charge us anything for the photos so that's a plus.
Your first album was shortlisted for the Polaris Music Prize. What was that experience like?
It was pretty surreal, I guess you could say, but then again so have most of our experiences. Just like any other band we just set out to do our own thing with no thoughts of anything down the road. So for a record to come out, for one, is crazy enough. And two, for people to like it and react positively to it is another. It's just something you can never anticipate and was a nice cherry on top. I still haven't really wrapped my head around judging music or art or awarding people with prizes for doing it, but I'd be lying if I said we weren't pleased that people noticed our record.
How did it feel having your song "Wet Blanket" featured in Grand Theft Auto V?
I've never played it and don't think I ever will although Slorach and Menzies have played it. What's funny about that is that we actually did some of the original scoring for that game. We were asked if we could make some original music for the game and then we ended up spending a week in the studio and made music for one of the main characters named Trevor. So, a couple of his levels or whatever have some brand new stuff we did just for that. That was a cool experience because it was the first time we've ever done something like that for a video game.
Aside from METZ you put out a 7" with Brian Borcherdt (Holy Fuck, Dusted) and Doug MacGregor (Constantines) under the name Lids. Whose idea was it to put this "supergroup"?
That's a weird term. One thing that I don't know is clear is that we recorded ["Sarsfest"] two years ago. So it was something we did just for kicks, not really discussing anything and jamming, and that's what came up. We're pretty lucky that the guys from Telephone Explosion wanted to release it as a 7". I'm pretty psyched about it. And I believe it was Brian's idea. He cornered me in a bar and probably the same with Doug, and said "Let's play some music together." And I jumped at the opportunity to play with those two guys. They're just super talented and it's been a blast. We actually went down to Detroit and did four more songs and one day those might come out to. It's kind of something all three of us do whenever we're in Toronto and we've got some time.
Cam Lindsay is a writer based in Toronto. Follow him on Twitter - @yasdnilmac