Ol' Charlie Manson's been having a big month. He's getting married to a pretty young lady a quarter his age, friends and family are chipping away at the happy couple's wedding registry at Bed Bath & Beyond, and now, the soundtrack for one of the most infamous films about his life is about to be reissued on vinyl.
Artoffact Records will be reissuing the creepy-ass soundtrack to Jim Van Bebber's cult film Charlie's Family in early 2015 (the webstore promises to have them in stock by 2/10). Composed and recorded in the summer of 1995 by Download, the post-Skinny Puppy project which at that point featured Cevin Key, Phil Western, and Dwayne Goettel. The soundtrack was given a limited CD release in 1995 (then again in 1997), but the film itself ended up being delayed due to lack of funding for almost twenty years. It finally surfaced in 2004, retitled The Manson Family.
The vinyl edition includes an mp3 download code and will be available in three colors: black, pale grey, and a special edition black and bone-yellow half-and-half. Listen to it in its entirety right here:
Noisey also spoke with Skinny Puppy founder, Download linchpin, and prolific solo artist Cevin Key about his recollections of working on the soundtrack.
Noisey: How did you and Download get involved in this project in the first place? I'd imagine it must have been a bit strange to have been approached by a movie executive and hear the words, "Charles Manson" mentioned.
Cevin Key: We were approach by the films creator, Jim Van Bebber. We had worked with him previously on a couple of Skinny Puppy videos, and a short film project called Chunkblower. I had known of Jim's ongoing efforts with this project, and he asked if I'd be down.
Phil Anselmo and Ross Karpelman are credited with writing and recording the music for the actual film; however, Download was asked to write the soundtrack. It seems as though there was some kind of disconnect there. Were you originally meant to write music for the film itself?
I remember compiling some of the most experimental stuff I had been doing at the time on a ninety-minute DAT for Jim to draw from. In the end, our album is really a collection of some of the pieces I gave to Jim originally. I knew there were other collaborators, so I took a different approach from scoring directly to picture.
Why did it take so long for Charlie's Family/The Manson Family to see the light of day?
I think it was a huge undertaking for Jim, and also, it didn't come around easy. The film took years to actually see the finish line.
Charlie's been in the news again (or at least, his love life has) which is a handy bit of synchronicity. Are you personally interested in his story?
Never really interested in his story too much, personally. His song "Garbage Dump" is one of the few things I like about him, to be honest!
The music for the soundtrack is quite a bit different from Download's other material. Thinking back, what kind of mood or vibe were you seeking to create? It's definitely very unnerving to listen to on its own.
"Unnerving" is a good place to start. When I was writing some of the riffs, I actually found myself being affected by some of the scenes in the film, so I tried to counteract from my modular the way I was feeling: uneasy, unsettling, just plain old uncomfortable.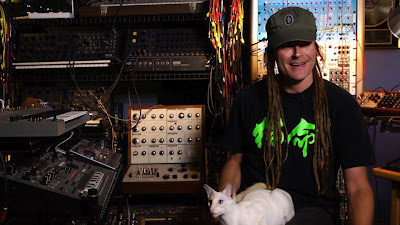 Photo courtesy of I Dream of Wires
By the time this vinyl edition of your work is made available to the public, twenty years will have passed since you first recorded it. How does it feel to listen to it now, especially considering the loss of your musical partner Dwayne?
I remember when this was compiled. We had just gone through our own hell in Malibu, doing The Process, so I could relate to a lot of the energies of a drug-soaked ranch gone wrong quite well. A lot of these pieces were made in that house, and then some were made later, after we escaped that, and we were seemingly on the road to finishing The Process as it should have been, with Rave Ogilvie. So, I had a window to assemble all of the material for this. It was a bit like a exorcism, getting rid of the material and taking it to a place where it could be used as a suitable soundtrack for what modern-era Spahn Ranch kids may have sounded like.
Why do you think now is a good time to rerelease this album? Is it because of the 20th anniversary, or did the right offer just come in?
Vinyl and sweet packaging are something I love to see and hear. I think the album will be great for vinyl. Storming the Base is doing a great job at bringing the quality in, so it's nice for collectors, but it's also great to hear this analog material on vinyl
What's the best film you saw recently?
Zombie Ass: Toilet of the Dead (ゾンビアス, Zonbiasu), a 2011 Japanese comedy horror film directed by Noboru Iguchi.
The album is now available for preorder from Artoffact Records. Kim Kelly is getting creepy on Twitter.