Justin Ford-USA TODAY Sports
The exhilaration of a win at Memphis was like nothing else for Josh Pastner. It was joy and relief because a city—Hoops City—was riding on his shoulders as he walked proudly off the court. Pastner could get a decent night's sleep, because the city of Memphis adores the school's men's basketball team after a win.
But Pastner said that losing a game caused him to stare into the abyss.
All coaches go through a public flogging after a loss, but the vultures inside Pastner's head were the worst. He could be cussed by housewives over breakfast, and lampooned by office clerks at lunch, and deal with all that. Just not with himself.
The city, he felt, was not on his shoulders. It was in the gutter, mourning.
"It was internalized depression," said Pastner, now coaching at Georgia Tech. "It was nobody's fault but my own. It was really hard to sleep after a loss. It was very unhealthy. It ate at me because I felt I let the entire city down."
Read More: Ethan Happ Is The Quiet Force Behind Wisconsin's Success
A bit over the top? Listen to Pastner talk about Memphis' love of basketball, especially Tigers basketball, and maybe not. One January, he went to a middle school tournament, and had to squeeze in the door because it was standing room only.
"There is no place like Memphis in the country as far as emotional investment and intensity of the job," Pastner said. "Basketball is the DNA of that city. Rich, poor, black, white, gender doesn't matter, religion doesn't matter.
"There's nothing like it. It's Alabama football to people in Tuscaloosa. It's the Green Bay Packers, a publicly-owned team. The Tigers are publicly-owned."
Tonight and this weekend, the city of Memphis will host a NCAA Tournament regional featuring four of college basketball's best-known programs—glamorous blue bloods Kentucky, UCLA, and North Carolina, and mid-major darling Butler.
Meanwhile, the Tigers finished the season 19-12 under first-year coach Tubby Smith, suffered 41-and 30-point losses in their final two games, and failed to participate in March Madness for the third consecutive year.
For Memphis fans, the juxtaposition is salt for an open wound. Memphis used to run with Kentucky and the other Power Five schools. It was a mid-major powerhouse long before Butler, Gonzaga, Xavier, and other programs made their giant-killing marks. As recently as the mid-2000s, the Tigers—then coached by John Calipari—reached two Elite Eights and one national title game.
But not now. And that's a shame. Because given everything Memphis has to offer—including the passion of an entire city—the Tigers should be a Top 25 program every year. They should be winning. They should be dancing. They should definitely be as good as Butler. Butler!
Unconvinced? A history lesson is in order. Geography, too. High school basketball in Memphis oozes talent. The bubbling started 60 years ago. There was talent in the white schools back then, to be sure, but even more confined to eight segregated black schools.
Ted Anderson, a high school basketball coach for 44 years, graduated from all-black Hamilton High School in 1964. He remembers basketball in Memphis as really, really good back in the 1950s, both on the black side of town and the white side of town.
"The white kids used to sneak out and come play us just to see how good they were," Anderson said. "We risked getting hung; they risked getting whipped by their daddies."
Basketball at the university really took off, though, when Martin Luther King, Jr. was assassinated by a white man in downtown Memphis. The city was torn by racial strife. According to Anderson, one man helped heal the divide—but it wasn't Herb Hillard, the school's first black player.
Rather, the peacemaker was a phenomenal local guard named Larry Finch.
"Herb was the first black player at the university, but they didn't want a star, they just wanted a black player to be there sitting on the bench so they could say they integrated the team," Anderson said. "Herb is a terrific person, a banker, but Larry was the first star they let in there.
"When they got Larry Finch you knew they were serious about basketball."
Finch was from Melrose High School in Orange Mound, which was a predominantly black area. He chose Memphis over a slew of offers from other schools. He chose Memphis even when many blacks told him to go somewhere else, anywhere else, just not that place.
"Everybody started gravitating toward the University of Memphis, black and white, when Larry was there," Anderson said. "Basketball was a calming force for racial tensions during that time because the Tigers were really good."
"It's a movie," Pastner said. "It's one of those ESPN 30 for 30 shows. A lot of people told me that Larry Finch united the city."
Finch led Memphis to the 1973 Final Four, where the Tigers lost to UCLA and Bill Walton. He later became the Tigers' coach. The program buzzed for the next 40 years, buoyed by the local high schools that pumped life and swagger into Memphis basketball.
Anderson opened Hamilton's gym every Sunday morning at 10 a.m. It was one rung below church, as devoted players showed up and showed out week after week. "The gym was our Rucker Park, like they have in New York," Anderson said.
Anderson was a strict disciplinarian who made his players attend two hours of study hall. "I didn't believe in them taking the scenic route through junior college to D-1 because of grades," he said.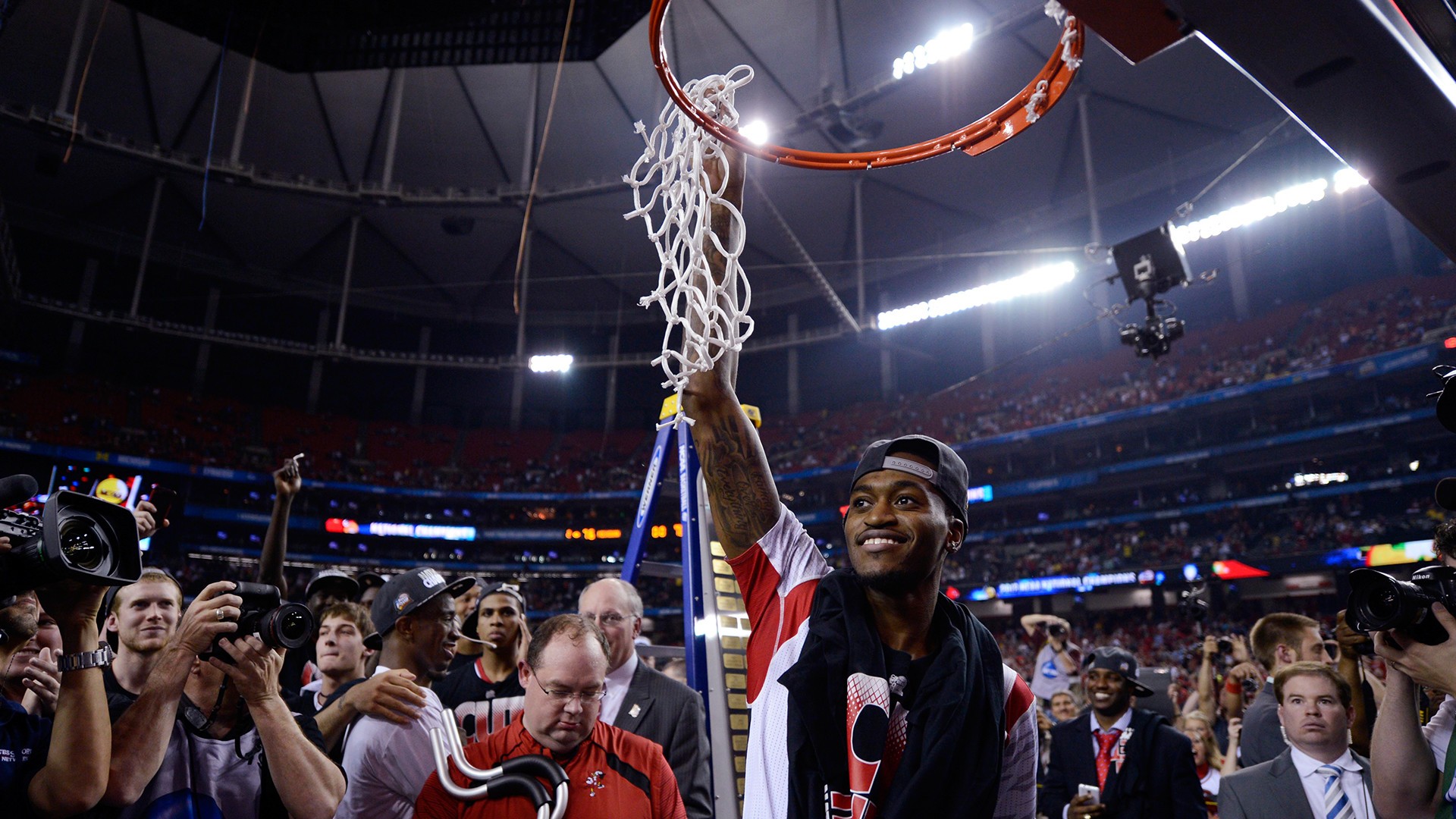 Anderson believed in paddling misbehaving students and he believed in the "art of the deal." Todd Day, considered the best basketball player in the history of the University of Arkansas, was his step-son. Anderson had another son, Darrell, and he did deals.
"Todd was a consensus All-American, but I didn't want to pay for college for either son," Anderson said. "I told Larry Finch he could have Todd if he took Darrell. Then I made the same offer to John Thompson of Georgetown, and I made the same offer to Tennessee, and to Nolan Richardson at Arkansas.
"Larry was not familiar with the art of the deal. Nolan Richardson was, and he took Darrell."
Finch was enough of a dealmaker that he signed Anfernee "Penny" Hardaway, a future NBA star. Just imagine if Fitch's squads in 1991 and 1992 had included Hardaway and Day, both future first-round picks. That was the level of talent coming off the playgrounds and out of the gyms in Memphis.
The Final Four in 1973 was a high. The 1985 Final Four with superstar Keith Lee was a high. But nothing compared to the four-year run of John Calipari from 2005-2009. Granted, it came with all kinds of asterisks, but as far as elevating the brand, nothing compared.
137-14.
Memphis lost in the national championship game to Kansas in 2008. Later, the NCAA stripped the Tigers of all those wins, and demanded reimbursement of the money that was paid out.
Calipari felt the pressure to win. Damned right he did. A rival coach once told me something Calipari said about the city of Memphis and its fans: "They'll eat their own children to win a basketball game."
During the week in 2009 when Calipari was deciding whether to go to Kentucky—or maybe just delaying the inevitable as a negotiating ploy—a local TV news helicopter circled over his house. Cal might have been negotiating with UK, but it was a scene right out of a Hollywood hostage negotiation. 'Chopper circling, citizenry sweating.
Pastner, who was Calipari's recruiting coordinator, stepped into that cauldron. He has one thing in common with Calipari. They are the only two active Division I coaches that have not lost three games in a row.
Pastner was the youngest coach in the history of Memphis basketball to reach 150 wins. He won 70 percent of his games. He told me in 2010 that he wanted to stay there forever, that is his first job would be his last job. No place like Memphis, he said.
What about Kentucky?
"Tubby Smith coached at Kentucky, and he's at Memphis now," Pastner said. "Tubby Smith said there was more pressure and expectation at Memphis than Kentucky. He said that."
Pastner averaged 26.5 wins person his first four seasons at Memphis. But he was 6-25 against Top 25 teams, and folks were unhappy. Turmoil engulfed his roster. Attendance crashed at the Fed Ex Forum in 2015-16, with a turnstile count around 6,000, according to the Commercial-Appeal—this, for a program accustomed to being in the top 25 nationally in attendance every year.
More passion, more pressure.
Anderson wonders if Smith is up to the challenge. "He didn't bring in many blue-chip guys at Kentucky," Anderson said. Dave Woloshin, the voice of the Tigers for 20 years, said things have changed around the program since Calipari's era. The Power 5 conferences are suffocating mid-majors like Memphis with money and television deals. Pop-up basketball academies for high school stars and AAU travel teams are carrying away the city's top prep players, dispersing them to college programs across the country.
But ...
"This is still a Top 25 job, no doubt about it because of the passion for basketball in this town," Woloshin said. "This is still a hoops town and it's been the hot thing since I've been here. If you want to get phone calls for radio show from listeners, you talk about Tiger basketball."
Woloshin and I were talking on the phone. But I could almost picture him shaking his head over this weekend's NCAA regional. UCLA and North Carolina and Kentucky, the latter coached by Calipari. The Tigers used to be in the same conversation.
"Butler is here, and Xavier is still playing," Woloshin said. "Memphis is in their league."
Want to read more stories like this from VICE Sports? Subscribe to our daily newsletter.