The last year has seen an explosion of internet streaming television services. These so-called "skinny bundle" services give you a pared down cable experience over your internet connection without the cable contract. A market originally dominated by Sling TV and PS Vue is growing increasingly crowded with competitors like DIRECTV NOW and fuboTV, not to mention services like Hulu and Vidgo which have yet to launch.
Now YouTube is in the mix. Last week, YouTube TV launched in five markets (Chicago, New York City, Los Angeles, Philadelphia, and San Francisco), and it's being hailed by many as the savior of cord cutting.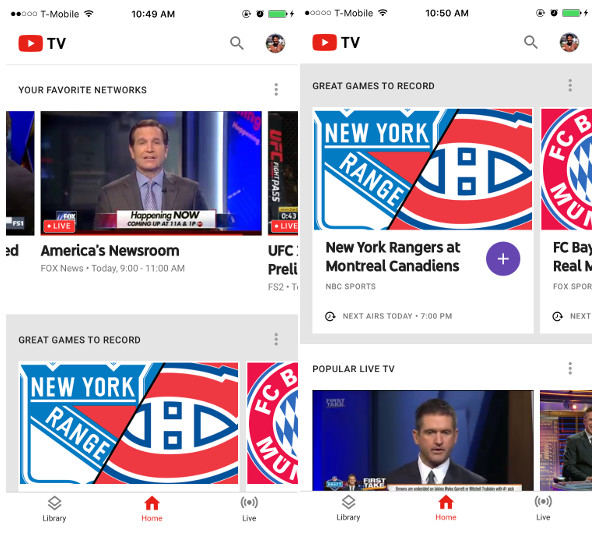 And hey, it might just be. It does have a lot going for it. Live local channels like NBC and FOX, a limitless cloud DVR that keeps your programs for 9 months, the ability to be used on six devices simultaneously… it sounds like it has the potential to replace traditional pay-TV for most families.
Then there's the brand. YouTube is one of the most popular sites on the web. It's the second biggest search engine behind Google, and the second largest streaming service behind Netflix.
While cord cutting isn't exactly a new idea, it's not exactly mainstream just yet. However, the popularity of the brand could help flip that switch, and make YouTube TV a leader in the process.
Not to mention, the service has successfully handled live streaming some of the largest events imaginable for years, dating all the way back to the Royal Wedding in 2011 (that's the Dark Ages in terms of live streaming events). So, it's likely YouTube TV could avoid some of the growing pains other services have experienced in recent years.
But does all this mean YouTube TV will revolutionize cord cutting? Not so fast.
While the service has lots of potential, there are some things that could hold it back, the most glaring being availability. As mentioned above, YouTube TV is only currently available in five major cities. While you might be able to get around the location restrictions with a VPN, the limited availability is bound to keep the majority of streamers from trying it out.
Of course, it's an early limited release, so YouTube TV could eventually launch nationwide, but I wouldn't be so sure. What could hold it back? Local network affiliates.
One of the biggest selling points for YouTube TV is live local channels. Want to watch the Stanley Cup Playoffs on NBC directly on your phone? Or the upcoming NBA Playoff matchups broadcast on ABC? No need to mess with a pesky antenna—stream locals right to your device.
The problem comes when you try to spread to the smaller markets where the networks don't have full ownership of the affiliates. The deals can be both difficult and expensive, as previously discussed here.
And it's what could potentially keep YouTube TV from spreading across the United States.
Then there's the recent uproar about how the DVR function isn't exactly what people expected. After 24 hours, you lose the ability to fast forward through commercials. It's a problem you won't have if you use an antenna coupled with an over-the-air DVR, or if you use fuboTV or Sling TV.
"Consumers record content to fast forward through commercials and to watch what they want, when they want, on the device they want" Grant Hall, CEO of Nuvyyo, the makers of the Tablo Over-the-Air DVR, told Motherboard. "With 94 of the top 100 most-watched shows available Over-The-Air for free via local TV network broadcasts, and more OTA DVR options coming onto the scene all the time, the appeal of these streaming services will likely be limited until they can provide access to local network TV content across all markets and all devices without commercial skipping restrictions."
But are these issues enough to keep YouTube TV from being a success? Highly doubtful. But could it keep YouTube TV from being the undisputed champion in the streaming TV race?
Maybe so.