2017 has been a strange year for UFC pay-per-views. The company lost track of its reliable model of making good fights between good fighters and hoping a few catch on. Instead, they have focused on super fights—and provided very few.
Left scrambling to make up numbers with their year end pay-per-view, the UFC had no one in position to save it. Demetrious Johnson, Tyron Woodley, and whoever the new women's flyweight champion is, are not the names you would throw out to carry a show single-handed—at least if you wanted to make your money back at the gate. So instead the UFC focused on what it did have.
Holly Holm still has some residual fame from the beating that she put on Ronda Rousey in November 2015, despite four underwhelming appearances since then. Cristiane "Cyborg" Justino is still inexplicably a draw despite having no one her own size to fight and spending her entire career beating up blown up bantamweights. But throw those two together and the fight fan will surprise him or herself: stroking one's chin and agreeing that one would indeed watch that.
Holly Holm's knockout of Ronda Rousey was staggering to behold. She fought a near perfect fight, shining a light on every stylistic shortcoming that Rousey had shown and laying each bare for the whole world to see. The high kick knockout that Holm scored in that bout, combined with her many kicking knockouts over nobodies on the regional circuit to make a convincing highlight reel.
The problem is that against anyone who isn't stuck on the regional scene and brought in to lose to her, or specifically Ronda Rousey, Holm hasn't been able to do anything like that. There has never been as convincing an argument for "styles make fights" as Holly Holm.
After Rousey, Holm fought a tentative jab-and-side-kick title defence against Miesha Tate before getting caught in a choke in the final round and losing the belt. Then Holm was matched against tentative counter striker, Valentina Shevchenko, and gangly kickboxer, Germaine de Randamie. In both of these matches Holm looked awful.
In the new episode of Ringcraft: The Fall of Ronda Rousey, we examine how handily Holm took Rousey apart through comprehensive mastery of defensive ringcraft. Holm never took two steps in retreat without breaking off the line of Rousey's attack. Any time she even came close to the fence she either circled out or drew the engagement and weaved out under it. It was the bull and the matador and it was everything that makes the art of boxing more than just the art of throwing hands. There were also reports that the whirring sound which could be heard over Nat Fleischer's grave, after Rousey appeared on the cover of Ring magazine, had finally subsided .
What doesn't make sense is that Holm clearly understood Rousey's great flaw: running in on predictable straight-line charges. Yet when Shevchenko and de Randamie invited Holm to lead, Holm ran in on a straight line, pumping her fists and letting out kiais like she was in a children's karate class. It was not the offense of a world class boxer by any means. Both Shevchenko and de Randamie caught Holm overextending with easy counter punches and she was reduced to complete passivity by both. Shevchenko and de Randamie aren't magical—their tactics could be hindered quite easily by good feints and a double jab—but Holm spent both fights standing well beyond range, building up her courage, and making one or two charges a round.
It is easy to be pessimistic when you consider that Holm is moving up to the newly invented featherweight class to fight one of the handful of women in MMA who actually belong there.
The Enigma of Cyborg
Here's the thing about Cyborg Justino: no one knows how good she is or isn't. They simply cannot know. The vast majority of her opposition has been puffed up 135ers (or lighter) and their skill sets have ranged from mediocre to uncomfortably out of place. They could well be the best featherweights in the world, but if you have seen even a handful of fights between elite fighters and then you saw Cyborg's opponents you would be left with one question: why is the UFC bothering with this division?
The performances that prop Cyborg's record up are the two wins that she snagged over Marloes Coenen and the victory over Gina Carano. Coenen was a pioneer in the women's divisions and the first great 145er, but she also comfortably made bantamweight when she wanted to. Cyborg's second win over an aged Coenen came all the way back in 2013. Her short notice fight against UFC bantamweight Leslie Smith might actually be the best opponent she has fought in some years.
What you do have to admire about Justino is her commitment to improving in each discipline and testing herself in each. Whether it is turning up to suplex her way to a gold medal at purple belt in the Mundials, or kickboxing in Lion Fight in 2013 and 2014, Cyborg always seems game. Her loss to Jorina Baars in that 2014 kickboxing match is an important one to study when considering this bout with Holm. Cyborg had just one means of getting to Baars, stepping straight in on her and forcing her to the ropes. Baars tore Cyborg up with straight blows—jabs, right straights, push kicks to the face and body—but threw plenty of round kicks to the body and legs which Cyborg was able to step up the middle of.
When trying to hit and not get hit against a big banger, the low kick is tempting. The fighter is attacking the closest target to them with one of their longer weapons. The problem is that it is so easy to time and step in on if it isn't craftily hidden. Tonya Evinger, for example, got slammed with counter left hooks and intercepting right hands each time she threw her low kick.
This is where Holm's jamming kicks could come in so useful. They are very hard to catch, and they enter on a straight line—meaning that the kick itself obstructs the path up the center line—making it tough to step in on the fighter. In this regard it is like the push kick but without as much danger of being knocked off line. Additionally, by targeting the front of the thigh or top of the shin, the fighter forcibly straightens their opponent's lead leg, throwing their hips back and taking them out of hitting position. Every plodding banger in the game has proven a mark for the low line side kick and oblique kick when applied well.
In fact the more you look at this fight, the more similarities you see between Rousey and Cyborg. Both like to rush their way into mid-range, both do a lot of their better work from the clinch, and neither is a great ring cutter. And perhaps that is a reason to feel optimistic for Holm in this fight. The long game seems like the best plan for Holm: taking two rounds to simply circle the cage and avoid Cyborg, stomping in the odd kick to the lead leg, then finding the left straight when Cyborg either gets reckless or stops following so readily.
But Cyborg is so much bigger than Rousey. Holm went to the clinch against Shevchenko and de Randamie when she was running low on ideas, and she wound up in the clinch on a couple of occasions against Rousey even when fighting a perfect gameplan. All she need do is make a stalemate of the clinch against Cyborg to extend her past the first round and the champion's porous defense and hard hitting style may begin to take their toll on the gas tank, but if Holm gets to the clinch and is simply ragdolled or kneed and elbowed from bell to bell that could spell the end of Holm's chances.
---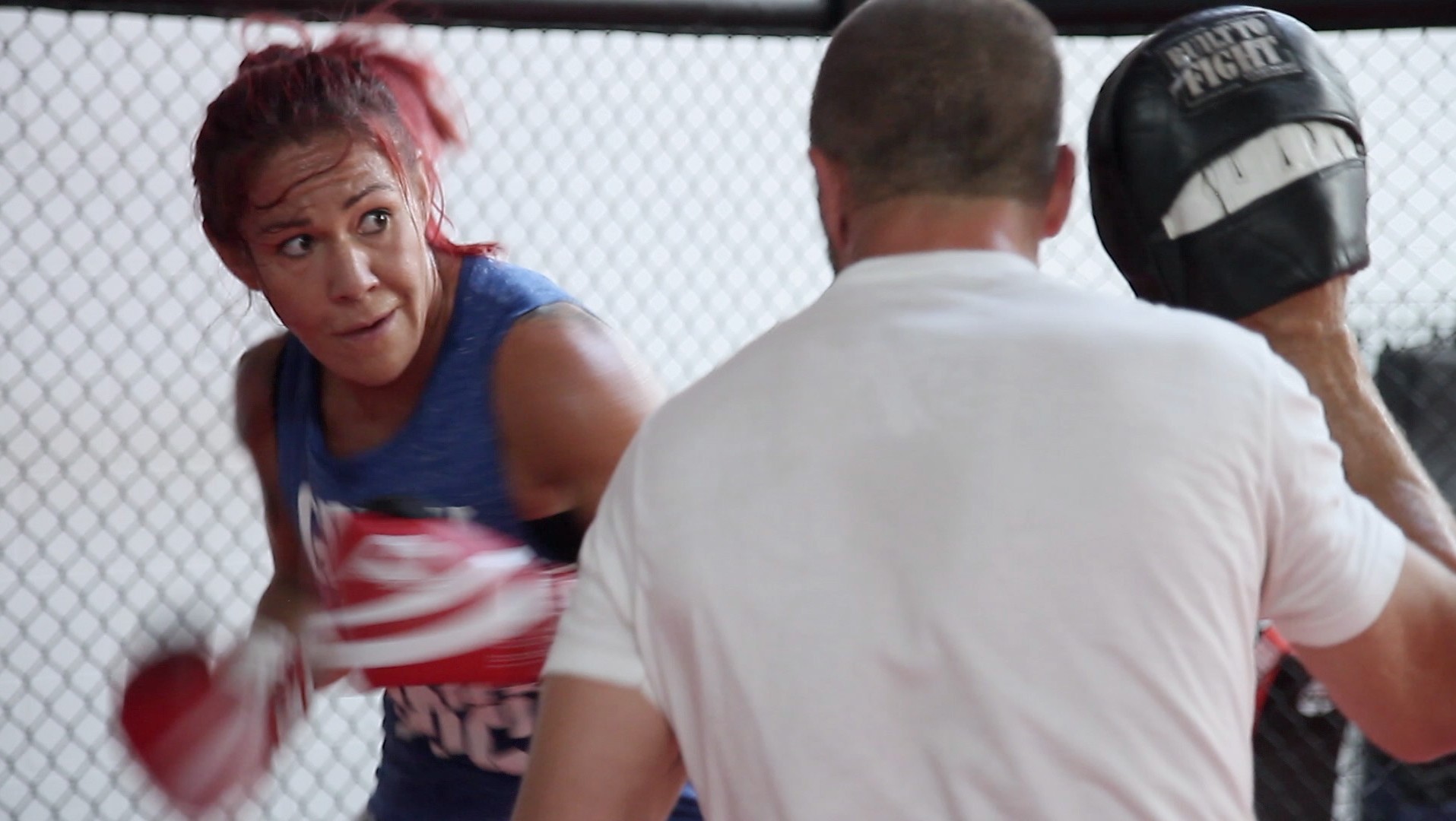 ---
The UFC has done something impressive with this match—it created a Cyborg fight which actually has some intrigue. And a Holly Holm match that has made fans forget just how tentative and tedious six out of her seven UFC appearances have been. Can Holm sidestep the Cyborg we all remember from squashing underweight no-hopers? Or will a more thoughtful, patient Cyborg show some science of her own? Or maybe Cyborg will just smash through Holm as she would anyone else. The most appropriate ending in keeping with the way things have gone for UFC in 2017 would be for Holm to win in incredible fashion, then fight a counter-striker in her next bout and do nothing for a solid twenty-five minutes.
The question immediately after Holm and Cyborg decide who holds the UFC's not-so-hotly contested featherweight gold will be "who is next?" and the UFC won't have any reasonable answers. But for one night only it is worth enjoying the spectacle.