Donald Trump may be a world of chaos all by himself, but the world beyond Trump is changing in dramatic ways, often with little notice. We'd like to tell you about it and we're keeping track of these global changes, from the incremental to the monumental, so that you don't have to.
Sign up for our weekly newsletter of the biggest news in the world delivered to your inbox every Sunday.
North Korea — December 08, 2017
North Korea open to talks with Trump, Russia claims
North Korean leader Kim Jong un is ready to negotiate, Russia's Foreign Minister Sergei Lavrov said Thursday. Meeting with Secretary of State Rex Tillerson in Vienna, Lavrov said Pyongyang was open to talks — and the Kremlin would act as intermediary.
"We know that North Korea wants first of all to speak with the United States about its security guarantees. We are ready to support it. We are ready to help promote such talks," Lavrov said. "Our American colleagues, [including] Rex Tillerson, have heard this," he added.
However, the State Department did not share Lavrov's optimism.
"The issue of direct talks with North Korea is not on the table until they are willing to denuclearize," spokesperson Heather Nauert told reporters Thursday. "DPRK is not showing any interest in sitting down and having any kind of serious conversations when they continue to fire off ballistic missiles. Period."
Lavrov used the meeting in Austria to hit out at the U.S. and South Korea over their ongoing joint military exercises on the Korean Peninsula, which he called "unacceptable."
Lavrov's comments came on the same day as a rare high-level meeting between UN negotiator Jeffrey Feltman and North Korea's Foreign Minister Ri Yong Ho in Pyongyang.Feltman is on a four-day visit to the Hermit Kingdom, raising hopes that the UN could play a mediation role.
— David Gilbert
Argentina — December 07, 2017
Judge orders former Argentine president to be arrested for treason
A judge called for the arrest of former Argentine President Cristina Fernández de Kirchner on charges of treason for her alleged role in covering up Iran's involvement in a 1994 bombing of a Jewish community center in Buenos Aires that killed 85 people.
On Thursday, Federal judge Claudio Bonadio said Fernández took part in "an orchestrated criminal plan" to conceal the alleged involvement of senior Iranian officials in the country's deadliest-ever terror attack. Fernández has been accused of trying pursuing lucrative trade deals from Iran in exchange for hushing up its role in the bombing.
But there's a catch: Fernández is now a sitting senator. That means the country's Senate would need a two-thirds majority vote to strip her of immunity before she could face criminal charges.
The investigation into this alleged cover-up has already been packed with drama.
The case was originally brought be a federal prosecutor named Alberto Nisman. But Nisman was found shot in the head at his home in January 2015, one day before he planned to present evidence to Congress.
Nisman's case was later taken up by Judge Claudio Bonadio, who blasted Fernández in a 491-page complaint released today.
Fernández tried to "gain impunity for Iranian citizens accused in the attack on the AMIA headquarters and to normalize relations between both states," Bonadio wrote, referring to the Jewish center by its Spanish acronym.
The treason charge carries a potential sentence of 15 years. Senators have said they will consider the judge's request.
— Greg Walters
Brussels — December 07, 2017
The EU is suing 3 countries for failing to take in refugees
The European Union is taking Poland, Hungary, and the Czech Republic to court over their refusal to take in refugees, officials said on Thursday.
The European Commission, the executive branch of the EU, claims the trio has failed to accept their share of refugees, many of whom fleed the war in Syria, under a plan agreed to by the 28-member bloc at the height of the migrant crisis in Sept. 2015. The European Court of Justice will hear the case.
Under the deal, 120,000 asylum-seekers were to be relocated from Greece and Italy, countries on the frontlines of the crisis, to other member states under a mandatory quota system. But in the two years since the plan was finalized, Poland, Hungary, and the Czech Republic have taken almost none.
Poland initially supported the quota system, but the anti-immigrant, right-wing populist government that came to power a month after the deal was struck has since refused to accept refugees under the scheme.
The European Commission says it has asked why the countries have not complied but has not received a reasonable explanation.
In September, the European Court of Justice rejected a legal challenge to the quota system from former Communist countries, including Hungary and the Czech Republic, which argued  they were not equipped to accommodate people from mainly Muslim countries.
Their refusal to accept their share of the migrants, despite the court's ruling, has caused a rift in the European Union. Other members states have threatened to withdraw funds from the three countries, and the case is set for months of legal wrangling.
— Tim Hume
Australia — December 07, 2017
WATCH Australian lawmakers burst into song after legalizing same-sex marriage
Australian lawmakers cheered, applauded, and hugged each other, and finally broke into song, after an often bitter, decadelong debate about same-sex marriage in Australia ended Thursday.
MPs and onlookers cheered loudly after the lawmakers voted overwhelmingly in favor of the bill to legalize gay marriage in the House of Representatives.
While Royal assent and a couple of other formalities are still needed to make the bill law, people can lodge their notice of intent to marry beginning Saturday, and the first weddings are expected to take place in February.
Amid jubilant scenes of rainbow flags being waves and MPs embracing each other, the public gallery began singing "I am Australian," and soon the whole chamber joined in.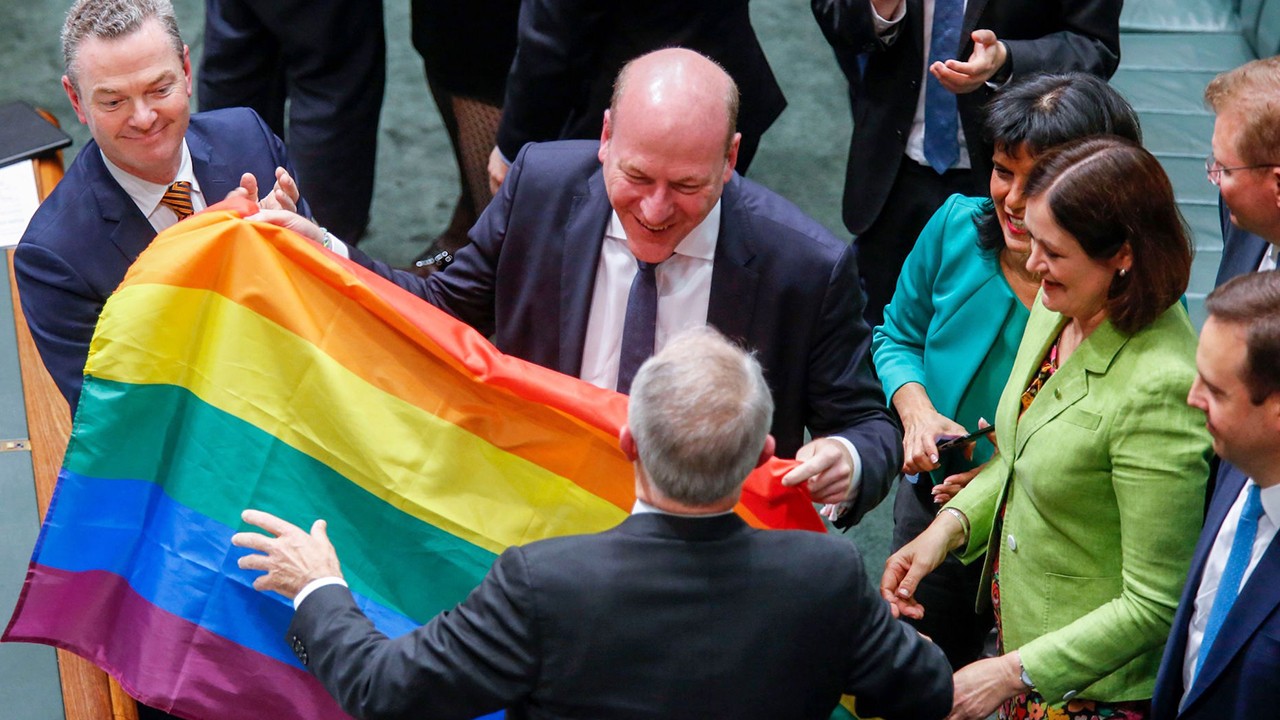 "What a day for love, for equality, for respect," Prime Minister Malcolm Turnbull said. "Australia has done it."
Australia is the 26th country in the world to legalize gay marriage.
The celebrations come just days after Liberal MP Tim Wilson became the first person to propose to his partner in the chamber. Wilson said the country's same-sex marriage debate "has been the soundtrack to our relationship."
Thursday's vote marks the culmination of a decade of debate and indecision around the topic, with many viewing the topic as too divisive to become law.
Despite the overwhelmingly positive response to the bill passing, there were some dissenting voices.
"It is a special relationship between man and a woman for the purposes, if you are so lucky, for bringing children into the world," Deputy Prime Minister Barnaby Joyce said.
— David Gilbert 
"Open question" whether U.S. attends Winter Olympics
U.S. athletes could be forced to pull out of the Winter Olympics in South Korea due to the threat from Pyongyang, Nikki Haley said Wednesday.
Speaking to Fox News, the U.S. ambassador to the U.N. said "there's an open question" whether the America team would attend February's games.
"I have not heard anything about that, but I do know in the talks that we have — whether it's Jerusalem or North Korea — it's about, how do we protect the U.S. citizens in the area?"
Haley added that if the athletes did travel, the government would do all it could to protect them. "What we will do is, we will make sure that we're taking every precaution possible to make sure that they're safe and to know everything that's going on around them," she said.
After months of relative calm, tensions have flared again on the Korean Peninsula following North Korea's latest missile test, accompanied by an exchange of barbs between Pyongyang and Washington.
North Korea claimed this week the region was on the "brink of nuclear war" after the U.S. and South Korea conducted large-scale military drills.
Haley's comments could be an insult to South Korea because they imply America's ally is not "up to the job," Richard Bitzinger, a military expert at the S. Rajaratnam School of International Studies in Singapore, told the Telegraph.
The Winter Olympics will already be without Russian athletes following the IOC's ban for "systemic manipulation" of anti-doping rules.
— David Gilbert
China — December 07, 2017
China just got invaded by a "faulty" Indian drone
Beijing strongly condemned India Thursday, accusing its regional neighbor of violating territorial sovereignty after a drone "intruded" China's airspace.
Chinese Officials said they carried out a "verification" of the drone, which crash-landed in China across the border from Sikkim state in northeast India, close to Doklam plateau, scene of a standoff between the two countries earlier this year.
"The Indian move violated China's territorial sovereignty," said Zhang Shuili, deputy head of the military's Western Theatre Command combat bureau, reported state-run news agency Xinhua.
"We strongly express our dissatisfaction and opposition. China's border forces acted professionally and responsibly, and examined the equipment."
Zhang said the incident took place in recent days.
The Indian defense ministry tried to diffuse the spat, suggesting the drone entered Chinese airspace during a routine training mission due to a technical fault. A statement from the ministry said Indian border personnel immediately informed their Chinese counterparts, who confirmed the location of the crashed vehicle. It is unclear whether the drone has been returned.
The latest incident follows heightened tension between the regional heavyweights, following a border standoff in June that lasted 73 days. That spat saw Chinese and Indian border guards scuffle over China's road building program on the Doklam plateau, located at the intersection between China, India and Bhutan.
China and Bhutan have competing claims to the territory, with India backing Bhutan. The dispute ended with mutual troop withdrawal after China ceased road building.
Chinese Foreign Minister Wang Yi is due in New Delhi to take part in the Russia-India-China (RIC) Foreign Ministers meeting later this week.
— David Gilbert
Syria — December 06, 2017
Syrian boys are being sexually tortured and raped, U.N. says
Young men and boys have been subjected to a "shocking" degree of widespread rape and sexual violence amid Syria's civil war and subsequent refugee crisis, according to a new UNHCR report.
Boys as young as 10 and men as old as 80 had experienced sexual torture and rape, researchers found. The abuse occurred both in Syria as well as neighboring countries where millions of Syrians have fled for safety.
Surveys conducted in neighboring countries Jordan, Lebanon and Iraqi Kurdistan —where collectively nearly two million Syrian refugees now reside — found that between 19 and 27 percent of male respondents said they had experienced some form of sexual harassment.
One refugee who had fled to Lebanon gave an account about his uncle who had been abused in a detention center in Syria.
"A few months after he was released, he told us — he broke down, crying in front of us — that there was not one spot on his body that had not been abused by an electric drill. He had been raped," he said. "After he was released he stopped eating and became alcoholic. He died from kidney failure."
The perpetrators were just as varied as the type of sexual crimes they committed. Armed groups, older men in host communities, and others like taxi drivers and landlords were found guilty.
"These are most disturbing accounts revealing just how grave the risk of sexual violence has become both for women and girls and, as shown by this recent report, also men and boys," Volker Türk, UNHCR's Assistant High Commissioner for Protection.
"And it's clear too that we are faced with a vicious cycle here of little help being available, limited outreach to male survivors, inaccessible services, and a culture of silence — all of which reinforce a myth that this problem is rare."
Now nearing its seventh year of war, the Syrian conflict has claimed an estimated 480,000 lives, forced 4.7 million people to flee to europe and neighboring countries, and has regularly been home to numerous war crimes from both sides of the conflict.
— Alexa Liautaud
North Korea — December 06, 2017
Russian oil is helping keep Kim Jong Un warm this winter
Russia is supplying North Korea with "massive amounts" of oil in violation of U.N. Security Council sanctions designed to isolate Kim Jong Un's regime.
In September, a U.N. resolution capped the amount of oil North Korea could import at 2 million barrels a year. The move sent the price of gasoline skyrocketing, leading many to suggest sanctions were finally beginning to work.
But there was no concrete evidence to back up these assertions, and new reports now suggest North Korea has been able to get around the blockade.
New data provided by citizen journalists who report on events inside the Hermit Kingdom for the Tokyo-based Asia Press International (API) news agency, said that fuel prices plummeted in November.
One correspondent reported that "massive amounts" of fuel are coming into the border province of Yanggang from Russia.
"It is difficult to know exactly how much fuel is getting into North Korea, but it does appear that Russia has recently been supplying Pyongyang with fuel," James Brown, an expert on Russia-North Korea trade, told DW.
In September, the Kremlin said it would not cut off oil supplies to North Korea, as it felt Pyongyang needed to "feel secure" in order to come to the negotiating table.
In September, Reuters and the Washington Post both reported that Russia was helping North Korea avoid U.S. sanctions and providing the country with fuel.
—David Gilbert
North Korea — December 05, 2017
Trump scares the Germans more than Vladimir Putin or Kim Jong Un
An unpredictable leader with nuclear weapons is making Germans nervous.
More nervous than North Korea's Kim Jong-un. And more than Russia's Vladimir Putin.
It's the President of the United States, Donald J. Trump.
A new poll found Germans twice as likely to call the United States under Trump their country's biggest foreign policy challenge than to name either Russia or North Korea.
The survey by the Koerber Foundation found 19 percent called the U.S. their biggest global anxiety, followed by Turkey with 17 percent, North Korea at 10 percent and Russia at 8 percent. The only thing that scares Germans more than Trump is the flood of refugees that's been pouring into Europe lately, which scored 26 percent.
In a recent OpEd titled "Donald Trump's Threat to Germany," senior editorial staff at Germany's Handelsblatt newspaper blasted Trump's "America First" foreign policy as a "a frontal assault on Germany's economic way of life," saying it's undermining the very foundations of world order that Germany relies on.
"The American president is conducting economic war: whether intentional or not, it hits Germany harder than anyone else," the authors, including foreign editor Mathias Brüggmann, wrote. "This is because Germany, more than anyone else, relies on open markets, free trade and cross-border business models."
Trump has taken aim at a lot of things Germans care about, including the Paris climate accord, free trade, Iran's nuclear program and the NATO military alliance.
The U.S. "withdrawal" from global affairs will force Europe to take a more active role on the world stage, Germany's acting Foreign Minister Sigmar Gabriel said in a speech in Berlin on Tuesday.
"It's clear that for the U.S., the world is no longer a global community, but an arena in which nations, non-state actors and companies fight to take advantage," Sigmar said. The U.S. position, he said, "forces us to act."
Repeated polls have found that the U.S. image under Trump has suffered in the eyes of the world. In August, a Pew poll of 38 countries found that the U.S. power was seen as a "major threat" by 35 percent of respondents, more than either Russian or Chinese influence, which each scored 31 percent.
— Greg Walters 
Beijing just reminded Washington they have an air force too
China sent fighter jets over the seas bordering North Korea in recent days, a reaction to U.S. and South Korean forces amassed in the region for their annual joint military airborne drills.
Reconnaissance planes, fighter jets and an early warning and control aircraft were dispatched by the People's Liberation Army on routes and in areas "never flown before," military spokesman Shen Jinke said. He did not detail exactly when the flights took place.
The aircraft, which flew over the Yellow and East seas close to the Korean Peninsula, were joined by surface-to-air missile units, Jinke added.
The People's Liberation Army plans to make these military drills a regular feature of its training, as it seeks to safeguard the country's strategic regional interests, Jinke said.
"The timing of this high-profile announcement by the PLA is also a warning to Washington and Seoul not to provoke Pyongyang any further," Beijing-based military expert Li Jie told the South China Morning Post.
As well as testing combat readiness, analysts think the inclusion of reconnaissance planes suggests China has captured important intelligence about the latest military deployments on the Peninsula.
On Monday the U.S. and South Korea began the largest ever joint airborne military exercises conducted by Washington and Seoul. Known as Vigilant Ace, the drills include some 12,000 personnel and 230 aircraft, including six advanced F-22 Raptor stealth fighters.
North Korea said the exercises would push the region "to the brink of nuclear war."
— David Gilbert 
Yemen — December 04, 2017
Yemen's ex-president Saleh turned on his rebel allies. Now he's dead.
Ali Abdullah Saleh, the former president of Yemen, was killed by his former Houthi allies in the capital Sanaa Monday, according to reports from both sides in the conflict.
The Houthi-controlled Interior Ministry announced Saleh's death in a statement that said: "The militias of treason are finished, and their leader has been killed." Sources close to Saleh also confirmed his death to CNN and Al Arabiya, saying he had been killed in clashes with Houthi fighters in Sanaa.
Unconfirmed footage circulating online purports to show Saleh's body, with a serious head injury, being carried on a blanket by celebrating militiamen and loaded onto a truck.
Saleh's death came just days after he and his supporters split with the Houthis, whom they had fought alongside for years in the war against President Abdrabbuh Mansour Hadi and his Saudi-backed forces.
In a televised speech Saturday, Saleh had condemned the "idiocy" of the Houthis for years of war and offered to "turn a new page" with the Saudi-led coalition if it stopped attacking and blockading Yemen.
The statement, which was welcomed by Hadi and the Saudi-led coalition backing him, had appeared to signal a possible turning point in the conflict.
But the Houthis responded furiously to Saleh's defection, resulting in days of furious clashes between Saleh loyalists and Iran-allied Houthi fighters in Sanaa, in which at least 125 people have been killed and 238 wounded, according to the International Committee of the Red Cross.
Houthi fighters blew up Saleh's house in Sanaa Monday morning, before reports of his death emerged.
His death has effectively snuffed out hopes of a possible peace deal in the brutal three-year war that has led to the world's biggest humanitarian crisis.
Saleh had been a dominant player in Yemeni politics for decades since he seized power in a military coup to become president of North Yemen in 1978. When Yemen was unified in 1990, he became the president of the entire country.
Saleh stepped down in 2012 following the protests of the Arab Spring, but had re-emerged as a major figure in Yemen's fractious tribal politics by forming a tactical alliance with the Houthis after they drove Hadi out of the country in 2014.
— Tim Hume 
Catalonia — December 04, 2017
Spain is keeping Catalan separatists locked up without bail
Catalonia's chaotic bid to secede from Spain took another turn on Monday when a judge denied bail to four pro-independence figures. They'll now remain in jail until their trial begins.
The four men — Catalonia's former vice-president Oriol Junqueras, former Cabinet member Joaquim Forn, and civic group leaders Jordi Sanchez and Jordi Cuixart — face charges including sedition for their role in the unauthorized independence vote on Oct. 1. The judge didn't believe they were a flight risk but that freeing them would risk their continued push for an independent Catalonia, according to a statement from court.
The Catalan administration was also dismissed, and senior lawmakers have been arrested and charged with sedition, rebellion, and misuse of funds for their alleged role in the bid to secede, prompting large public protests. Six other former Cabinet members who had been arrested in the aftermath of the independence vote, however, were released on €100,000 ($118,000) bail.
Catalonia's former president, Carles Puigdemont, is in Brussels awaiting a judgment in a hearing on whether he will be extradited to Spain to face similar charges.
Spain's constitution states that the country is indivisible, and Catalan authorities held the Oct. 1 referendum in defiance of Spanish courts. Following an overwhelming vote for independence in the referendum, largely boycotted by those who supported remaining in Spain, Catalonia's regional government made a unilateral declaration of independence, prompting Madrid to impose direct rule on Oct. 27.
The judge's decision will seriously impede the ability of Junqueras and Forn to campaign in new elections in Catalonia on Dec. 21. Campaigning is set to begin on Tuesday, with polls showing that public opinion is equally divided between support for independence and for remaining part of Spain.
— Tim Hume
Australia — December 04, 2017
WATCH: Australian lawmaker proposes moments after same-sex marriage bill is introduced
An Australian lawmaker became the first person to propose to his partner in the House of Representatives, just moments after the same-sex marriage bill was introduced to the chamber.
Liberal MP Tim Wilson was in tears Monday as he proposed to his long-term partner.
The 37-year-old MP said: "In my first speech, I defined our bond by the ring that sits on both of our left hands — that they are the answer to the questions we cannot ask."
"So there is only one thing left to do: Ryan Patrick Bolger, will you marry me?"
Bolger, who was present in the chamber, said yes.
Wilson said the country's same-sex marriage debate "has been the soundtrack to our relationship."
House speaker Rob Mitchell said: "That was a 'yes', a resounding 'yes'. Congratulations, well done, mate."
The same-sex marriage legislation comfortably passed the Senate last week, and is expected to easily pass the House after debate on proposed religious protection amendments. It is expected to become law by Christmas.
The move was backed by over 61 percent of the 12.7 million voters who voiced their opinion in a national postal poll in November.  Australia has lagged behind many other nations on legalizing same-sex unions, thanks to the staunch opposition of past conservative governments there.