Image: Andreas Rentz/Getty Images for MTV
Ticketmaster announced Thursday that it is canceling Friday's Taylor Swift Eras Tour public sale, stating that the vast majority of tickets were sold during presales and that not enough tickets remained to do a public sale.
"Due to extraordinarily high demands on ticketing systems and insufficient remaining ticket inventory to meet that demand, tomorrow's public on-sale for Taylor Swift | The Eras Tour has been cancelled," Ticketmaster tweeted. Ticketmaster did not immediately respond to a request for comment.
The announcement is sure to further enrage Taylor Swift fans, who have already realized that the Ticketmaster/Live Nation monopoly, insufficient internet infrastructure, byzantine system of presales make it difficult for fans to get tickets.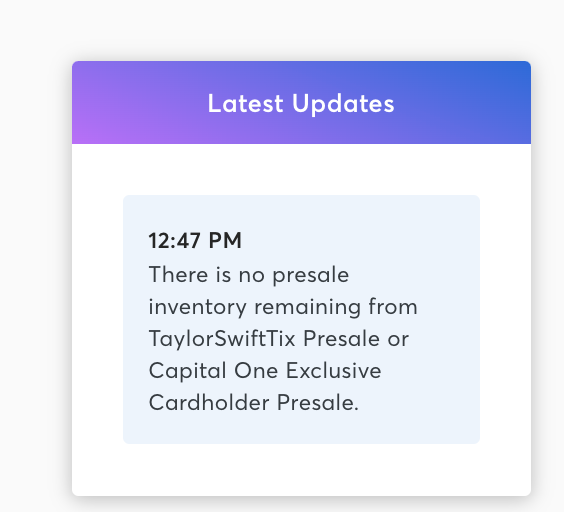 For Taylor Swift, Ticketmaster held a series of presales for Capital One credit card holders and for "verified fans." Ticketmaster's website was crushed by fan demand, causing fans to miss out and causing Ticketmaster to apologize and reschedule several presales. As Motherboard reported Wednesday, many of these presales, nominally designed to give fans multiple chances to buy tickets, also gives ticket scalpers—who have a sophisticated knowledge of ticket onsales—more chances to buy tickets, too. 
This announcement is further confirmation that Ticketmaster often makes only a fraction of tickets available for a "public onsale," and that the vast majority of tickets are often sold during presales or otherwise accounted for. The actual percentages of tickets available for any given sale is a closely-held industry secret, but in 2009, documents leaked that showed just 15 percent of tickets for a Taylor Swift show in Nashville were made available to the public. 
In this case, the number of tickets being made available in the "general public on-sale" is zero.