The self-proclaimed "Dean of American Rock Critics," Robert Christgau was one of the pioneers of music criticism as we know it. He was the music editor at the Village Voice for almost four decades where he created the trusted annual Pazz & Jop Poll. He was one of the first mainstream critics to write about hip-hop and the only one to review Simon & Garfunkel's Bridge Over Troubled Water with one word: "Melodic." On top of his columns, he has published a number of books over his career including his autobiography, Going Into the City, which was released in 2015 to critical acclaim. He currently teaches at New York University. Every week, we publish Expert Witness, his long-running critical column. To read more about his career, read his welcome post; for four decades of critical reviews, check out his regularly updated website.
Margaret Glaspy:  Emotions and Math (ATO) The title song is about what it says it's about—"Counting the days till you're back," to be precise. But it also announces Glaspy's aesthetic strategy. Nominally she's a singer-songwriter, applying a voice labeled both lilting and gravelly but that I'd just peg as adult to songs that always make room for feelings we needn't assume are always hers. But she's even more striking as a guitarist, running a thick, rockish sound through a harmonic palette that suits both a Berklee dropout who audited master classes after she couldn't afford tuition and a Texan who got hip to passing chords playing backup fiddle with her musical family. Although her music is cleaner and clearer, she sounds like Speedy Ortiz's Sadie Dupuis if she sounds like anybody. But with Glaspy you have a clearer bead on whatever love the song is about—just not whether it's hers. A MINUS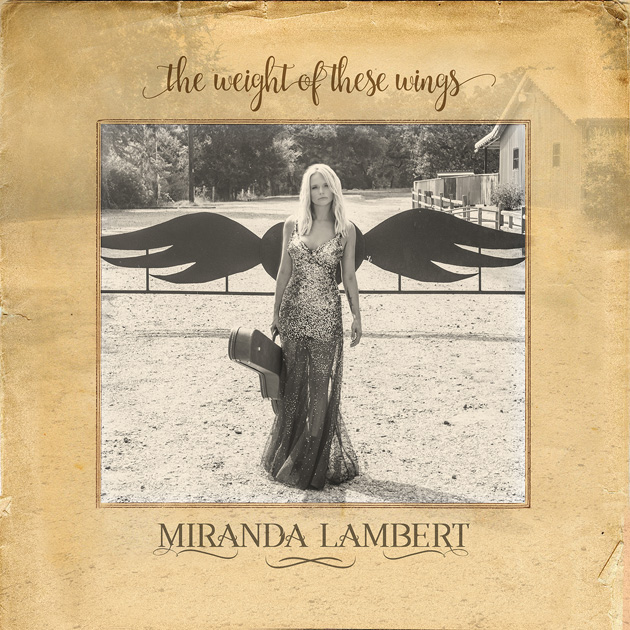 Miranda Lambert: The Weight of These Wings (Epic) Although singles are country's lifeblood, this Nashville chartbuster has been popular music's most consistent album artist for nearly a decade—four solo plus two by the triple-threat Pistol Annies. But on this double-CD, one subtitled "Nerve" and the other "Heart," she overreaches, sells herself short, or both—particularly, surprise surprise, on the "Heart" disc. Maybe she wants to prove something to her ex Blake Shelton, who I doubt is smart enough to justify the effort. Or maybe she just wants to convince herself she's worthy of a schmaltzfest like "Tin Man": "If you ever felt one breakin'/You wouldn't want a heart." Needless to say, I greatly prefer the album's sole solo composition, her current hit "We Can Be Friends"—rude couplets like "If you use alcohol as a sedative/And 'bless your heart' as a negative" are why I'll love her forever. But it would be sexist to insist she be all feisty all the time, and a co-write with Pistol Annie Ashley Monroe called "Use My Heart" is the love song that proves it—by pondering whether Lambert lacks the "nerve" for love. Here's hoping she learns how to put the two together. She deserves it and we need it.  B PLUS
***
Kacey Musgraves: A Very Kacey Christmas (Mercury Nashville) Amid many welcome reminders that Christmas is mostly for kids, a few—thank you Jesus—that it isn't just for white people ("I Want a Hippopotamus for Christmas," "Feliz Navidad") **
Amanda Shires: My Piece of Land (Silver Knife) Unsurprisingly given her ax, go-to alt-country violinist sounds more herself on the twisty, evocative melodies than the direct, declarative rockers ("Harmless," "The Way It Dimmed," "Pale Fire") **
John Prine:  For Better, or Worse (Oh Boy) 14 divorce duets plus one excellent Hank Williams ringer, none written by Prine, whose wife Fiona joins in on "My Happiness" lest you worry ("Mental Cruelty," "Just Waitin'") **
Margaret Glaspy:  If & When (Storysound) In 2013 still a work in progress, especially as regards her low end ("Cynthia," "You're Smiling [But I Don't Believe You") *
Southern Family (Low Country Sound) Oh gee, go-to alt-country producer Dave Cobb's conceptual supersession is less than the sum of its parts, which, oh gee, include Zac Brown (Jason Isbell, "God Is a Working Man"; Morgane Stapleton, "You Are My Sunshine") *
Follow Robert Christgau on Twitter.