Photo by Dan Hamilton-USA TODAY Sports
As Sidney Crosby cycled the puck into the corner and cut for the net, a record 16.6 million Canadians sat and watched, breath baited. Nearly eight minutes into overtime against the United States, Crosby fired a shot short-side to beat Ryan Miller, giving Canada the gold medal in men's ice hockey on home turf and creating one of the most iconic moments in Canadian sports history.
Looking back over the last 150 years of sport in Canada, any list of meaningful moments is going to be littered with events from the hockey world. It is, for lack of a better term, Canada's sport, something ingrained in the fabric of the country, its people, and its culture. As Crosby fired his gold-medal winner in Vancouver, it was perhaps the perfect snapshot of hockey's importance to Canada—the 2015 Vital Signs Report from the Toronto Foundation found that 90 percent of Canadians said Olympic success had a positive impact on their Canadian pride.
"I believe, for better or for worse, that the Canadian self-image is inexorably tied to the main national sport, hockey: team-oriented, resourceful, determined, resilient, cooperative and, ultimately, triumphant," award-winning Canadian author Roy MacGregor told VICE Sports. "There may be a lot of hooey in this but there is also a lot of truth. Success in Olympic hockey, both men's and women's, is a Canadian priority."
As we look ahead to what the next 150 years of sport may look like in this country, an interesting question emerges: Will that always be the case?
To be clear, hockey is not going anywhere, and what follows is mostly an experiment in hypotheticals and over-extrapolations. The real answer as to what Canadian sport may look like in 150 years might be better predicted by Futurama than current data, considering how far things have come since 1867. But the country's 150th anniversary marks an interesting time to reflect and project, because the tides of Canadian sport interest and, more notably, participation, appear to be changing.
---
Watch more from VICE Sports on the Godfather of Team India Ball Hockey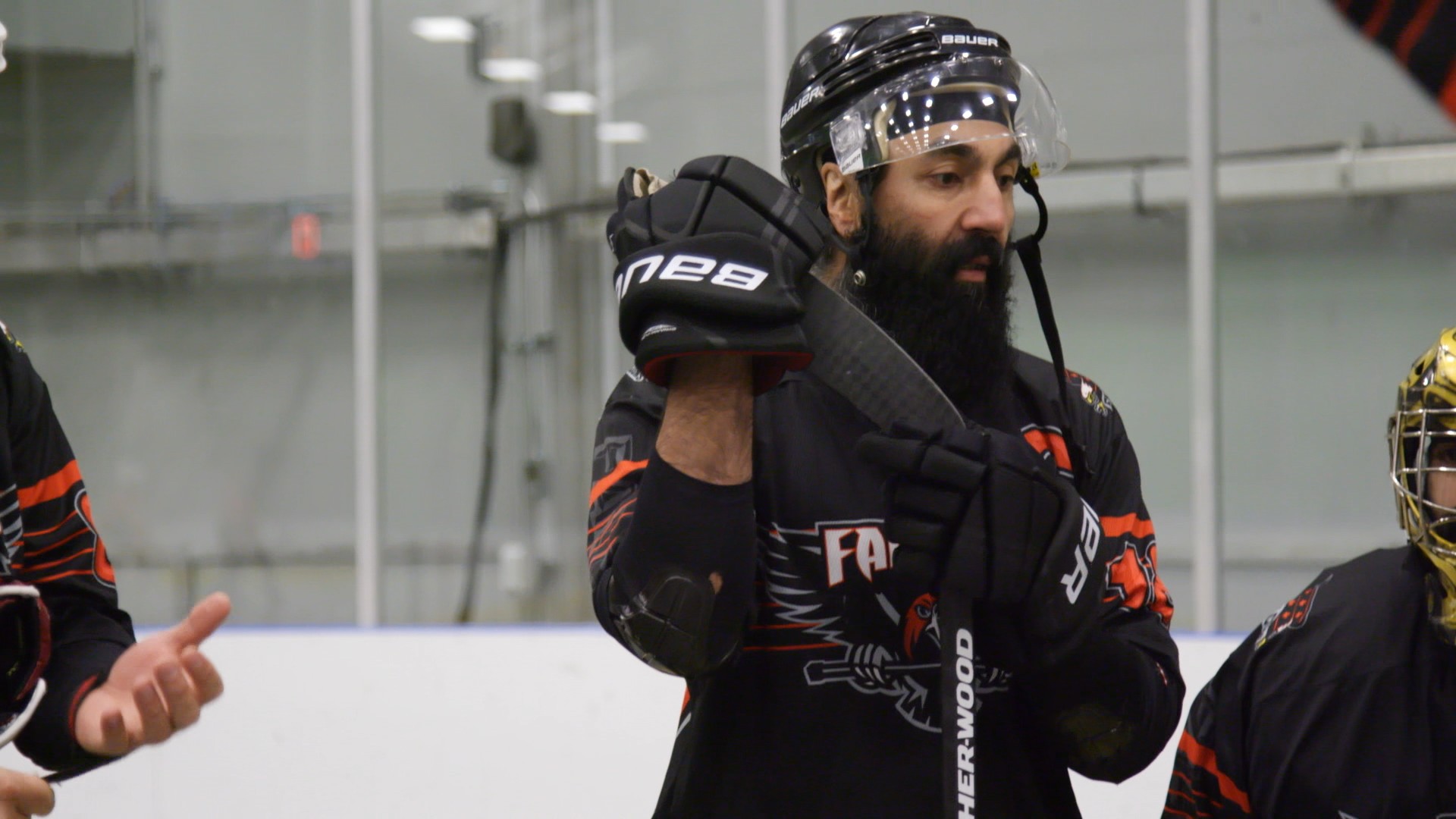 ---
Once Canada's de facto No. 1 sport, hockey faces some challenges moving forward. Crosby himself is an avatar for the crib-to-cup Hockey Canada system and the success it can breed, and improvements in the quality of coaching, training, and knowledge should continue to help those Canadians who do choose to play hockey—and can afford to—thrive. The concern, though, is that fewer Canadians are participating in hockey, gold-medal moments be damned.
"I think going forward we're going to have to work even harder at attracting participants to the sport of hockey," Scott Smith, who is shifting from COO to president of Hockey Canada, told VICE Sports. "I would think that all sports are probably going through something similar. We're looking at ways to attract kids to the game now that are very different than what sort of the regular mainstream participation in hockey is."
In Hockey Canada's 2015-16 annual report, registration numbers showed a modest decrease across the country, a reversal of course after a few years with a moderate trend upward, with 549,614 males and 86,925 females registered. It's a plateau more than a striking decrease. But hockey has fallen behind soccer and swimming in terms of youth participation, has also fallen behind basketball in immigrant youth participation (an important consideration given Canada's shifting demographics), and there are significant barriers to participation that need to be addressed (some of which Hockey Canada is hoping to tackle with several projects, including The Bauer First Shift initiative).
If participation in hockey continues to decrease or stagnate, it could lead to more difficulty at the NHL or international level, and possibly further hamper enrollment. The effect is measurable in speculation only, but the converse has been fairly clear for one of hockey's primary competitors in the national sport landscape: basketball.
Perhaps Vince Carter can be blamed. The boom of basketball in Canada traces back to Carter fairly easily, and as far back as VC's early years, Maple Leaf Sports & Entertainment pondered the shifting demographics in the city of Toronto as it pertained to their properties, the Raptors and Maple Leafs. The existence of the Raptors has been credited with a rise in basketball participation, which has opened the floodgates for record numbers of Canadians in the NBA, and there's a feeling of genuine momentum in the sport.
"There's no doubt that the current roster of Toronto Raptors and our Canadian players in the NBA and WNBA will inspire the next generation," Michele O'Keefe, president and CEO of Basketball Canada, told VICE Sports. "Many people say this is the golden age of Canadian basketball. This is not true. We are just starting to write out story."
---
---
Canada is yet to achieve the type of podium success in international events that may help weave basketball into the cultural fabric even further, and television ratings pale in comparison to hockey (baseball has experienced higher peaks despite much smaller participation numbers). Basketball ranked sixth in a 2014 study of youth sport participation. It's not there yet. But basketball has built-in architectural advantages, particularly in terms of cost, and has begun to take a more profound hold in Canada's largest and most multicultural city. As the infrastructure grows, it would seem to have ample opportunity for continued growth.
"I can absolutely see it continuing as it has been," says Toronto Star writer Doug Smith, who has been covering the Raptors since their inception. "I don't see it stopping any time soon. Our 'new Canadians' have not grown up following, playing, or living with hockey and that's not likely to be any different in the next 25 or 50 years, I don't imagine."
Soccer, which has similar advantages in terms of cost, has an even greater resonance with immigrant Canadians, and is already the No. 1 team sport in terms of youth participation by a fairly significant margin. The emergence of Toronto FC as a rising powerhouse in Toronto should only foster that momentum, and while success has been somewhat delayed in the men's national program, the relatively infantile women's program has medaled in the last two Olympics. The world's most popular sport makes logical sense as the largest threat to the hockey-led status quo in the most diverse western country on the map.
The advantages that basketball and soccer have leveraged shine an important light on a bigger question than just participation in hockey: Canada is facing a bit of a sport participation crisis in general, and it's particularly notable with children under the age of 13. In an interview with the Globe and Mail last, Karri Dawson, the director of the True Sport Foundation, laid out a number of root causes. They include cost (likely hockey's biggest challenge), which was evident in a 2013 Heritage Canada study that showed an increasing income gap as national participation's steady decline since 1992 continues. The foundation's 2016 report (partnered with Vital Signs) also suggests that a focus on elite athletes could push some away, and it's that same focus on performance that can, in turn, drive up costs further.
---
---
"It's getting more expensive, and that's cutting out people," Christopher Waddell, editor of How Canadians Communicate V: Sports, told VICE Sports. "Part of it is professionalization. Parents want better coaching, parents want better facilities and better services. Coaching, as long as it's volunteer, is difficult for leagues or clubs to control. Paying them means it costs more for the participants. The pay for the coaches have to come from somewhere, and it comes in membership fees, so it's more difficult for low-income kids to participate."
It's a bit confounding, if not understandable: 38 percent of Canadians don't feel they have a stake in their communities, 85 percent agree that sport helps build community, per the 2015 Vital Signs report, and yet participation is down. A 2014 study from the Institute for Canadian Citizenship found new citizens to be eager to participate in sport, with 53 percent identifying that sport was a means of integrating into Canadian society and 69 percent saying sports helped them learn about Canadian culture, yet the barriers to participation remain limiting. Everyone agrees as to the importance of physical activity in children, yet a 2016 Participation report says that a woeful nine percent of Canadian children get the recommended amount of exercise. A concerning gender gap remains—M. Ann Hall, Ph.D, the author of several books on women in Canadian sport, says progress in her more than 50 years working on gender issues has been "steady but slow," and identifies a lack of women's sport in media as the biggest contributing problem at present. Adults are participating less, which has been shown to have an impact on the activity levels of children.
These larger, country-wide issues are of greater importance to the long-term health of sport in Canada than the dominance of men's hockey in the media landscape. And it's a focus of all of the major national sports organizations.
"I think going forward we're going to have to work even harder at attracting participants to the sport of hockey," Hockey Canada's Smith says. "I would think that all sports are probably going through something similar. I also think part of our responsibility is the overall health and fitness of Canadian youth, and we really need to work as hard as we can to make sure that we're attracting kids to lead a healthy and active lifestyle."
Still, these issues appear, in the current snapshot, to be a bigger concern for hockey. Even as other sports catch up and surpass hockey in participation rates and take small bites out of the national consciousness, hockey's shadow in the media landscape remains immense. Projecting forward is difficult, and it's equally difficult to extrapolate current trends or envision a future in which hockey isn't still Canada's primary sport.
"I would tell you that that's something that we always want to strive for, but I wouldn't tell you the word confident, because that would mean we take it for granted, and we don't," says Smith. "We think that we have a very strong position if you look at how our national teams compete and create that kind of aspirational view for young people. But we're always trying to look at how we expose more Canadians to the sport of hockey."
What happens from here is anyone's guess. Canadian television viewership for the 2014 gold-medal game was down but still robust at 15 million. The NHL declining to participate in the 2018 event threatens to further cut into hockey's hold on the public's consciousness. Even still, there's an enormous gap for any other sport to close, and it's probably not closing any time soon.
How the share of public attention may break down 150, or even 50 years down the line is an interesting, if impossible, thought experiment. Perhaps the best answer is that sport in Canada for the next 150 years is trending in the direction of the same kind of diversity that's defined the country outside of the sports world over the last 150.