Streisand with Ryan O'Neal in "What's Up, Doc?" Photo via Getty Images
Near the beginning of nearly every Barbra Streisand movie, there's a moment when someone—usually a man—tells us what's wrong with her character. "The fact is, she's impossible to talk to," Claudia Draper's lawyer complains to a judge, seven minutes into Nuts. "Can't you leave your soapbox at home just once?" Katie's boss begs her in The Way We Were. "You're insane!" George Segal's Felix screams at Doris (who, to be fair, has just entered his apartment yelling slurs in the middle of the night) in The Owl and the Pussycat. "If a girl isn't pretty, like a Miss Atlantic City, all she gets in life is pity," bleat the jealous yentas who torment Funny Girl's Fanny. And in Yentl, the heroine's father has to assure his student that his bibliophile daughter is "not a demon; she just has big ears."
She is, in other words, nobody's dream girl. At least, not at first. Over and over again, in the films New York's Quad Cinema is screening in its Simply Streisand retrospective (which runs through July 6), the entertainer and cultural icon has to prove herself. She's not a murderer, not a crazy person, not some humorless, castrating shrew—she's just a loudmouth Jewish broad who won't let her big nose or her gender or, sometimes, the fact that she's a prostitute keep her from getting what she deserves.
Read more: The Pioneering Filmmaker Known for Her Wild, Antifascist Sex Comedies
That struggle is, of course, why we love her. As biographer Neal Gabler observed, her admirers cherish Streisand not because she represents an unattainable ideal, but because we identify with her: "She didn't look like a movie star. She looked like us, talked like us, acted like us, suffered like us." Her voice is undeniable, but her persona—the sassy, ambitious underdog—seems even more essential to her appeal to an adoring fan base that ranges from gay men to Jewish bubbes.
What's strange isn't that we savor her striving, but that we so rarely get to watch her emerge victorious. In reality, obviously, Streisand appears to have everything anyone could want out of life: 30 platinum albums, an EGOT, $370 million, a dashing husband in James Brolin, a damn mall in her basement. Outside of a few fluffy 70s sex comedies, though, the characters she plays rarely get happy endings.
Whether they're good or bad, take place in the present or the past, are funny or dead serious or somewhere in the middle, Streisand's films are remarkably similar in structure. Her first, 1968's Funny Girl, set the Barbra Streisand movie template. Reprising her Tony-nominated Broadway role, she stars as Fanny Brice, based on the real musical theater pioneer who dominated the Ziegfeld Follies in the 1920s. A brassy New York Jewish girl with a heavenly voice, Fanny can't get her stage career started because she isn't beautiful. One night, a slick, well-connected bachelor named Nicky Arnstein (Omar Sharif) hears her sing, talks Florenz Ziegfeld (Walter Pidgeon) into giving her an audition, and eventually falls in love with her. Thanks in large part to Fanny's stubborn insistence on playing up her own comedic talents, rather than pretending to be as pretty as the chorus girls, she becomes a breakout star, then a "Sadie, Sadie, married lady," with a baby and a mansion in the country. Her luck runs out when Nicky, a gambler who's intimidated by her success, tries to recover from a losing streak by going in on a bond scam. He goes to jail, they separate, and in the film's final scene, Fanny bravely takes the stage to sing "My Man."
---
Watch: Kate Nash on Feminism and the Female "Wayne's World"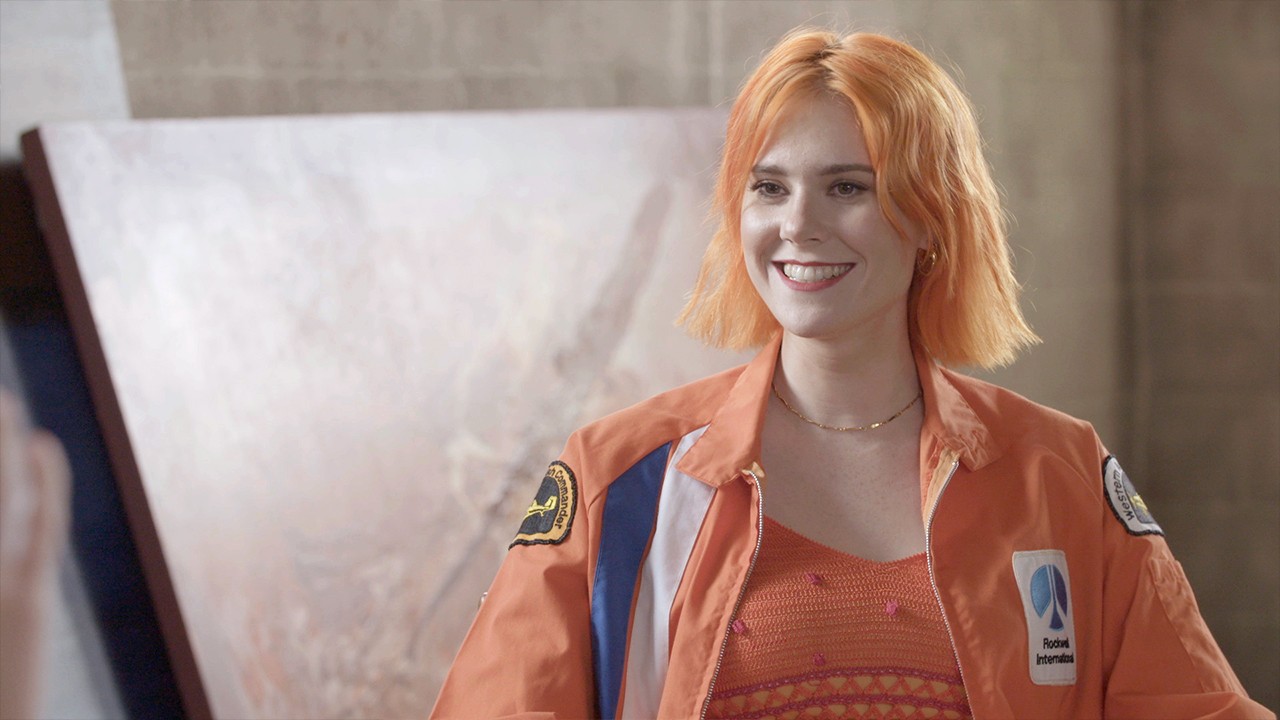 ---
You don't have to know much about Streisand to see the similarities between the Brooklyn-born entertainer and her character. Aside from talent, heritage, and facial features their early critics deemed worthy of comment, both are mouthy, uncompromising dynamos. Some actors disappear into their roles; Streisand's characters disappear into her persona. In most of her movies, she raises her voice, bursts into song, or both within her first few minutes onscreen. Whether she's playing a singer or a psychiatrist or a call girl, her wide, blue, amply lined eyes and pursed lips radiate intensity. She couldn't speak slowly to save her life.
But it isn't just that, after Funny Girl, she kept taking roles as nervy, Jewish chatterboxes. Streisand also continued playing the unlikely love interest to handsome goyishe men. The relationships never last. Her 1976 remake of A Star Is Born casts her as Esther Hoffman, the ingénue to Kris Kristofferson's self-destructive rock god. Despite her attempts to tame him, he winds up dead in a car crash. As in Funny Girl, she sings out her sorrow in the bittersweet final scene. The Prince of Tides (1991), which Streisand also directed, has her Manhattan shrink, Dr. Susan Lowenstein, facilitating a repressed Southerner's (Nick Nolte) reconciliation with his past. They share a few steamy encounters, then his wife takes him back and she's left crying on a city street.
In her best movie, director Sydney Pollack's The Way We Were (1973), Streisand plays Katie, an outspoken 1940s Communist who's unexpectedly reunited with her college crush, the WASP-y golden boy Hubbell (Robert Redford). In the years since they graduated, she's started ironing her hair—a change that apparently makes a world of difference in the once-plain coed's appearance. She dotes on Hubbell, moves out to California with him, and gets pregnant with his baby. But she never feels at home with his smug Republican buddies—"Your friends make me feel like I'm invited for drinks and everyone else is staying for supper," she says—and he finally gets sick of her moral stridency. Before he leaves her, he cheats.
Streisand's characters also tend to be outsiders, and not always because of their Jewish identity. A running theme in her films is her protagonists' alienation from other women—they rarely seem to have female friends. Katie clashes with the women in Hubbell's circle, who are invariably gorgeous, quiet, and cold. Fanny feels like a brown-clad ugly duckling when surrounded by colorfully dressed, all-American Ziegfeld girls. And then there's Yentl (1983), the passion project Streisand spent years working to direct, produce, co-write, and star in. Her title character, an Eastern European Jew in 1904 who disguises herself as a boy to study Talmud, finds other women, with their capacity to muster enthusiasm for fashion and housework, downright exotic.
Whether you love it, hate it, or think it's silly but know all the words to "Papa, Can You Hear Me?" anyway, it must be acknowledged that Yentl represented a groundbreaking achievement for women in Hollywood. Yentl is also probably Streisand's most unique role. Part of that distinction comes from the inherent absurdity of a middle-aged woman passing as a teenage boy without so much as stick-on stubble. Roger Ebert, who adored the film, shrugged that "we have to sort of suspend our disbelief a little." That's not quite as easy as he makes it sound. But there's still something admirable about a period-drama heroine whose goal is to get an education, not a husband.
The funny thing is, although the path she takes to get there is much different—she marries Hadass (Amy Irving), the specimen of ideal womanhood whom Yentl's best friend, Avigdor (Mandy Patinkin), is in love with, to keep her from getting shipped off to another town—Yentl's story ends on a similar note to those of Fanny, Katie's, Esther, and Dr. Lowenstein. She reveals her gender deception to Avigdor, who she's fallen for, but it's too late. He gets together with Hadass, and Yentl sails to America to start a new life. Streisand frames this as a happy outcome. "Papa, watch me fly!" Yentl sings on the deck of the ship. Really, though, she's not triumphing so much as persisting in the aftermath of heartbreak.
There is probably some internalized misogyny and antisemitism in these character arcs. Only in A Star Is Born does Streisand escape having to justify or prove her sex appeal. Meanwhile, the bombshells of her generation—the Faye Dunaways and Jane Fondas—more often got to live happily ever after, or at least die in some romantic, tragic way at the end of their movies. They never had to use their singing voices or their chutzpah to convince men, or their public, of their worthiness. When men cheat on or leave Streisand's characters, it's often to take refuge from her intensity.
Still, there's something singularly invigorating about her movies. It's not just their powerhouse musical numbers or the relief of seeing someone who tries as hard and seems as imperfect and ill-at-ease in the world as yourself in leading roles. Unbelievable as some of her films undoubtedly are, there's also a surprising realism to their resolutions, which are neither tidy and satisfying nor entirely annihilating. These endings acknowledge that life is long, and that real people rarely either live happily ever or fall apart after one bad romance. We just keep moving forward.