In the basement of the basement (floor B2) of the Republican National Committee's headquarters, a white office building on the House of Representatives side of Capitol Hill, there is a small, dimly lit room with a standing desk, humming computers and tablets, a dark couch, and Mike Pence's nephew, John.
It's here where the "Donald Trump: Keep America Great!" campaign for 2020 has already begun, earlier than any presidential re-election campaign in history.
It's sparsely populated today. Besides John Pence, a campaign adviser whose father just became the Republican nominee for Mike's old congressional seat in Indiana, there's just 42-year-old campaign manager Brad Parscale, who recently moved from Texas into a nearby townhouse. Trump 2020 will be run out of the D.C. area, not out of Trump Tower in New York, with its sky-high rents.
The humble surroundings and small staff belie an ambitious, well-funded operation. While even Parscale describes Trump's 2016 campaign as "ragtag," he's making sure the 2020 effort won't be. Before any major Democratic candidate for president has raised a dime, the president's 2020 campaign has already raised over $40 million. Trump Make America Great Again, a joint fundraising committee with the RNC that can transfer money to the Trump campaign, has raised another $34 million.
"I just don't know why any president in the past waited to start running for re-election," Parscale said over Chop't salads in the RNC sub-basement in one of his first interviews since he became the head of the campaign in February. Parscale rocketed to fame as the 2016 postmortems pointed to Trump campaign's digital strategy as a decisive factor in motivating Trump voters. Even Facebook agreed. An internal memo obtained by Bloomberg concluded that "Trump's FB campaign was more complex than [Hillary] Clinton's and better leveraged Facebook's ability to optimize for outcomes."
Read:
Trump's 2016 digital guy is now his campaign manager
Parscale had been working in the private sector, including helping manage digital strategy for the Trump organization, when he was tapped to run digital for Trump 2016, his first national campaign. His elevation to campaign manager in February is a sign that the 71-year-old Trump, who in 2020 would be the oldest president to ever win re-election, wants to run a digital-first campaign, and that he saw no reason to wait around to get it going.
The campaign was running Facebook ads even before Inauguration Day, according to multiple people involved with the effort. And that has continued with over 5,900 Facebook ads purchased just in May, according Gary Coby, a consultant on the campaign and former director of digital advertising at the RNC. Trump's 24.5 million Facebook followers dwarf every other active politician in the country (Barack Obama has 55 million) and recent changes to the algorithm weighing against political content will make it much more expensive for would-be competitors to build a following this large.
Outside of Facebook, the campaign already has 18 million email addresses and phone numbers with an investment strategy aiming for 40 million by Election Day 2020, numbers first reported by Axios last week.
"Politics is pop culture now. It is direct-to-consumer. And you can't deny it is won or lost online"
"Politics is pop culture now. It is direct-to-consumer. And you can't deny it is won or lost online," said Coby, who joined the Trump campaign as the director of digital advertising and fundraising after Trump won the nomination. Less well-known than Parscale, he has also been assisting with the re-election effort and says that the campaign's approach is a reflection of the fact that "the rules have changed."
Some of those rules said that even if a president is thinking about re-election, he doesn't do much about it until closer to the election because he wants to at least appear focused on the people's business.
Read:
Trump and the GOP's war on "slime ball" James Comey is in full swing
Barack Obama waited until April of 2011 to officially launch his 2012 bid. George W. Bush didn't announce his candidacy for 2004 until May of 2003.
Asked by a reporter in June of 1983 about a possible re-election bid in 1984, Ronald Reagan said that it was "far too early for anyone of my position to announce his intentions."
Reagan explained the rules as they were understood by most modern presidents until Trump came along:
If I did, and the answer was 'no', then it wouldn't do me any good to ask Congress for anything. I'd be considered a lame-duck. And if I said the answer was 'yes' at this point, the media—forgive me—but the media, very largely would be tagging everything I did, including a trip to Minneapolis, as political in nature.
But Trump is breaking the norm, perhaps sensing that anything he does will be attacked as politically motivated regardless. He filed his reelection paperwork on Inauguration Day. The campaign trademarked the "Keep America Great!" slogan the same week. Parscale says Trump and the campaign already have a four-part reelection message: economic success, Trump as a change agent, the Democrats are obstructionists, and America is more secure.
The campaign regularly echoes Trump's tweets and messaging in their emails and text to supporters (and lurking reporters). One email this week had the subject line "WORSE than Watergate" after Trump said that it would be "bigger than Watergate" if the FBI may had sent an informant to spy on his campaign.
The 2020 election has been a steady focus for Trump while in office even while dealing with Congress, North Korea, the Russia investigation, and Twitter, according to several people associated with the president.
Trump speaks often with RNC Chair Ronna McDaniel about polling, fundraising, social media posts, and performance of email solicitations sent from him. Parscale has also been providing updates on the digital operation and approval ratings. He shared with VICE News his own data showing Trump's numbers creeping close to a certain dotted line. If they hit it, he claims the president is unbeatable in the Electoral College.
The official talking point is that the 2018 midterms are the priority, but Trump clearly has his eye on 2020. "So your vote in 2018 is every bit as important as your vote in 2016 — although I'm not sure I really believe that," Trump riffed at a speech Tuesday night. "I don't know who the hell wrote that line. I'm not sure. But it's still important."
This week, the campaign hired veteran Republican strategist Chris Carr to help coordinate with the RNC and their 2018 efforts.
There are potential downsides to focusing on the re-election so early. Some past presidential campaign operatives say that the post-2018 political environment will be different and so deciding on a message and building up an organization now will make it harder to change course later. Others still think it's bad—per the old rules—to appear at all focused on political prospects rather than legislation or foreign affairs. .
"Politically, it can be harmful," Jen O'Malley Dillon, the deputy campaign manager for Obama's 2012 campaign, told VICE News. "But from a strictly tactical standpoint of building an operation, having people just focused on budgets and campaign infrastructure has some value, especially for the Trump campaign, which didn't have that type of foundation before."
Parscale agrees that Trump 2020 must be better than Trump 2016. "We won't be as ragtag," said Parscale. In fact, he expects the campaign infrastructure to look a little more traditional. "It will still be new and innovative, but this time around probably something closer to traditional and less startup."
"We were the island of misfit toys. We were understaffed to the point that one person would be doing the job of 15 people on a normal presidential campaign"
Trump's victory in 2016 obscured some of the last campaign's deficits. Hillary Clinton's campaign outraised Trump's nearly 2-1. Wealthy Republican donors, even some appointed to his finance "victory" team, did not open their wallets for the nominee. The RNC only began coordinating with the campaign when Trump became the nominee in the spring of 2016, and even then many on Team Trump felt the committee gave up on the campaign and devoted resources elsewhere after the release of the "Access Hollywood" videotape a month before the election.
"We were the island of misfit toys. We were understaffed to the point that one person would be doing the job of 15 people on a normal presidential campaign," said one 2016 Trump campaign official. "Imagine what those same misfits can do with money and staff around them."
And the money is rolling in this time.
The Republican ultrawealthy have jumped aboard the Trump train, even if some of their money is going to pay the legal fees for Trump and his allies. The RNC and the Trump 2020 campaign are already in daily communication with each other—Parscale even went on "Fox & Friends" with the RNC's McDaniel Thursday morning—and are both spending millions to build upon Trump's strength with small-dollar donors and expand their supporter lists. The RNC also changed its rules and disbanded its primary debate committee in a move that will make it more difficult for any potential primary opponent.
The RNC has raised over $180 million and is also pouring its money into building up its files of email addresses and cell numbers along with a ground game infrastructure that can easily be redeployed toward 2020 after the midterms — lamely dubbed the "permanent data-driven ground game." The committee's field team of 300 staffers and over 13,000 fellows who went through a six-week training (compared to 5,000 last cycle) had knocked on over 5 million doors as of this week. Since January of this year, the RNC has also added over 96,000 new small-dollar donors with an average donation of under $30.
The Democratic National Committee does not yet have a comparable operation for its future nominee. Obama neglected the committee while president and had a tense relationship with chair Debbie Wasserman Schultz. Hillary Clinton complained in June of 2017 that when she became the nominee, "I inherited nothing from the Democratic Party…Its data was mediocre to poor, nonexistent, wrong. I had to inject money into it." (The DNC's former director of data science called that assessment "fucking bullshit.")
The committee's fundraising woes after 2016 have made it difficult to rebuild its infrastructure after the Obama years. The committee has raised $95.6 million—just over half of the RNC's total—and has only $3.4 million in cash on hand after subtracting their debts. The RNC, by contrast, still has $43.8 cash-on-hand and zero debt. The DNC declined to provide details on doors knocked or donor numbers.
Read:
The DNC promised $10 million to rebuild state parties. It has not delivered
"The Republican National Committee has consistently outraised us over the last year, and yet they continue to lose because neither their message nor their values resonate with the American people," said DNC spokeswoman Sabrina Singh. "No amount of money can make up for the moral bankruptcy of Donald Trump and the Republican leadership."
The likely Democratic 2020 challengers are also lagging the Trump campaign. They are glad-handing potential rich donors, but none have begun raising money. The winner must go through what will be an expensive and bruising primary campaign with a crowded field of Democrats. It's unclear if the DNC will be able to build a competitive organization to turn over to that nominee afterward.
Plus, no Democrat can win the nomination until at least spring of 2020, if not later. There may be lots of energy on the ground from "resistance" groups, but they'll be facing an organized machine that has been firing on all cylinders for more than three years.
"I will always feel that the party in power will have an advantage," said Dillon.
Four More Years!? It could happen.
Follow Alex on Twitter @AlxThomp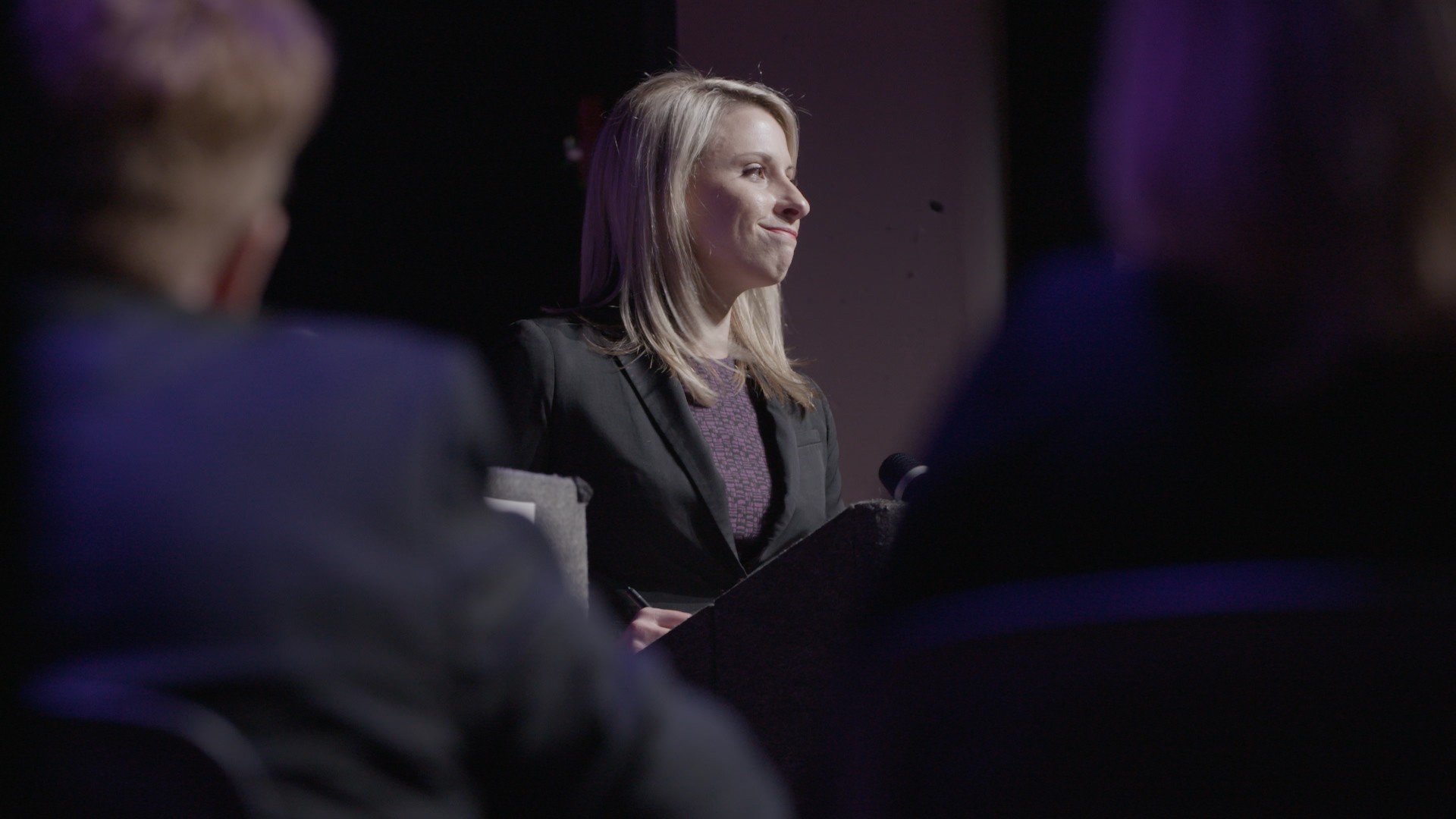 Cover illustration: Leslie Xia