Days before Alabama's special election for U.S. Senate, the race between Republican Roy Moore and Democrat Doug Jones is a statistical dead heat. But there's one wild card that could ultimately impact the vote: Thousands of felons will go to the polls in Alabama for the first time.
A law passed in May restored voting rights to some of the 250,000 disenfranchised felons living in the state by clarifying a 1901 provision in the state constitution. The law restored voting rights to all felons except those convicted of specific crimes of "moral turpitude," including murder and rape. While no one is sure exactly how many felons are getting their voting rights back and how many have actually registered, it's a sea change for the state that could tilt the Dec. 12 election.
"Will they vote at a disproportionate level? That's what I want to know," said Spencer Kimball, a pollster with Emerson College, which has Roy Moore ahead by three points in its latest poll.
Community organizers and lawyers have spent the past five months helping people with felony convictions restore their voting rights since the law passed. "Most people think when their rights are taken away, they'll never get them back," said Sherman Norfleet, a former city councilman in Uniontown, Alabama, who's getting out the vote in Perry County, one of Alabama's poorest. "Now, once you've done your time, your rights are not hard to get restored."
READ: Alabama's wealthy suburbs don't like Roy Moore, but they may vote for him anyway
Norfleet has been making the rounds to churches every Sunday to encourage people to vote, and he is coordinating a free carpool service to the polls for next Tuesday. He estimates he helped 10 felons register, and he hopes they'll vote for Doug Jones, the Democratic candidate.
"This election is going to be determined by the black vote and by the ladies."
"This election is going to be determined by the black vote and by the ladies," said Norfleet. "If we can beat Roy Moore, it will start a wave."
The Alabama secretary of state's office and the Board of Pardons and Parole could not confirm to VICE News how many people registered under the new guidance. Of the 250,000 disenfranchised felons in Alabama, half of them are black, according to the Sentencing Project, and pollsters agree Democrat Doug Jones will be the major beneficiary of the felon vote Tuesday, even though he's a former federal prosecutor. His opponent Moore, a 70-year-old former state justice, is facing several allegations of sexual misconduct with teens when he was in his 30s.
Moore appears to agree Jones will pull the felon vote. He criticized the efforts to register them on Twitter last month, saying "Democrat operatives" were trying to "swing the U.S. Senate election to Doug Jones."
Nationally, nearly 6 million people are denied the right to vote because of prior convictions. While felony disenfranchisement is determined by the states, the 2017 midterms in Virginia — one of four states that permanently ban felons from voting — are instructive. Gov. Terry McAuliffe restored the voting rights of more than 200,000 felons by commuting their sentences in 2016 and Hillary Clinton won the state by 6 points. The 2017 midterms in Virginia brought a Democratic landslide with Ralph Northam defeating former Republican National Committee Chairman Ed Gillespie for governor.
But there are some key differences between Virginia and Alabama. Virginia enabled all felons who have served their prison and probation time to register to vote. Alabama's rule is much more limited: People with murder, rape, and other violent felonies are still barred without a pardon. Those who meet the new requirements have to apply for restoration with the Board of Pardons and Parole, which has 44 days to respond.
WATCH: Some women are voting for Roy Moore because assault is 'part of life' in Alabama
Initially, the state said that no one with outstanding fines and fees, including costs associated with criminal convictions, would be able to vote. But Secretary of State John Merrill walked that back in October after critics said it looked a lot like a poll tax, telling AL.com that voters are not required to pay off their fees to register.
Pollsters are skeptical that the newly franchised population will make a difference in Alabama. "It's hard to tell on this election," said Doug Kaplan with Florida-based Gravis Marketing, which has Doug Jones ahead in its latest poll, "Based on demographics, it favors Democrats."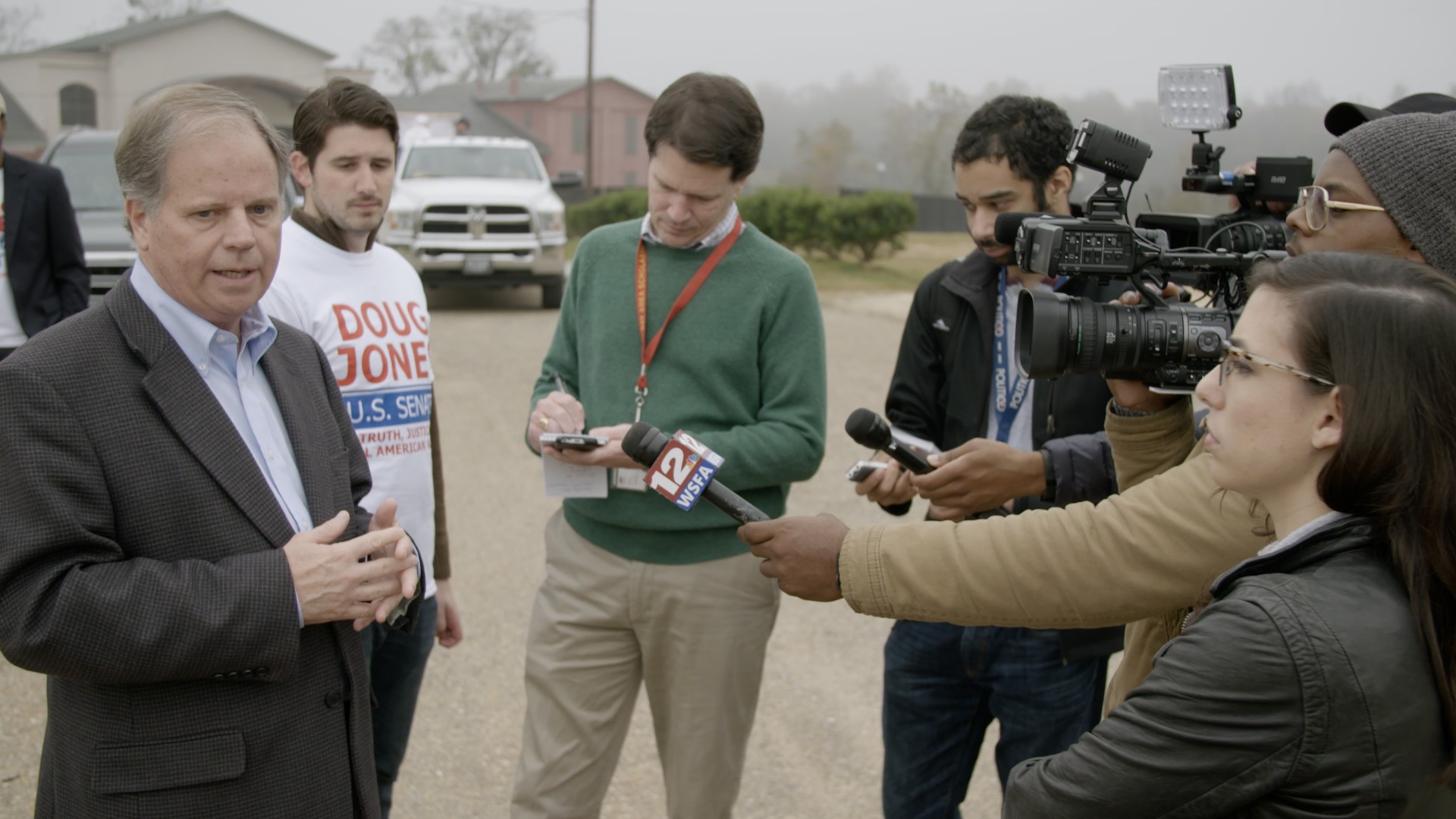 Until Alabama passed the new law in May, there was no definitive list of crimes considered crimes of "moral turpitude." For more than a century, counties had interpreted the language in the state constitution differently, and there was profound confusion about who could and couldn't vote, creating an extra hurdle for voting-rights advocates encouraging people to register now.
Kenneth Glasgow, a pastor in Dothan, Alabama, has led efforts to get people with criminal convictions to register to vote since 2003 and worked on an advisory committee to get the new law passed this year. He estimates his group helped register thousands of people.
"We'll be doing fish fries and barbecues to get people to the polls," he said.
Jonathan Blocker, an attorney with Legal Services Alabama, has been crisscrossing the state since the summer holding legal clinics in churches, barber shops, halfway houses, shelters, and high schools. Around 200 people have regained their right to vote at the more than 30 clinics.
"We've been countering misinformation," Blocker said. "We have people who come in who believed they couldn't vote, who only had out-of-state convictions from the '70s who find out they could have been voting all along. We had an old veteran who had to be brought in by a church member, a husband told his wife that she couldn't vote. It's a mix; you never know what you're going to get."
Voting registration for the Dec. 12 election closed on Nov. 27, but registration efforts for felons will continue throughout next year.
"Still a long way to reach 250,000 citizens," Blockers said.