Identical twins with Harlequin romance-caliber leather pants, poet blouses worthy of the Goblin King himself, and that hair-tossing, screaming guitar élan that sent relegated boyfriends to cry-sterbating at home while their girlfriends swooned at the nearest stadium, Nelson were double platinum music poster gods of the early 90s and they're not gonna apologize for being the era's swaggiest duo. The offspring of Ricky Nelson are most well known for their 1990 number one smash, "(Can't Live Without Your) Love And Affection," a bombastic slice of 80s power pop (let's face it 1990 was still very much steeped in the 80s. Just check their chaps). We met up with Matthew and Gunnar—ahead of their show at Cafe Carlyle in New York City tonight—to reminisce over their early career go big or go home fashion philosophy, one brocade waistcoat at a time.
But let us begin with a disclaimer from the flaxen haired dreamboats: "As intergalactic ambassadors of planet Aquanet White Bottle hairspray, I would hereby like to apologize to the citizens of Earth and take personal and sole responsibility for the hole in the O-Zone. Let it be known that the world was very different back then. MTV was the 800-pound gorilla, and there was a lot of traffic on TV. Gunnar and I began with a motto: 'Love us or hate us… at least you're going to know who we are!' If you were lucky, you had a second and a half to capture someone's attention as they were blazed through the channels. Thus, our image was born. It wasn't some record company's fabrication- this was all our doing… and mission accomplished: loved it or hated it, you knew who we were!"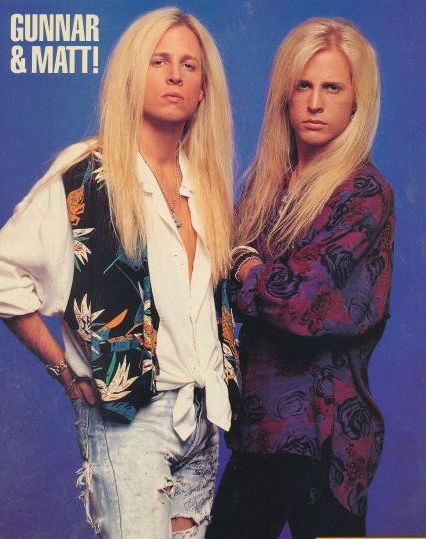 Matthew: Ripped jeans were all the rage back then. That's all well and good, until I wore this outfit on stage performing a radio station-sponsored concert for 10,000 screaming teenage girls in Portland, Oregon. I got a little too close to the front of the stage and some over-zealous fan reached up and grabbed ahold. I backed up, and what was left of my jeans stayed in her Kung Fu grip. Thank God I had a guitar and not a ukulele in front of me.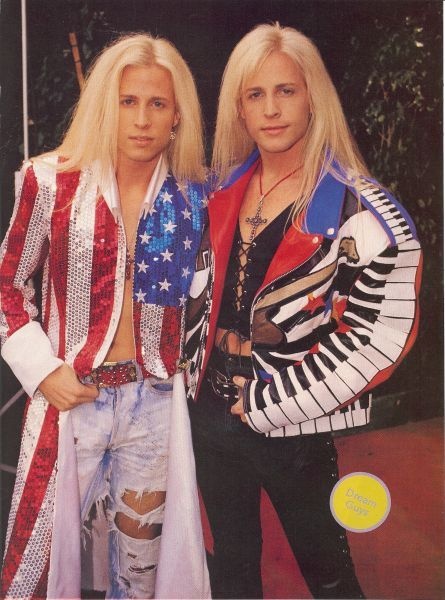 Gunnar: This is by far my most favorite jacket I've ever designed and commissioned. Desert Shield had just become Desert Storm and I wanted to make a statement as a patriot in support of our troops. I wore this floor-length sequined jacket as a presenter on the American Music Awards when we presented Garth Brooks with his very first award ever. I walked out onto the stage in this, the lights hit it, and the crowd went crazy.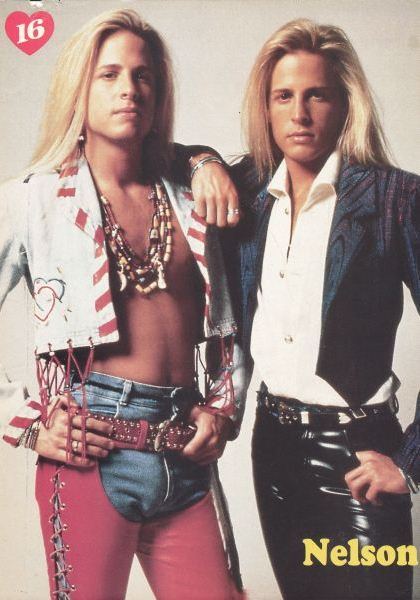 Matthew: Yeah, well. In the era when all the other bands were doing "black and white spill beer on your girlfriends" warehouse videos, you've just got to respect the chances we took to peacock. Some hits, some misses. I'm proud that we dared to be stupid. For the record, these chaps were stupid.
Gunnar: Before we finalized the look of our first album and our overall image, Matt and I went over to Western Costume in downtown LA and looked through their archives and research departments. That's who the film studios in Hollywood turn to when they're putting together a project that's set in a certain time period. Our goal was to find the common thread—no pun intended—of what a hero in ages past wore (mostly military and royalty). Those were the influences. The bright colors of the French Court, the sharp lines and excess of Prussian military. We had a blast and really went for it. The waist coats we were known for on stage in those days were the result.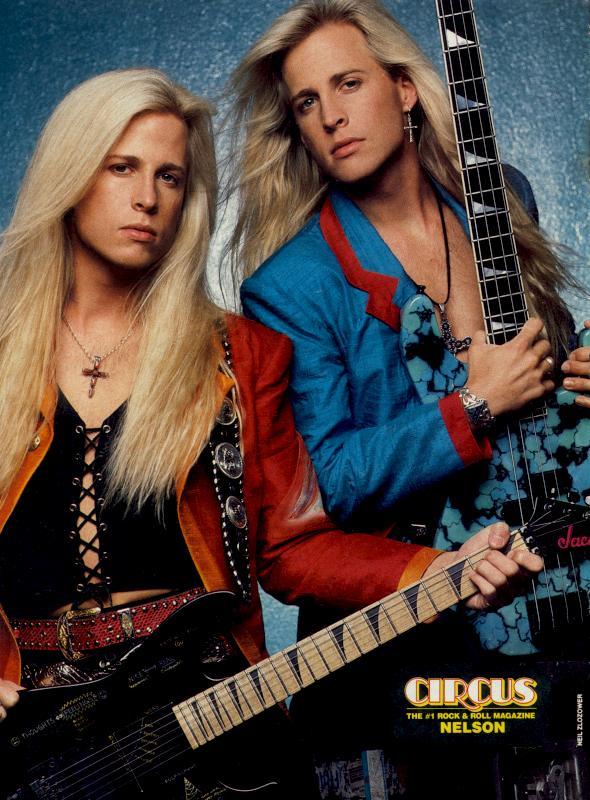 Gunnar: Our biggest-selling poster. We looked like comic book characters. Fabulous outfits—all custom made and thought through down to the color scheme to reflect our personalities—I'm the twin who does things first and thinks about them afterwards. Hence, I got the red outfits. It would have been easier to just go down to Melrose and buy off-the-rack rocker wear. Then again, we wouldn't have had nearly as much fun confusing both genders with the calculated ambiguity of our styling. Admit it: don't we look like the hottest Swedish chicks you've ever seen?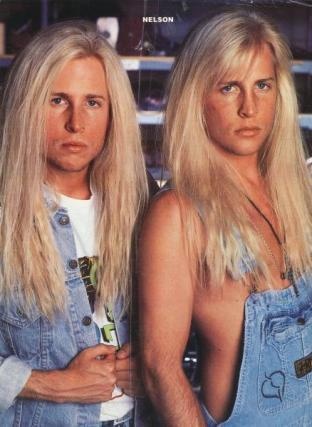 Matthew: Made you look! Classic. This picture makes me mad that we didn't do a shampoo commercial back in the day.
They've still got it. Although dreamy Nelson-themed pillowcases and lamp shades are no longer in production, you can catch the twins all grown up as they tour a tribute album to their legendary dad, Remembering Ricky Nelson.
Joanie Wolkoff likes guinea pigs and makes dope music. Follow her on Twitter.