CARACAS — A throng of angry protesters in the city's commercial district dispersed as another teargas grenade penetrated the enraged mass of Venezuelans that were voicing their displeasure with President Nicolas Maduro's flagging government. Within minutes, a swarm of people wearing white helmets with a green cross on the front pushed through clouds of white fog and chaos to attend to those wounded on the city streets.
"We always move in a group, wear helmets and gas masks. The moment we pass by the National Guard, we put our arms in the air to show we have nothing to hide. We are unarmed," said Daniella Liendo, a 22-year-old medical student at the Universidad Central de Venezuela in Caracas. She's been putting her education to use as a front-line paramedic during the city's explosive protests.
The anger in the streets is palpable. Food is in short supply and industries are paralyzed. Access to critical medicine and basic goods dwindles by the day, while the prices for such goods soar from hyperinflation. Since April, more than 100 people have died in the protests, with thousands more injured and 346 detained as political prisoners. The people want honest elections, decrying Maduro's corruption and the abuse of power by both politicians and state forces.
Earlier this year, Liendo became the president of the Primeros Auxiliares UCV, a rapidly growing group of student volunteers that provide first aid to wounded protesters on the street, filling the void left by government emergency personnel who are often absent during these clashes. Violence on the streets stands to worsen in the coming days, as massive actions are planned in the run-up to the controversial vote for a Constitutional Assembly on Sunday, July 30 — when Maduro intends to form a new government that will help him rewrite the constitution and consolidate his power. Feeling the heat, Maduro has banned demonstrations that "disturb or affect" Sunday's proceedings, threatening protesters with 5-10-year prison terms.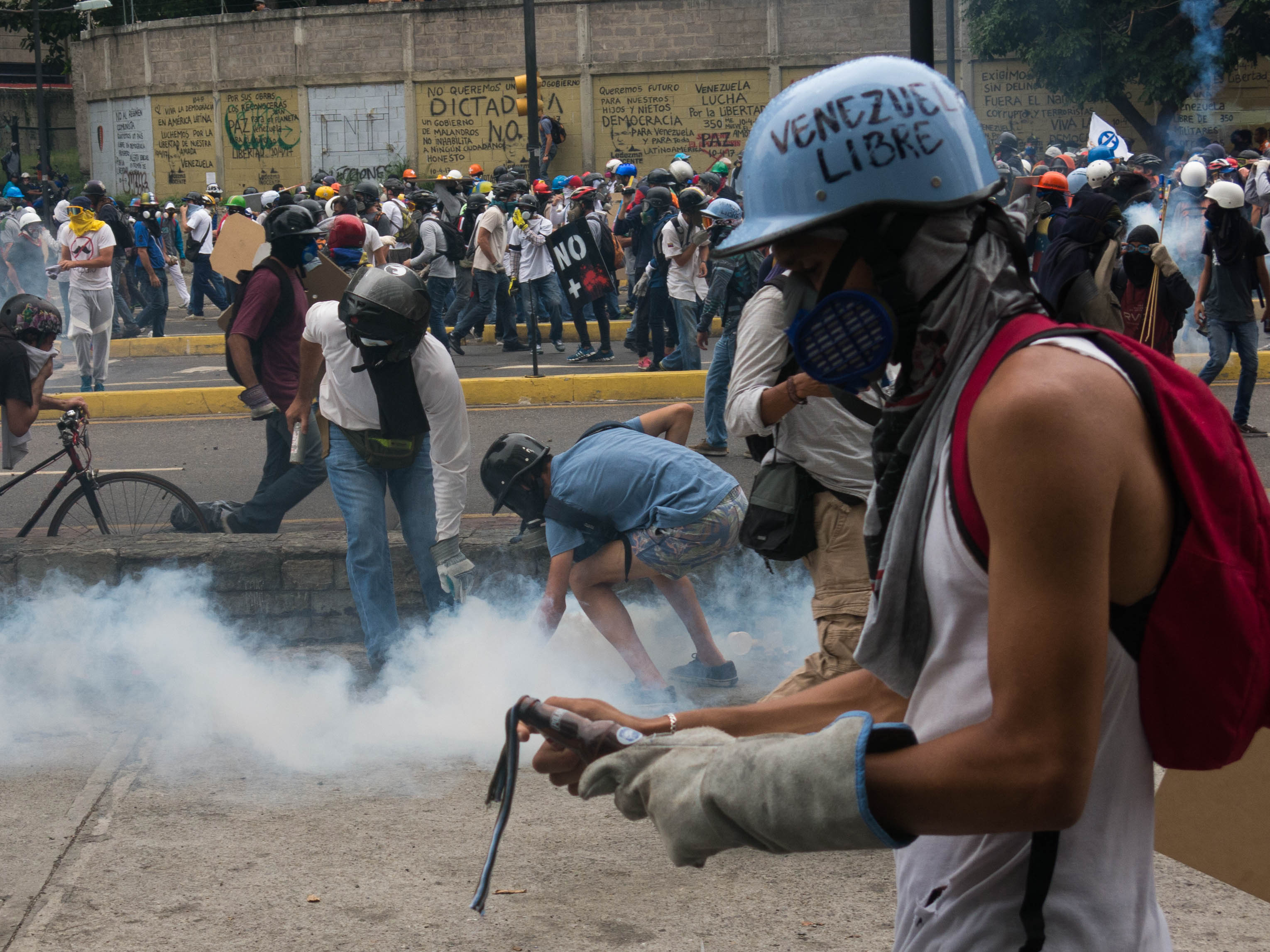 The Primeros Auxiliares UCV initiative was launched during a previous round of anti-government protests, in 2014, and resurfaced in early April after government actions sparked a new wave of protests and violence. Now there are more than 200 volunteers, most of them in their early 20s. A group of 60 hold a daily presence throughout the city, splitting up into teams of at least six people each, ready to assist the wounded when protests turn violent.
Knowing the dangers, Liendo and her team return each week to the streets. They are met with cheers from the protesters who've come to rely on their presence. They know that these volunteer medics will tend to them if they're hit with a scalding teargas canister or beaten up by the National Guard.
Liendo said that her group helps all victims, regardless of their politics. "We help passersby, protesters, and police units."
Still, Liendo's team — and the country's health sector in general — are seriously underresourced: According to the Pharmaceutical Federation of Venezuela there's an 85 percent shortage of medicines. In May, the government began prohibiting key medical supplies from coming in — medical gloves, medical gauze, surgical gowns, eye drops, first aid kits. A move that critics say was directly tied to the violent protests taking over Caracas' streets.
"The government commits a fierce offense, because [it] robs the people of healthcare," said Liendo.
Health professionals are in short supply for injured protesters too, another alleged tactic of Maduro's government. Protesters can be hit with screws, marbles, Molotov cocktails, and even lead bullets, but the state health services and professional first responders are often painfully absent.
"When there is a march, the march passes in front of the fire department, but the firemen are inside. Ambulances do not ride out; you'll call an ambulance, but it will never arrive," said Julio Castro, a doctor and professor at the Institute of Tropical Medicine at the UCV.
"There is a non-written order that they can not be in the streets when there are protests, and if they are not present, civilians do not have medical attention," explained Castro."That's why these [volunteer] groups exist." He adds that professionals who want to help are forced to keep a low profile for fear of retribution from government allies. "We have seen firemen or people from civil protection that are in the marches to personally help people, but without the identification of their organizations."
Douglas León Natera, president of the Venezuelan Medical Federation, said this distrustful environment is fostered by personnel loyal to Maduro's government. "We call them toads [snitches]. Natera said that professional medics end up quietly helping volunteer groups like Auxiliares UCV, sometimes even giving false names to avoid reprisal.
Medics who come to the aid of protesters often risk being perceived as "collaborators" and thrown in jail, León Natera said. "There is a persecution of professionals, not only in the marches, but in the hospitals as well. They harass the doctors and even dare to order them not to attend the patient who comes from the march, wounded."
Caracas is divided into municipalities, and León Natera said some of their health services accept the wounded, like the municipality of Baruta, where protests often occur. Baruta's director of health, Enrique Montbrun, an expert in disasters and health emergencies, contends his staff can operate in the marches with no restrictions. "There is a moral obligation to attend to the wounded," he told VICE News, stressing that his staff often coordinates with the volunteer paramedics.
Montbrun said that his team of medics received about 2,270 wounded and injured persons in Baruta during the first 100 days of protest. In his view, the emergency streetwork is badly hindered by the government's abysmal effort to coordinate emergency health services across the city. "The state, indisputably, in its areas of jurisdiction is not giving an answer." He said there's a culture in some hospitals where health workers who complain about a lack of (medical) resources are threatened. When it comes to the protests, it's an issue of protocol: Many zones are too violent to send in medical teams and ambulances.
"The helmet does not prevent you from feeling. On a daily basis we see things we are not prepared for."
The risks on the streets have escalated: "In the last 20-25 days, we've seen a disproportionate use of firearms," said Montbrun. "We can identify a change," he said, pointing to the use of force by the National Guard and police. The violence has made emergency response even more critical, but it's also made it harder to provide medical attention where it's needed most.
The Auxiliares UCV are among the few emergency groups that will go into these hostile areas, but they're constantly in need of medical supplies and rely on donations to keep going. "We'll receive anything. We probably need to start to use as little as possible in the near future," said Alfonso Martínez, a 21-year-old medical student at UCV and one of the volunteer paramedics. He said that he often needs to improvise because of the lack of medical supplies and that the violent conditions on the street take a toll on the team's physical and mental wellbeing. "The helmet does not prevent you from feeling. On a daily basis we see things we are not prepared for."
Medics like Martínez and Liendo know, as Caracas braces for some of its largest and most violent protests, that the worst is still to come. But she finds comfort in her team: "There is a fraternity that can only grow in situations of extreme risks, this has helped us a lot." As protests enter their fifth month, Liendo's biggest fear is that Venezuelans will face a new reality "where we look the person next to us in the eyes and see an enemy instead of a person that helps me to rebuild the country."