"I am the Black woman / I am a survivor," is just one of the stanzas in feminist lesbian poet Pat Parker's 1978 "Movement in Black" that refuse to let you go once you read them. Like a song, they reverberate through your mind, reminding you of the force of Black women's stories and collective legacy. Originally published by Diana Press as the titular poem of a collection of Parker's, the piece is part prayer, part praisesong, honoring Black women in spite of a world that's historically tried to stifle their voices.
Before the age of #BlackGirlMagic and the #MeToo movement, Parker's poetry uplifted the experiences of women often overlooked by the stanzas penned by popular poets. Through collections like Woman Slaughter and Jonestown & Other Madness, she unapologetically insisted on improving the wellbeing of Black women and women of color by exposing misogyny, homophobia, and white supremacy. An unsung hero of the Black Arts Movement and inspiration for Audre Lorde, her words are a salve for times like these.
Born in Houston, Texas in 1944, Parker—then known as Patricia Cooks—was the youngest child of working class parents. Life in Houston, which Parker often referred to later in life as "Texas hell," wasn't easy. In 1962, she finally left Texas after her uncle died while in police custody and a young boy in her community was murdered by a mob for being gay. She had just graduated high school, and headed to Los Angeles to study at community college.
Shortly after moving to the California, Parker married her first husband, the playwright and Black Panthers Minister of Culture at the time Ed Bullins. In 1964, the two moved to the Bay Area, but they eventually divorced due to Bullins becoming violent, according to Parker. After the split, Parker briefly married again, but ended it when she realized that the "idea of marriage… wasn't working," as she later wrote.
In the wake of her second divorce, Parker became radicalized. As an active member of the Black Panther Party, she immersed herself in socialist theory, communist discourse, and community organizing. And her political awakening coincided with the blossoming of her writing practice. By the latter late 60s, she was involved in the women's rights, gay rights, and civil rights movements and openly living as a lesbian, crafting poems, and teaching creative writing workshops.
Perhaps rooted in her experience as a survivor of domestic abuse and the loss of her sister who was killed by her ex-husband—a tragedy that inspired "Woman Slaughter"—Parker's dedication to women's rights was as personal as it was political. That devotion became the lifeblood of poems like "Legacy," in which each line is a talisman affording power to its reader. She writes: "I give you / a legacy / of doers / of people who take risks / to chisel the crack wider / Take the strength that you may / wage a long battle. / Take the pride that you can / never stand small. / Take the rage that you can / never settle for less."
By the 1970s, Parker had published five poetry collections, including her debut Child of Myself, released a poetry album with Judy Grahn, founded the Black Women's Revolutionary Council and Women's Press Collective, and become the director of the Feminist Women's Health Center in Oakland, California. Around the same time, her friendship with Audre Lorde, who she met in 1969, flourished.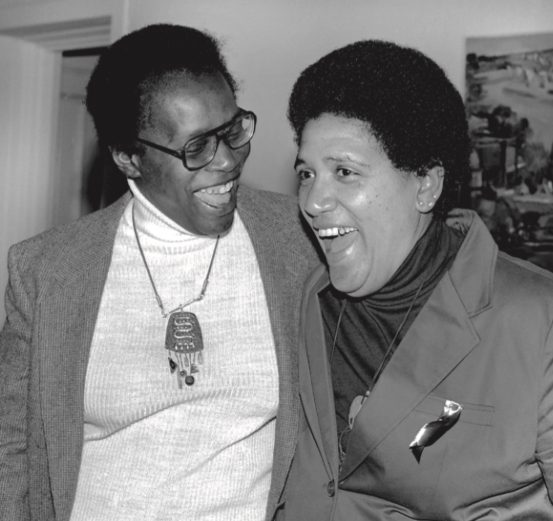 With Parker living in Oakland and Lorde splitting her time between New York and traveling abroad, the two shared a lively correspondence. They sent each other advice on how to ease the nausea of chemotherapy, monetary support, writing opportunities, words of encouragement, photographs, and magazine clippings. Both Black lesbian poets, mothers, and activists battling cancer, their relationship teased the line between mentorship, sisterhood, and solidarity—and served as a solace and source of inspiration for them both.
"We are both very vulnerable women, Pat," Lorde wrote to Parker in the winter of 1988. "The fact that we used our vulnerabilities to make our greatest strengths makes us powerful women, not failures. I love you. And in case you have ever tried / To reach me / And I could not hear you / These words are in place / Of the dead air / Still / Between us."
Celebrated in Sinister Wisdom's recently published Sister Love: The Letters of Audre Lorde and Pat Parker 1974-1989, Parker and Lorde's friendship wasn't merely one of convenience forged from shared interests, but a deliberate dedication to vulnerability and the ability to honor difference. If they were pitted against one another by others in their community, they addressed it. If either of them were feeling misunderstood or unheard, they took the time to examine that dissonance. It's clear that their closeness was deeply intentional.
In "For Audre" from Movement in Black, Parker articulates their inseparatebility:
Sister, love
Some things are not possible.
I carry you with me
Talk with you ask your opinion
You cannot give me up
I cannot give you up
We are linked
in
our Blackness
our creativity
our queerness
our muses conspire.
Parker and Lorde's friendship also served as inspiration for countless poems by Lorde, in addition to her legendary essay "Eye to Eye ," in which she honors the geneaology of sisterhood. "Black women have a history of the use and sharing of power from the Amazon legions of Dahomey through the Ashanti Warrior queen Yaa Asantewaa and the freedom fighter Harriet Tubman," Lorde writes. "We have a tradition of closeness and mutual care and support… We are Black women born into a society of entrenched loathing and contempt for whatever is Black and female. We are strong and enduring. We are also deeply scarred… [but] we still know that the power to kill is less than the power to create, for it produces an ending rather than the beginning of something new."
"Eye to Eye,"paired with Sister Love, radiates with the warmth and wisdom that was at the root of Lorde's connection with Parker. With that warmth, they fueled each other's creativity and activism, shaping their respective legacies. And their coalition stands as a model for sisterhood among feminists today.
Although it isn't widely known, Parker also wrote and published short stories, essays, and plays in addition to her poetry. Whatever the genre, her words were political. And at a time when the Black Liberation Movement was saturated with homophobia and misogyny and white feminists were unwilling to confront their racism, Parker dared to openly hold her community and its allies responsible for its hypocritical behavior.
In her 1980's speech at the Basta! Women's Conference on Imperialism and Third World War, Parker urged her audience, "I am a revolutionary feminist because I want me to be free. And it is critically important to me that you are here, that your commitment to revolution is based on the fact that you want revolution for yourself… if we dare to struggle, dare to win, this earth will turn over."
Parker passed away in the summer of 1989 after a grueling battle with breast cancer. But her words and the way she deployed them remain a reminder that to be free is a daily and deliberate act; that we must challenge our fears and oppressions relentlessly.
At the end of "Legacy," she offers a reminder: "Let the world stand screaming. / You will mute their voices / with your life."