Image by Lia Kantrowitz (Photo by Alex Wong/Getty Images)
On Tuesday, Donald Trump used what began as a press conference about infrastructure to defend white supremacists, a perfect encapsulation of the toxic stew that propelled his rise to the White House. As media figures and politicians from both parties denounced the president's unprecedented excusal of outright racism, a second move by Trump went largely unnoticed: He assumed guilt on the part of the 20-year-old charged with murdering Heather Heyer and injuring at least 19 others with his car in Charlottesville on Saturday.
"You can call it terrorism. You can call it murder. You can call it whatever you want. I would just call it as the fastest one to come up with a good verdict," Trump said. "That's what I'd call it. Because there is a question. Is it murder? Is it terrorism? And then you get into legal semantics. The driver of the car is a murderer, and what he did was a horrible, horrible inexcusable thing."
Of course, James Alex Fields is not technically a murderer because he has yet to be convicted of a crime, no matter how strong the evidence against him might appear. Nor has he even been charged with a federal offense. Attorney General Jeff Sessions did come out rhetorically with some gusto this weekend, denouncing "white supremacists" and racism well before Trump did. Sessions also made clear as soon as late Saturday that the feds were opening up a civil rights investigation into the protests. It was the latest sign Sessions intends to prosecute hate crimes, even though he opposed the expansion of the relevant law to include gender identity and sexual orientation in 2010.
But will Sessions, who is notorious for allegedly trafficking in casual racism as a young Alabama prosecutor, actually indict Fields? Perhaps more important, will he go after the groups that helped organize the protests in Virginia in the first place? Or the many individuals who appeared to commit violent crimes against people of color and other activists on the scene?
For some insight into how this plays out, I called up Jonathan Smith, who was chief of special litigation in the Civil Rights Division of the Justice Department from 2010 to 2015. Now executive director at the Washington Lawyers' Committee for Civil Rights and Urban Affairs, Smith led the charge against rogue cops under Obama, including the investigation into the Ferguson Police Department. He explained that Sessions is saying as much as anyone could have hoped given his record. But words won't put Fields in prison, and it won't discourage more violent white supremacist protests, either.
VICE: Were you surprised Jeff Sessions did come out at least rhetorically with a bit of vigor this weekend, and that a federal probe is apparently underway?
Jonathan Smith: No, I wasn't, for a couple of reasons. One: I think the pressure mounted on the Justice Department when the president's [initial] statement was so anemic and high-level officials had to sort of start covering for him. At that point, I wasn't surprised to see that the Justice Department would open an investigation and take some steps.
While Sessions did make a very powerful statement—and appropriately so—the investigation they opened was actually quite narrow. It focuses exclusively on the use of the car and the attack with the car, and not more broadly on whether, over the course of the weekend, there were other violations of either the hate crimes laws or anti-terrorism statutes. I was very disappointed—I wasn't surprised—but very disappointed about that. From the press reports, it is evident that driving the car into the crowd deliberately to cause bodily harm certainly justifies the federal investigation. But that wasn't the only thing that happened over the course of the weekend to terrorize a community. The attorney general's rhetoric didn't match his actual conduct.
You mentioned the hate crimes laws—that's one thing some have wondered about. I don't believe the attorney general has used the phrase "hate crime" yet here. Is that a law you could see possibly applying in this case?
Yes. The Shepard-Byrd Act, which is the principal hate-crimes stature that the Civil Rights Division enforces, was passed in the wake of two very terrible, violent murders of Matthew Shepard and James Byrd, in 2009. It says that it's a federal crime to cause bodily injury or attempt to cause bodily injury because of race or perception of race, color, religion, or national origin [among other things]. Throughout the weekend, starting with the assaults with torches on Friday night, the very words that were being spoken by the white supremacists who were there indicated their conduct was motivated by racial animus. And that animus expressed itself not just in their words but in their use of force.
The reports that are coming out now [suggest] that not only were there attacks by the white nationalists and the white supremacists on the crowd, but they targeted those attacks on people of color. Clearly, those were acts of violence with the use of weapons—which is required by the statute—which included firearms, clubs, and baseball bats. They were striking people with flagpoles. [And] it was because of the race of the people in that crowd.
There's more than sufficient cause to investigate the course of events that occurred over the weekend—to look at the people who planned those events, the organizations that planned those events, and determine whether there was criminal conduct in the preparation. They came with forethought, they had helmets and weapons—they were armed. They had shields. They clearly came prepared to engage in violence, they enacted violence, and that violence was targeted. I think the investigation should not be limited—certainly should include—should not be limited to just the murder of Ms. Heyer with that car.
---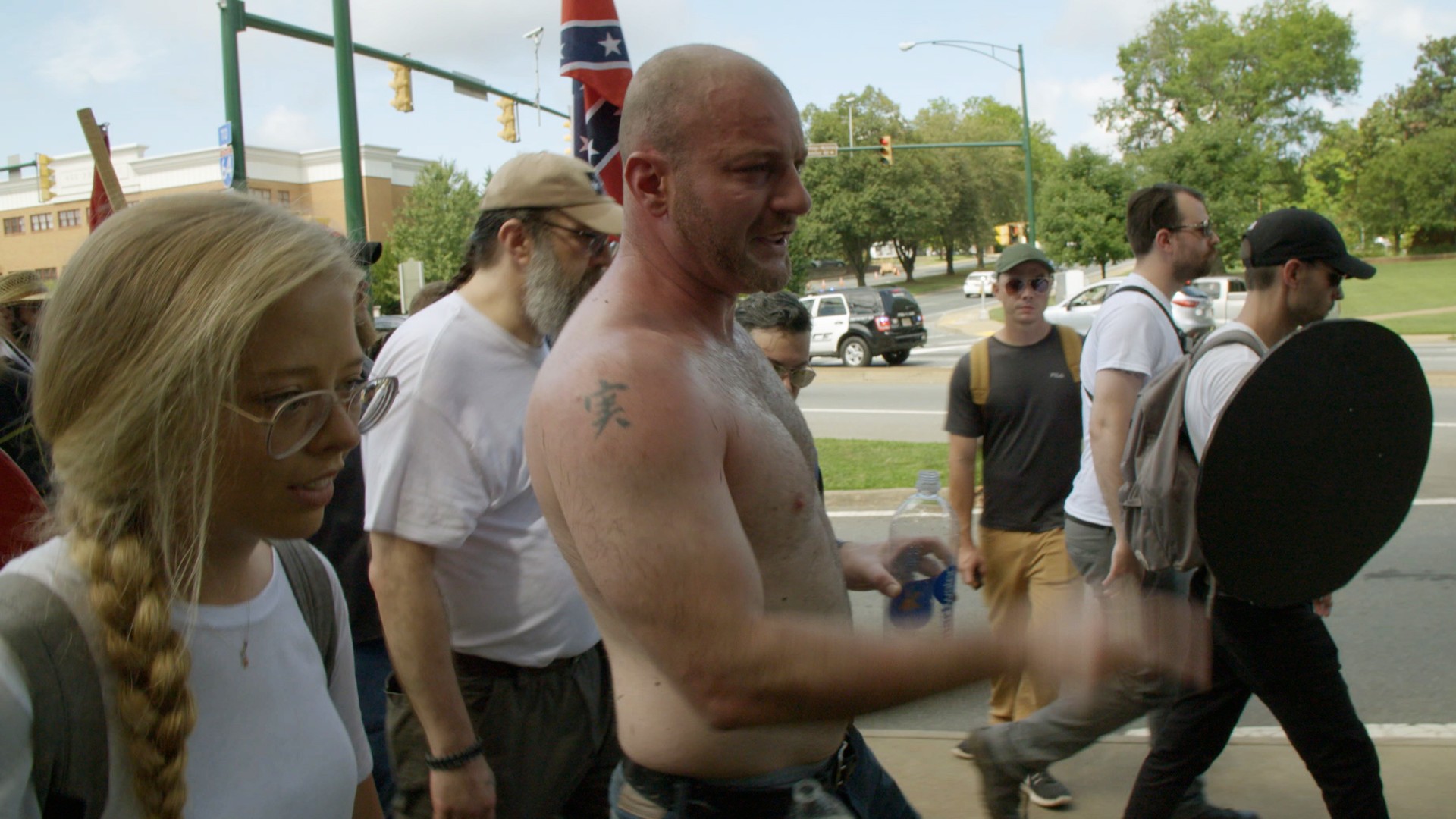 ---
From a hate-crime prosecution standpoint, does it matter that the only person killed was a white woman and not a person of color?
It doesn't matter if the people who were targeted were people of color, and the consequence was that a white woman died. And it doesn't matter for the terrorism statute at all.
The attorney general has repeatedly used the term "domestic terrorism," saying this incident fits that legal definition. What statute would apply there?
There's a provision of the Patriot Act that defines and makes criminal domestic terrorism. It's 18 USC 2331, and that statute basically says any conduct that places human life at risk that appears to be intended to intimidate or coerce, influence the policy of a government by intimidation or coercion, or affect the conduct of government by mass destruction, assassination, or kidnapping [is illegal]. Clearly the first two prongs of that apply—under either of those, there was [an effort to] intimidate the people of Charlottesville, to influence the government not to take down that [Robert E. Lee] statue. To use the violence for those purposes, I think, violates the domestic terrorism provisions of the Patriot Act.
Given he opposed expanding that hate crime law in Congress, how worried are you about Jeff Sessions running this show?
It gives me tremendous concern. Sessions, from the moment he became attorney general, has attempted to turn back the work that was done in the Obama administration to make our criminal system less inequitable. Look at what he did particularly around questions of race—retreating from the work around reforming police departments; embracing increased punishment and reversing the decision to get rid of private prisons.
Over and over and over again, those points in the criminal system that have the most disparate effects, he's going to double down on on. I think the FBI has a much better—not a perfect—record on these things, and I have some hope there. I know the career staff in the criminal section of the Civil Rights Division are top-notch dedicated public servants. But the ultimate decision about whether to prosecute and what to prosecute for is made by political appointees, not by career staff. They will make a recommendation, but a grand jury cannot be empaneled and an indictment cannot be sought without the permission of the politicals. And having political appointees in this administration make decisions about this worries me a great deal.
But isn't it a pretty obvious move for Sessions to go after Fields, given questions about his views on race? This guy seems like a slam dunk.
This should be the easiest of all possible things for him politically. it is such demonstratively horrible conduct—every conservative politician but one has come out opposed to it.
When senators like Ted Cruz come out and demand civil rights probes and for the feds to get involved, does that tend to actually resonate in the DOJ?
It makes a huge difference. That kind of pressure is almost impossible for the attorney general to resist. When you have the politicians seeking an investigation, it puts a lot of force behind the investigation. Particularly when it's people like Ted Cruz—it's not [Democrats like US Senators] Dick Durbin and Kamala Harris. This should be an easy one for him to be able to show that they care about civil rights.
Theoretically, there's supposed to be wall between the White House and the Justice Department when it comes to actual decisions about what actual cases to bring and how to handle them. The Justice Department is supposed to be an independent agency that represents the United States government and not the president.
Whether that is going to hold true in this case or not, I just don't know. But this ought to be Jeff Sessions's ultimate decision.
How confident are you that we will see not only an investigation, but the filing of federal charges and actual convictions in this case?
It depends in part what the state does. If the state has a successful prosecution, the United States might not pursue it—or might pursue it with a plea arrangement to add on top of the state charge. If the state concludes that there's no grounds to proceed, I would think the federal government will not proceed in the case either. The tradition is to follow what the state does, and historically it's been seen as a backup—what happened in the Simi Valley when the people who beat up Rodney King were acquitted is that the federal government could [subsequently, after passage of a new law] come in to correct the failure of the state to properly prosecute the case.
Here, I suspect they'll use the state prosecution as a cover.
Follow Matt Taylor on Twitter.