Wework in Old Street. Photo: Ruth Faj
It's lunchtime at WeWork, a co-working space in London's Moorgate. A group of guys play pool under industrial lighting. People sit around tables with red hardwood tops, empty bowls of ramen pushed to one side. Beyond sofas arranged in a circle, members chat in booths decorated with butterfly print wallpaper emblazoned with the words "sting like a bee". A bar at the far end serves free beer every day from 4.30PM to 8.30PM. It looks like a nicer version of your university student union, only everyone here is pushing 30.
This is an average lunchtime at WeWork, and it's fine – but sometimes they need to step it up a little. For example, when Adam Neumann, the founder of WeWork, brings investors to see WeWork offices, he reportedly calls ahead to tell staff to "activate the space". Several former employees told the Wall Street Journal that everyone would then get together in the communal areas, which would be filled with booze and food. When Neumann arrived with the clients, he would remark that the office was "so full of life".
Stories like this one, of putting on a show for investors, fuel a distrust in WeWork. Like other successful start-ups it has emerged in a relatively short time to completely transform a certain segment of industry: in this case, freelance work. But while it's clear how AirBnb changed accommodation and Uber changed transport, it's still not clear to most people – at least on the outside – what exactly it is that WeWork does, or how it works.
WeWork – an American company founded in 2007 – emerged during a boom in the number of self-employed Brits, from 3.8 million on the eve of the financial crisis in 2008, to 4.6 million in 2015. Young people are turning their backs on the 9 to 5, motivated by ideas about being master of their own destinies. But self-employment often comes with lower pay, instability and the likelihood of mental health issues. WeWork's job is to convince you, with yoga classes and free beer, that it's worth it. The clue is right there in their mission "to create a world where people work to make a life, not just a living".
The company has around 14,000 members in the UK and 28 premises (27 in London, one in Manchester), having first set up shop here in 2014. Sixteen of those spaces have been opened in just the past six months. Freelancers can pay for a hot-desk, starting at £200 per month. A dedicated desk costs £285 per month, a private office costs £460 per month. The company offers deals on bigger spaces for businesses. All become part of the WeWork community, with access to daily happy hours, wellbeing events, charity fundraisers and speed networking.
Every WeWork has a community manager who can matchmake members with one another, give advice and be a listening ear (the one in Moorgate has one for each floor). The company says 70 percent of WeWork members collaborate with one another, while half of WeWork members do business together. WeWork is betting that it can maintain its appeal to entrepreneurs by making its "offline social network" central to their success.
Investors are sold. Analysts say WeWork is valued at over $20 billion, which means they think it is worth around 20 times the money it is making at the moment. Only Uber, AirBnb and SpaceX – a spacecraft company owned by Elon Musk – have higher valuations among start-ups in the US – and start-ups typically have the highest valuations of any types of companies because they are expected to grow much faster, in a much shorter time.
Corporations also want a piece. Companies with more than a thousand employees are WeWork's fastest growing market. When WeWork rented 500 desks in Hong Kong to the digital innovation unit of HSBC, Andrew Connell, HSBC's regional head of digital, retail banking and wealth management, said the bank liked WeWork because it was an "agile" environment that could help the bank attract the right people to develop their business. In other words, it liked the design of the office. But it liked the people, too.
Just like Uber is a platform that sells you, the client, access to workers who drive cars, WeWork is a platform that sells corporate clients access to members with new business ideas, low wages and high skills. In this case, the workers are you.
Matt Donovan, marketing manager for Microsoft's Office 365 brand, has more than 300 employees in WeWork offices. He told Forbes: "They get access to different locations, plus insight and feedback from other WeWork members who use our products." Other corporate clients are keen to be a part of WeWork's rebranding of work as life, including Starbucks, Salesforce, Bank of America and Facebook.
Unlike AirBnb and Uber, where the host or the driver shoulders the cost of the apartment or the car, WeWork has to lease office space from a landlord before it can rent it out to a freelancer. It has a lot more cash on the line.
WeWork knows rich global corporations are more likely to pay rent than one-person start-ups – your mate's dry-cleaned underwear delivery business, for example. But it also needs those underwear guys to dream big, and to do that in an ergonomically designed office pod for which they are paying £400 a month, to attract the corporate clients.
When Neumann gets his staff to throw parties to impress potential investors, he's not doing it to show off a nice building he's leasing. He's doing it to prove to investors that WeWork has a greater appeal to workers than its competitors. So far, that's turned out to be true. Rival coworking space the Rainmaking Loft in east London shut down after WeWork moved in above.
Traditionally, office landlords give tenants sweet deals, including whole years rent-free to tempt them into signing decades-long leases. But this approach could never work with start-ups, which are much smaller, have less money and may not be around for long.
"Edison bulbs, reclaimed wood furniture, industrial light fittings and exposed brick make a wealthy, mobile elite feel comfortable in familiar surroundings."
But WeWork has other ways of locking in tenants. "Technology, flexibility and community," says Eugen Miropolski, WeWork managing Director for Europe and Israel. "Psychology is embedded into all aspects of our design."
WeWork architects have made the corridors narrower than in other office buildings so people from different companies and backgrounds are more likely to interact with one another. Open staircases double as meeting spaces to encourage members to have productive conversations when they pass on the stairway. Rooms are flooded with natural light and materials to make them feel comfortable and homely.
Miropolski took over the European arm of WeWork after leading the expansion of AirBnb. He saw the rapid spread of "AirSpace", an aesthetic involving Edison bulbs, reclaimed wood furniture, industrial light fittings and exposed brick, which could be found anywhere millennials congregated, from coffee shops to holiday apartments.
Kyle Chayka, who coined the phrase in an essay for the Verge, says AirSpace exists to make a wealthy, mobile elite feel comfortable in familiar surroundings, even as they feel smug about travelling and having an authentic experience abroad.
WeWork takes this idea one step further by making its AirSpace so desirable that people pay to be in it. The company has decorated 12 offices in London since it landed here in 2014. All of them are designed to make you feel like you're in the trendy living room of someone you admire. Yet, the company makes a big deal of every space being different. The wallpaper in the London Fields WeWork has a botanical print, for example, because it's not far from the Columbia Road flower market.
"The belief that one-size-fits-all is a mistake when coming to office design today," Miropolski says. In each of WeWork's 170 offices, members can choose between the booth and the couch, the hard chair in the quiet room and the armchair in the social area.
Wherever those renting the space choose to work, their decision is recorded. WeWork offices have been fitted with environmental sensors to track the heat, light and humidity of buildings. Motion sensors are used in common spaces to see where people are most likely to congregate, while other types of sensors measure occupancy. It wants to maximise the amount of people it can fit into an office space without people feeling claustrophobic.
The company does this with the consent or even the cooperation of its members. In 2016, it introduced an app called Comfy that allows members to adjust the temperature in the office and then collects data on their choices. Miropolski says: "With Comfy, members are given an app to communicate their preferences which then delivers powerful analytics to better inform workplace decisions."
---
WATCH: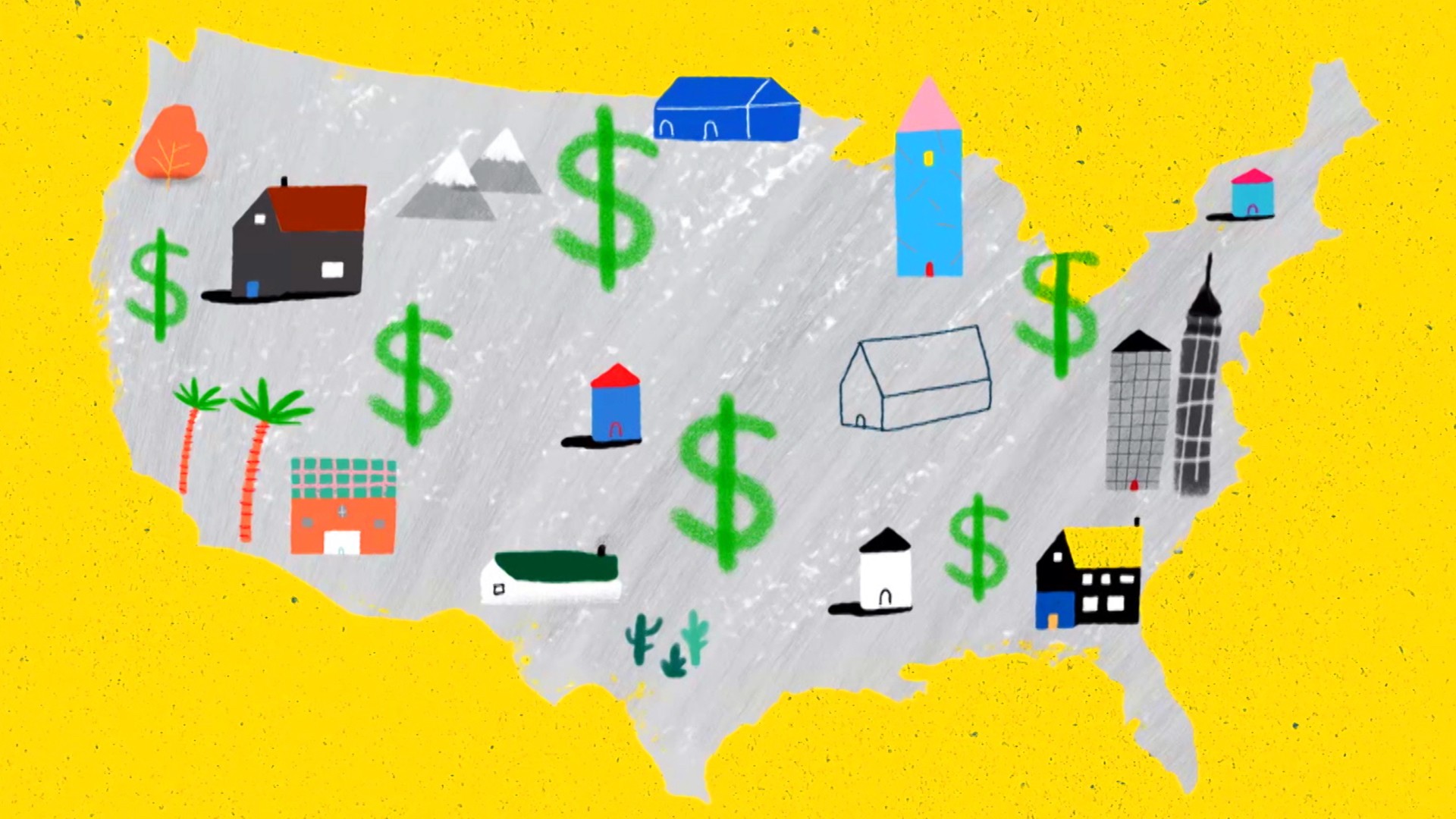 ---
A proprietary system called Stargate helps WeWork track details regarding each and every real estate project down to the very last square foot. Another, called Spacestation, tracks details about members and their companies so WeWork can give them the membership perks that will most appeal. WeWork's user experience design team has even built devices to measure happiness: "These devices provide instantaneous feedback on everything from the coffee, to our phone booths, to the content on our TV screens by the lifts."
WeWork doesn't share this data – yet. It is still tweaking its AirSpace formula to the create the optimal work environment. But once it has crushed the competition, Miropolski can imagine a time when WeWork sells companies the means to track their employees the same way it sells colourful offices and the young people in them: "Right now, we use these programmes internally for WeWork companies, but are working to develop these platforms so that enterprises can manage their spaces in a similar capacity."
WeWork also knows that, to survive, it needs to spread its business around so that if demand for office spaces suddenly dries up in London, for example, it will still make money elsewhere. Data is one new business area. Then there are new locations, with offices in Korea, China and Hong Kong. In Asia, WeWork desks face towards other workers rather than the windows, in line with local culture, where it's considered impolite to turn your back on co-workers.
For the last 18 months, WeWork has been branching out of offices and into accommodation, with a communal living programme called WeLive. Apartments have shared communal areas and kitchens, like fancy student dorms. In New York's financial district, rooms rent above market rate at $3,050 (£2,318) a month. The programme's slogan? Love your life.
That is what's interesting about WeWork's rise: it's sort of an estate agent, a private club and a lifestyle brand all at the same time – but it's also none of those things. It's not even renting out desk space; it's hiring desk space and then renting it out. It's a middle man. So, actually, the real thing it's selling is that people think it's cool – and if that falls away, it's nothing.