Photo via Winnie Wong and Claire Sandberg.
This is Part II in a multi-part series that features original commentary on the state of leftist movements in Europe from political disrupters Winnie Wong and Claire Sandberg as they schlep their way across the continent. The two were embedded in US Senator Bernie Sanders's presidential campaign in various official/non-official capacities, and have continued their version of the political revolution through campaigning, speaking engagements and general person-in- politics fuck-around-ery.
At a time when 32 million Americans may soon be kicked off their health insurance by Republicans in Congress, when a $15 national minimum wage is still an ambitious policy goal, and when concepts like paid parental leave or free college sound like distant dreams, the strong welfare states of the Scandinavian region shine like a beacon to a new generation of leftists yearning for social democracy.
Throughout his historical presidential campaign, U.S. Senator Bernie Sanders pointed to the universal healthcare, free higher education, and generous parental leave policies in countries like Norway, Sweden, Denmark, and Finland—and to the strong protections those countries offer workers in their economies.
But in Oslo, Norway, a growing number of young Norwegians are also looking across the Atlantic to Bernie's political revolution for inspiration of their own. A delegation of Norwegian activists attended the People's Summit in Chicago in June, and a few days later, three of us American activists—Winnie, Claire, and our friend and collaborator Moumita Ahmed (founder of Millennials for the Revolution)—accepted their invitation to travel Oslo to see Nordic social democracy first-hand. We learned about the effort by the left-wing Roedt party to bring together young urban voters with working class rural voters to protect and expand the welfare state—at a time when nationalist appeals of the far-right are gaining traction here, as they are throughout the west. We were also there to speak at Popvenstre, the Roedt party's outdoor festival of music, politics, and culture, and to run some trainings for party leaders ahead of their general elections this fall.
Three Bernie Bros in Oslo
We met Reidar Strisland, our main point of contact from the Roedt party, at the central station in downtown Oslo. Reidar -- a 28 year-old author and teacher -- attended our People's Summit training on distributed organizing and was excited to share the knowledge with the rest of his collaborators, so the first order of business for us in Oslo was getting out the slide deck and running a similar training for Roedt party grassroots activists in their downtown office.
All of the mostly young Norwegian activists gathered in the Roedt party meeting room were steeped in US politics. Someone asked Winnie about other major political figures in the US. She asked the room to see how many people have heard of Elizabeth Warren, and nearly every hand shot up.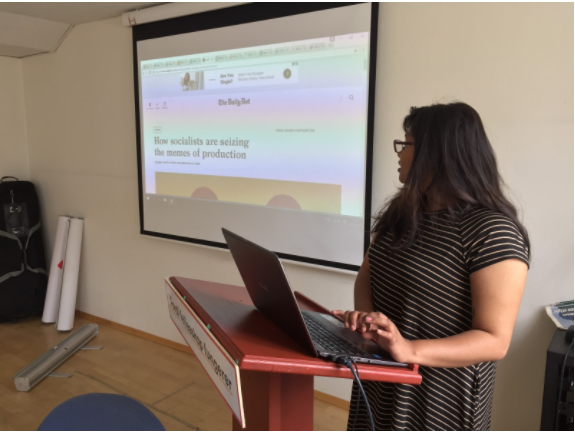 After the training, we headed to a cafe nearby to hear about the current state of play in Norwegian politics. In its current incarnation, the Roedt Party formed in 2007, and has been growing quickly in the past few years. Since 2013, formal membership has roughly doubled. The party's new young leader, Bjørnar Moxnes, has attracted scores of millennials to join its ranks, sparking "Bjørnie" comparisons. Roedt politicians currently hold ten county council seats nationwide and have 80 municipal representatives, and they're hoping that the upcoming election on September 11 is their chance to break through a key threshold that will allow them to gain eight seats in the legislature.
Although the Norwegian welfare state is still light years ahead of the fraying social safety net in America, Norway has not entirely been insulated from the consequences of 30 years of neoliberal capitalism around the world. The proportion of children growing up in poverty is on the rise, and women earn 15 percent less than their male counterparts. Housing costs are increasing steeply and many young Norwegians find themselves having to work two jobs to pay rent.
---
Check out more videos from VICE: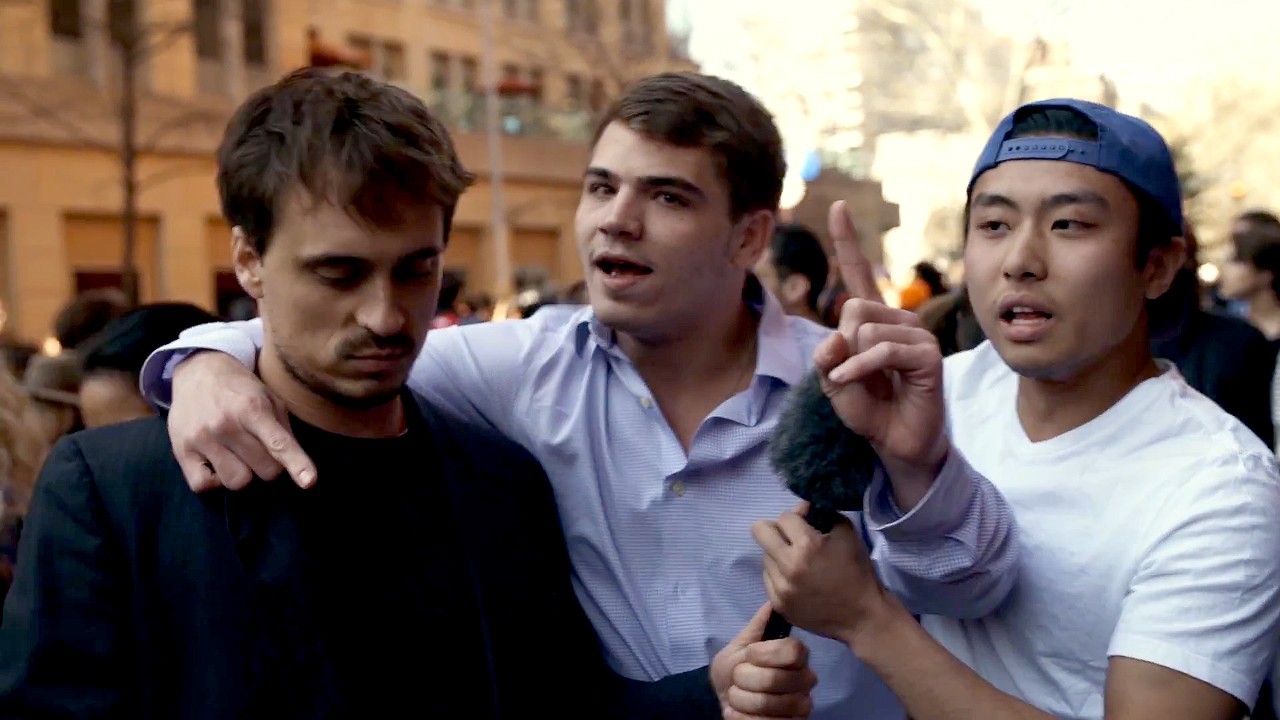 ---
To address this deepening inequality, and the growing inclination of the Norwegian government to run the welfare state like a private enterprise, the Roedt party launched its "Inequality Norway" campaign with a series of redistributive policy demands. With the slogan "Community Works," Inequality Norway underscores the belief that a society based on cooperation and equality is fairer than a society based on capitalist competition.
The Roedt party has also increased in support in Oslo in particular campaigning to stop the privatization of city kindergartens; unlike primary and secondary schools, kindergartens in Norway are privately-run, which has recently led to the creation of kindergartens owned by large corporations financed by outside capital.
When we arrived at the outdoor festival in Kuba Park in downtown Oslo on a hot, glorious Saturday for our first panel on the main stage, it was only a few days after the dramatic and unexpected result in the U.K. general election.
There was a lot of excitement in the air about what might be on the horizon—not just about the possibility of Prime Minister Jeremy Corbyn sitting down with President Bernie Sanders within a few years' time, but more broadly about a new common sense rejection of austerity and inequality in favor of policies that ensure a decent standard of living for all.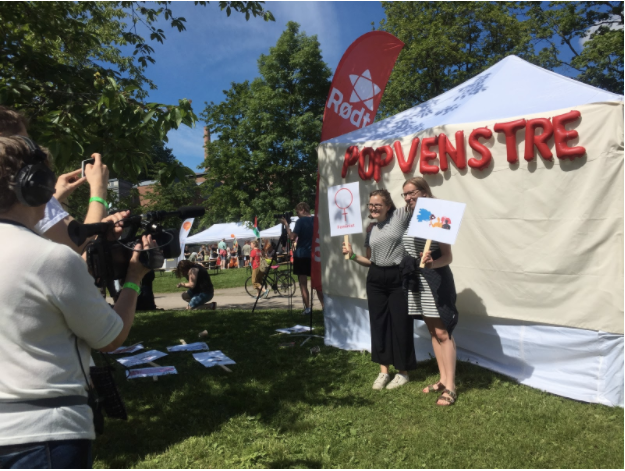 We were joined in a discussion on the emergence of competing left and right populisms by Paolo Gerbaudo, author of the new book, The Mask and the Flag, and by Eirik Grasaas-Stavenes, a Norwegian journalist who came to the US to cover the People's Summit for Klassekampen, the leftist daily newspaper in Norway.
There were a ton of other panels throughout the day on intersectional feminism, the importance of protecting workers rights by strengthening unions, and fighting for just refugee and immigration policies The day closed out with evening performances by some of Norway's hippest bands (with Samsaya and Awesomnia headlining).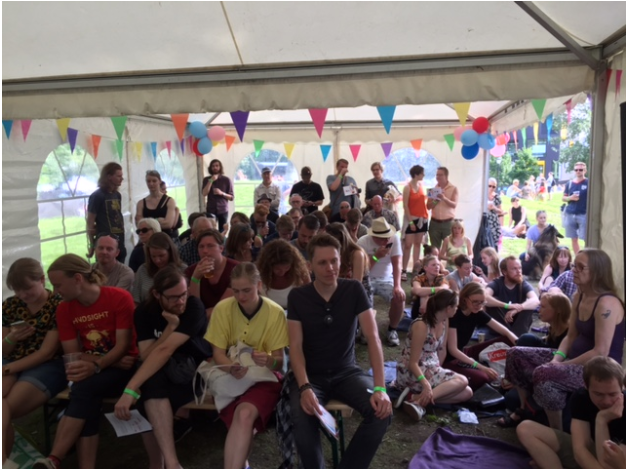 Political revolution in Norway
With two more days in Norway following the festival, we spent hours in trainings and breakout strategy sessions with Roedt party organizers digging into the nuts and bolts of digital and social media best practices, barnstorms, peer-to-peer text messaging, dank memes, and more.
Although the Roedt party activists brought us there in large part to do these trainings, we made a point to remind them frequently that Bernie actually lost the primary and Democrats lost the US general election. There's a long history of American political consultants going overseas to muck things up, usually in the service of horrible politicians with even more horrible politics. So it was important to us to not replicate that. We offered our experiences as examples that they could either take or leave based on what would work for their own national and cultural context.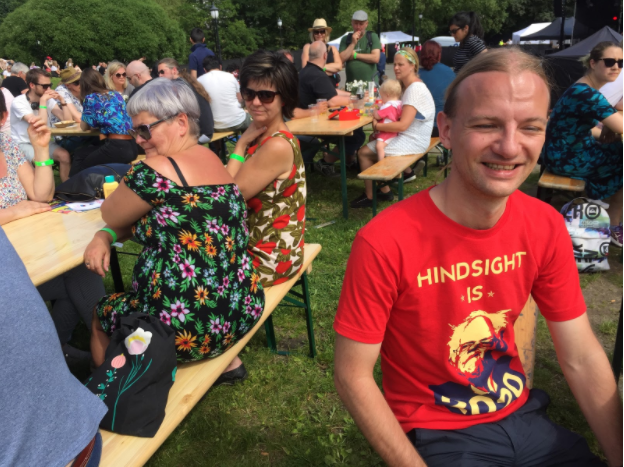 In addition to offering the Norwegians advice, we also made sure to learn as much as we could. Everywhere we went, we peppered the Norwegians with questions about how their welfare state works—parental leave, education, unemployment benefits, public housing and transport, and more. On our final day, we also had a chance to sit down with Madnus Marsdal from the Manifest Center for Social Analysis, a Norwegian left think tank doing innovative work advocating for expanding the welfare state and also running popular education programs training union workers on policy.
Magnus has written about the rise of the far-right in Norway and sees popular education and expanding the welfare state as essential to stopping the rise of both inequality and right-wing nationalism. Marsdal and the Manifest Center have published a number of readable but informative pamphlets on pensions, tariffs, higher education, neoliberalism, and more for an intended audience of union nurses, teachers, public utility workers.
What's next for Bjornie and Co.
The Norwegian election is on September 11, and we'll keep an eye on what happens while rooting for our friends back in Oslo.
In the next installment of our travelogue: London… A visit to Parliament … backstage with Naomi Klein… What's next for the BOY Jeremy Corbyn.