Photo by Brendan Maloney-USA TODAY
This article originally appeared on VICE Sports Canada.
As Corey Bellemore toed the starting line at Toronto's Varsity Stadium, the PA announcer shouted that the "beer mile world record holder is in lane six." The crowd immediately chuckled and whispered to one another. But Bellemore is no joke.
Outside of holding the beer mile world record, he is unquestionably one of Canada's very best middle distance runners, and he's barely out of college. Though the beer mile has brought him the vast majority of his attention and fame, racing isn't a gimmick to him.
Bellemore, 23, has a near maniacal love of running and competing, one which brought him to the Toronto Track Club's 800m Night to run against Canada's best just one week before the national championships in Ottawa. There, he would roll the dice and run both the 800m and the 1500m, finishing fourth in the country in both events. When this season ends, he will move right back into cross country for a few months, where he is again one of the best in the nation.
On this night in Toronto, though, Bellemore blew away the competition in his first race back from injury, finishing with a comfortable ten-stride lead over the next runner and crossing the finish line in 1:47.97—a meet record. "This was my first real speedy race of the year. I just wanted to get out on the pace and see how my legs felt. Thankfully this was my third-fastest time ever, so it was still a pretty good race for me," Bellemore told VICE Sports after 800m Night in Toronto. It's precisely that level of talent that allowed Bellemore to break the beer mile world record with no specific training at all. Consider this: Bellemore's world record is 4:34.35, meaning he is able to run a lap around a track and chug a 355ml beer in 68.5 seconds not just once, but four consecutive times. For most people, being hungover and running do not mix whatsoever, let alone running while drinking. Not to mention, a 4:34 mile without drinking a litre of beer along the way is unthinkable for all but people who have been at least good high school middle distance runners.
The Windsor, Ontario, native ran his first beer mile simply for fun. Many university track teams will conclude their season with a beer mile competition as a way of celebrating. Bellemore cruised through it and finished it in 5:27. Not long afterward, another Canadian, Lewis Kent, set the beer mile world record at 4:47.17, and Bellemore felt he could top that. On a flat track with no alcohol, he was a faster runner than Kent, so as long as he could handle his liquor, there was sufficient reasoning to suggest he could beat him at a beer mile, too.
So in July of last year, Bellemore was working a 12-hour shift as a camp counsellor and was feeling ambitious. He asked his friends to pick up a six pack of Kingfisher and a camera so he could give it a real shot. He wanted twist top bottles because he felt he could open and chug them faster, but the local beer store only had cans. Eventually they drove and found bottles, but that meant he had to drink warm beer that had been sitting in the trunk. Despite the less-than-optimal beer conditions, he broke the world record that day on the St. Joseph's High School track. Soon, the video was uploaded and verified, and Bellemore was flown immediately to the Beer Mile World Classic in London, where he lowered his mark again.
---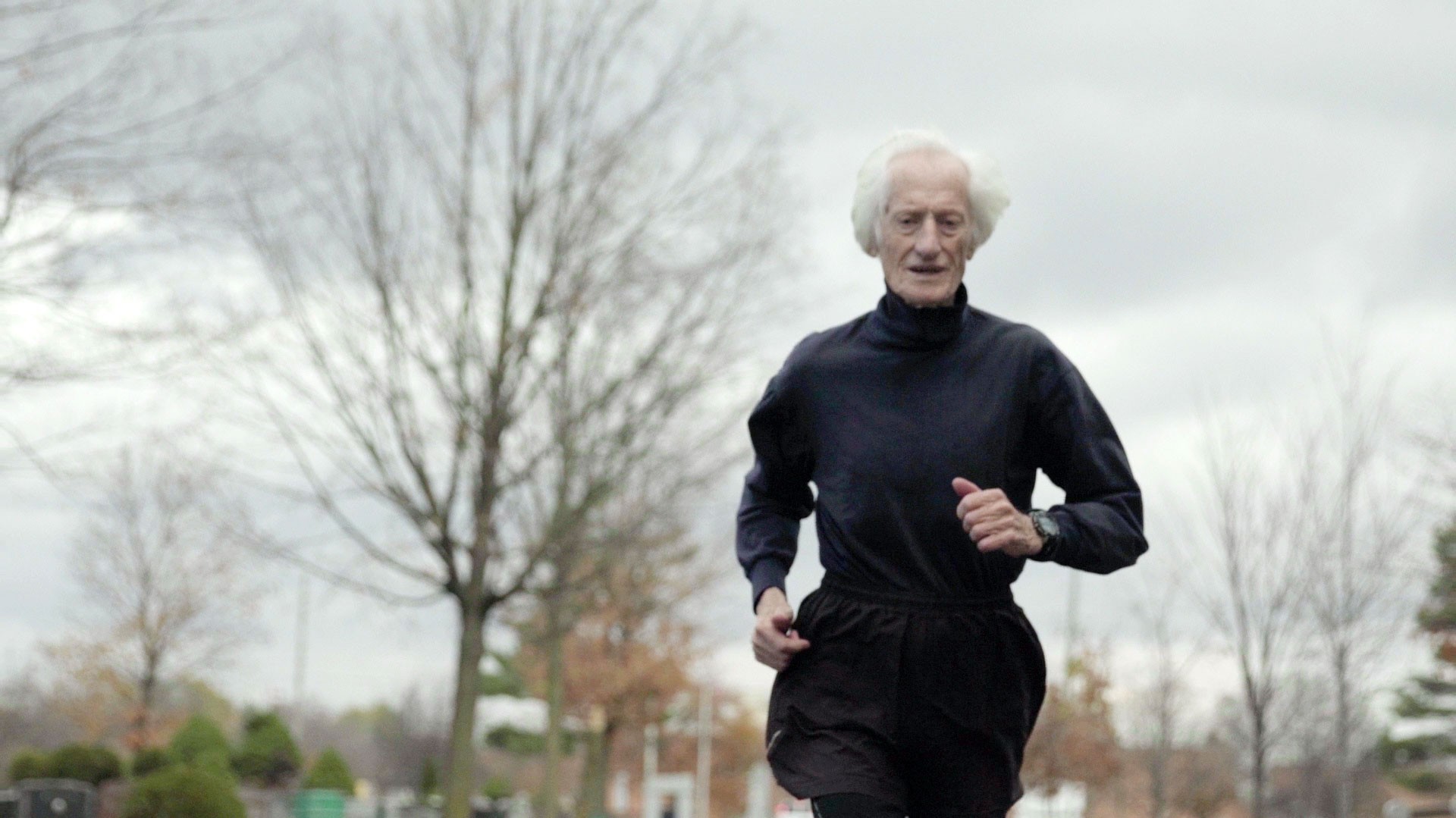 ---
"I just jumped into it last year and thought I could get the world record. I didn't think I'd get a whole lot of attention from it, but it honestly blew up like crazy in my face. The next day I was going to England on a flight I didn't know anything about, got the world record again, then flew right back to go to work. It was like 48 or 50 hours of no sleep. It was a random couple days," recalls Bellemore.
His accomplishments as a beer miler netted him something all of his exploits as a top-level Canadian runner never could: a sponsorship. Adidas inked him to a deal, and before he knew it, there was a bounty of Adidas gear waiting for him in his hotel room at his next meet. Weeks later, he won the FloTrack Beer Mile World Classic and the largest purse of his career: $2,500. By comparison, for his efforts in winning the 800m meet in Toronto, Bellemore received $500, and a pair of Brooks running shoes he can't even wear because of his affiliation with Adidas.
His earnings from beer miles have helped him enter more regular track meets, and pay for his transportation to and from. The vast majority of track and field athletes' careers end the moment they are no longer in a school program with built-in funding. Post-collegiate careers in running are either an extreme luxury, or nothing more than a hobby. As a result, many talented athletes are never given a chance to compete when they enter their actual physical prime as adults, because it's simply not financially feasible to do so.
Bellemore is not unlike other top-level athletes who have wound up in positions they maybe didn't grow up dreaming of being in, simply to remain in the sport they love. Bellemore the beer miler is to running what the lefty specialist is to the baseball bullpen, or the long-snapper to the football team. Maybe he isn't recognized the way he wants to be, but he makes a living on the track—something most people can't say.
"The good thing about Corey Bellemore is that he's stumbled upon a market. Otherwise, how much money are you gonna make as a 1:47 800 [metre] guy? There's not a lot of money in it for a 1:44 800 [metre] guy, and that's because there's not a lot of money in track and field," said Toronto Star writer Morgan Campbell. "It's like boxing, where 5 percent of the people make 95 percent of the money. "Being faster than the majority of the population is just enough to keep you broke. So for a guy like Bellemore, being a beer mile guy may not be as sexy as being the fastest miler or half miler in the world, but it's allowed him to make a lot more money. I bet you he makes a lot more than the guys faster than him in the 800m."
One of the reasons runners struggle to make money is that they struggle for recognition as well. Flip through a running magazine, and the vast majority of people profiled aren't elite runners, but rather "inspirational tales" of regular folks competing at local road races. Most people who run recreationally, and even quasi-competitively on the road race circuit do not watch track and field on a regular basis. As for non-runners, they'd be hard pressed to name a single middle distance runner who has ever existed, let alone a Canadian runner.
But because of his success chugging beer and running laps, Bellemore is somewhat of an exception. He even recently received his own Allen and Ginter signature trading card. "Think about the NFL—you get these shoe companies that say we'll give you a million dollars to break the record in the 40-yard dash in our shoes. Think about how many guys in track and field are faster than the 40-yard dash guys—[there's] a lot. But think about how difficult it is to get a million-dollar shoe contract as a track and field guy. Very difficult. Unless you're Andre De Grasse or Christian Coleman, seven-figure shoe contracts are hard to come by. But there's money in being football fast," said Campbell. Knowing the importance the beer mile niche has to his flat track competitive career, Bellemore, hilariously, also needs to keep up his drinking ability—something many runners abstain from altogether. Though he says the majority of his "training" on that front comes from chugging water or Gatorade, life as a successful college athlete brings about many formal "training" opportunities at the bar as well.
"Some weekends are better than others," joked Bellemore. "Closer to big competitions I try and lay off it, but in the middle of the season and the start of the season I still like to have some drinks with the guys and be sociable."
Bellemore has been able to strike a balance between life as a so-called gimmick racer and as an elite-level middle distance runner, but his real goals remain a national championship and a spot on Team Canada. The reality, though, is that no matter what he accomplishes, he will never live down his status as a top beer miler, and the novelty cheques and trophies around his apartment in Windsor are constant reminders of that. The common person might not recognize David Rudisha, the top 800m runner in the world, but they do know that guy they saw on their Facebook timeline crushing Kingfisher and flying around the track. "People will come up to me like, 'Hey you're the beer mile guy!' And I'm like, 'Yeah, I'm a serious runner, too, but thank you,'" said Bellemore.