Update: Hours after this article was published, federal prosecutors charged McFarland with scamming people out of more than $100,000 through the phony VIP ticket company NYC VIP Access. Read more about the charges here.
The infamous Fyre Festival is bankrupt, and its founder, Billy McFarland, is expected to be sentenced next week to somewhere between four and eight years in prison on two counts of federal wire fraud. But the spirit of his scheme continues to haunt many of his victims who have been targeted in a new wave of scams over the last six months.
Since December, onetime subscribers to email lists created by McFarland have been hit with offers from a variety of companies sharing a familiar theme: access to the billionaire lifestyle on a millennial budget.
Fyre Fest victims have been offered things like the use of a multimillion-dollar home in the Hamptons, front-row seats and backstage access at the Victoria's Secret fashion show, meet-and-greets with megastars like Taylor Swift and LeBron James, and VIP tickets to events like Burning Man and Coachella.
But the offers have another thing in common with the Fyre Festival, the celebrity-studded music fest in the Bahamas that never happened: They aren't real.
Read: Fyre Festival organizers blew all their money early on models, planes, and yachts
"I just laugh when I get these offers," said Seth Crossno, a festival attendee who rose to Twitter stardom after he began live-tweeting updates from the Bahamas last year. "The people sending them should realize by now that they're just going to end up in the news as, 'Here's another scam for Fyre Festival attendees.'"
Even so, interviews and documents show people were still willing to take a chance, both with McFarland and with the dubious offers sent by email.
As a dozen-odd civil and criminal lawsuits inched their way through New York's state and federal courts this winter, McFarland, out on bail, began pursuing new business ventures. In January, he took meetings in a 1,400-square-foot penthouse room with a private wraparound terrace on the top floor of the swanky Murray Hill Tuscany Hotel in NYC, according to interviews and receipts obtained by VICE News.
And despite the criminal charges and the flameout of his last two businesses — Fyre Media and the concierge service Magnises, which offered its members VIP experiences — people showed up to entertain his pitch, a scheme to make money off Instagram live streams.
Read: Fyre Festival founder arrested and charged with wire fraud
Around the same time, another business model of McFarland's was making a comeback. A month before the January Tuscany Hotel meetings, a new business called NYC VIP Access popped up in Fyre Festival attendees' inboxes with offers similar to ones McFarland had once extended through the now-defunct Magnises.
NYC VIP Access also happened to meet with potential clients in the same Tuscany Hotel penthouse room favored by McFarland, according to one source. And directly representing NYC VIP Access in at least one transaction was a man named Josh Blue, who had previously worked as a managing partner at Magnises, where he focused on marketing.
The NYC VIP Access emails started in late December 2017, promising once-in-a-lifetime experiences like front-row tickets to the still-unannounced Victoria's Secret Fashion Show and seats at the invitation-only, $30,000-a-plate Met Gala.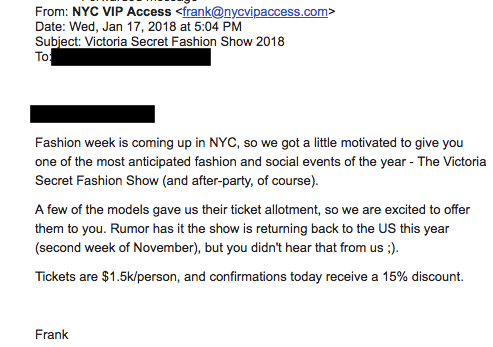 Like the private parties with Jennifer Lopez and discount Hamilton tickets McFarland once offered Magnises members at the height of the sold-out show's popularity, the NYC VIP Access experiences were offered at eyebrow-raising but not totally unattainable prices. And the mailing list targeted a number of people who had attended the Fyre Festival or joined Magnises.
The emails were signed by a man named Frank Tribble Jr., a 20-year-old from California who told VICE News in January that the company had been founded by "a couple hip-hop managers and their artists," whose names he couldn't disclose because of a "major press release" they had planned.
"That's going to be in about a month to two months," he said. "I'd say half the world's going to know about it. So I mean, it's something that without me even sending you something, you will know about it."
But VICE News could find no evidence that any press release was sent, and by March, Tribble's email and cell phone were no longer active. In that time, VICE News debunked several of NYC VIP Access's offerings, including "sponsor tickets" to Burning Man, which does not have sponsors; seats at the Met Gala, which must be approved by Anna Wintour; and passes to meet Taylor Swift, who does not do meet-and-greets.
Read: Exclusive documents reveal Fyre Festival's "shitshow" ticket scheme
Though Tribble stopped returning VICE News' calls, he was still operating on behalf of NYC VIP Access, a source says. About a week after VICE News published its first story debunking his offerings, a Manhattan man who had put in to purchase Coachella tickets from NYC VIP Access says his money was suddenly and unexpectedly refunded. He had met Tribble for the first time a few weeks prior, when he signed a contract for the purchase.
The meeting was held in the same penthouse suite McFarland stayed in at the Tuscany, the source said. The man asked to remain anonymous because of the embarrassment of falling for the scam.
The man says after his money was returned, he figured NYC VIP Access was a fraud. But when he saw Instagram photos that appeared to show Tribble attending the Grammys in February, (Tribble's account has since been made private) he decided to give it another shot. After reaching out, he says Tribble responded under a new company name — NYC VIP Access Plus — and ran a new payment on his credit card.
Immediately after the charge was made, Tribble stopped responding, and his cell phone number was disconnected, the man said. He says he marked the charge as fraud and was refunded by his bank. The tickets never materialized.
Blue, the former managing partner at Magnises, facilitated at least one $700 sale for a Grammys ticket, records show. He was also a personal friend of McFarland's, said the source who bought the ticket and knows both men. In text messages and emails viewed by VICE News, the source first accused McFarland of running the NYC VIP Access scam, and later asked McFarland for his money back.
"Please send that to Josh. I'll have him handle immediately," McFarland replied via text. "I've asked Josh to do it. I also asked the guy who is running it to refund you and he agreed," he wrote a few days later.
Reached by phone, Blue initially denied any connection to VIP Access but then seemed to reconsider his answer before hanging up.
"I don't really have anything to do with NYC VIP Access," Blue said. "I mean, I might have… no. To be honest with you, I don't know."
Asked about screenshots that appear to show a Venmo transfer made to him in exchange for Grammy tickets, Blue asked if he would be able to call back at another time.
McFarland's attorney did not respond to a request for comment.
Another company, called Out East Rentals, started targeting Fyre Festival attendees' mailboxes in May with a new offer that also turned out to be too good to be true: a sprawling seven-bedroom Montauk mansion for the unbelievable rate of $99 per person per night.
Rylan Jacka, the Sotheby's realtor who represents the home pictured in the email and on the now-deleted Out East NY Rentals website, says the offering was a scam, and not a particularly new one at that.
"I have come across this scam before with this particular property on Craigslist, where money was exchanged and the landlord had nothing to do with it," Jacka said. "My recommendation to people looking for a rental is to work with a professional real estate agent."
Jacka said he had already been contacted by at least one other recipient of the email who figured out the offer was fake, and pointed out the company name, "Out East NY Rentals," is confusingly similar to the Hamptons real estate site owned by Streeteasy, Out East, where the home is legitimately listed.
There still seems to be a market for Fyre Fest nostalgia, however. On May 20, exactly one month before McFarland's scheduled sentencing, another email went out to Fyre Festival attendees, offering them a once-in-a-lifetime chance to purchase Fyre Festival merchandise.
"We got our hands on the authentic Fyre Festival merchandise, and we're doing a pop-up store Monday May 21, in NYC," the email read. "It's amazing what you can find at auction these days!"
At the pop-up, a man who identified himself to the New Yorker's Naomi Fry only as "Chris H," claimed he purchased the goods at an auction after they were discovered in an unpaid storage locker. He told her he didn't want to give his full name because he runs an investment fund, consultancy group, and a non-profit building homes in Bangladesh, and worried an association with Fyre might hurt his investment opportunities.
Chris H. also had an uncanny knack for imitating McFarland's marketing voice. One recipient of the Fyre merch email told VICE News it had a unique typo — a stray punctuation mark in the middle of her name. She had only seen this typo a few times before: when she first signed up for Magnises, when a company called NYC VIP Access started emailing her this past winter, and when she got an offer for a summer rental house in Montauk from a company called Out East NY Rentals.
Cover image: Billy McFarland, right, is followed by reporters as he leaves federal court after his arraignment, Saturday, July 1, 2017, in New York. (AP Photo/Mary Altaffer)