Emma Stone as Billie Jean King in a still from Battle of the Sexes
"I don't think I'd even miss it," a player quips at her teammate—riffing at the notion that a sex strike would end the pay gap in tennis. "My ex went about it like he was fixing the carburetor on the Oldsmobile." Another player jeers, "And he could never get that damn car to start." While getting her hair styled, Billie Jean King snickers, as her hair dresser whispers over her shoulder, "'Cause women know where the carburetor is."
Earlier this month, Battle of the Sexes hit theaters, receiving mostly positive reviews. The feminist sports movie followed the life and triumphs of US women's tennis champion Billie Jean King (Emma Stone), specifically in her stunning defeat of Bobby Riggs (Steve Carrell) in a televised tennis match. The film also portrays Billie Jean's love affair with her hairstylist Marilyn Barnett (Andrea Riseborough). Billie Jean, now 73 and an out lesbian, was married to a man and closeted at the time. She was outed in 1981—one of the first public outings of an athlete.
But Battle of the Sexes almost entirely skips over Billie Jean's tortured relationship with her own sexuality, a relationship she told NBC she didn't feel comfortable with until her 50s. Instead of a realistic take on one woman's struggle to square her private desires with life in the public eye—a struggle complicated by the 70s-era misogyny Billie Jean and her peers fought so fiercely against—we instead get a soft, unrealistic lesbian storyline that treats Billie Jean and Marilyn's romance with a forced gravitas that didn't match the tone of the movie. From the cinematography to their fluffy, on-the-nose banter, Battle of the Sexes provided the sort of cheesy, heavy-handed love story all too common in lesbian films.
Most of Battle of the Sexes was comedic and sardonic, with Sarah Silverman and Steve Carrell broaching serious topics, like gender parity and chauvinism, with lighthearted humor. Early in the film, Billie Jean and Gladys Heldman (Sarah Silverman), the founder of World Tennis Magazine, storm into an old-fashioned men's lounge after reading in a press release that the Pacific Southwest Open's female tennis players would be paid a ninth of the men's purse. "You can't be in here," warns one of the Tennis Association's heads, to which Heldman retorts, "Why, because I'm a woman or because I'm a Jew, Bob?"
It's that kind of line that lends the majority of the film its bite—a mocking look at the ridiculous marginalization people who weren't straight, male, and white endured at the time, and what Billie Jean and company had to overcome to convince the world otherwise. But when it came to Battle of the Sexes' lesbian scenes, there was a notable tonal shift.
Billie Jean and Marilyn first meet when Marilyn trims her hair; immediately after the "carburetor" joke, the music transitions into dream-like drones, the camera zooms in tight on their faces and cuts to not-so-subtle touching between the two. It's possibly the most high-stakes haircut scene ever committed to film. Marilyn sends Billie Jean into an embarrassed tizzy when she asks, "What do you want?" Billie Jean blanches and probes, "What do you mean?" Marilyn laughs and reminds her that she's talking about her hair.
Almost every time the two women are together, the film makes a stylistic split, alternating between a lighthearted dramedy and a Nicholas Sparks romance. The first moment Billie Jean and Marilyn have alone, Marilyn asks her to go dancing; at the bar they go to, Marilyn offers, "It must be intoxicating," to which Billie Jean responds, "What, playing tennis?" The smile fades from Marilyn's face before she asserts, "Being inside your skin." Out of context, that interaction may seem ordinary. But immediately after, Billie Jean longingly watches Marilyn dance, right as the camera slowly pans past a neon sign that reads, "LADIES." The overwrought messaging combined with more slow, tight, intimate close-ups, lens flares and "Crimson and Clover" blaring on the jukebox didn't leave much to the imagination.
---
Watch Broadly search for America's last remaining lesbian bars: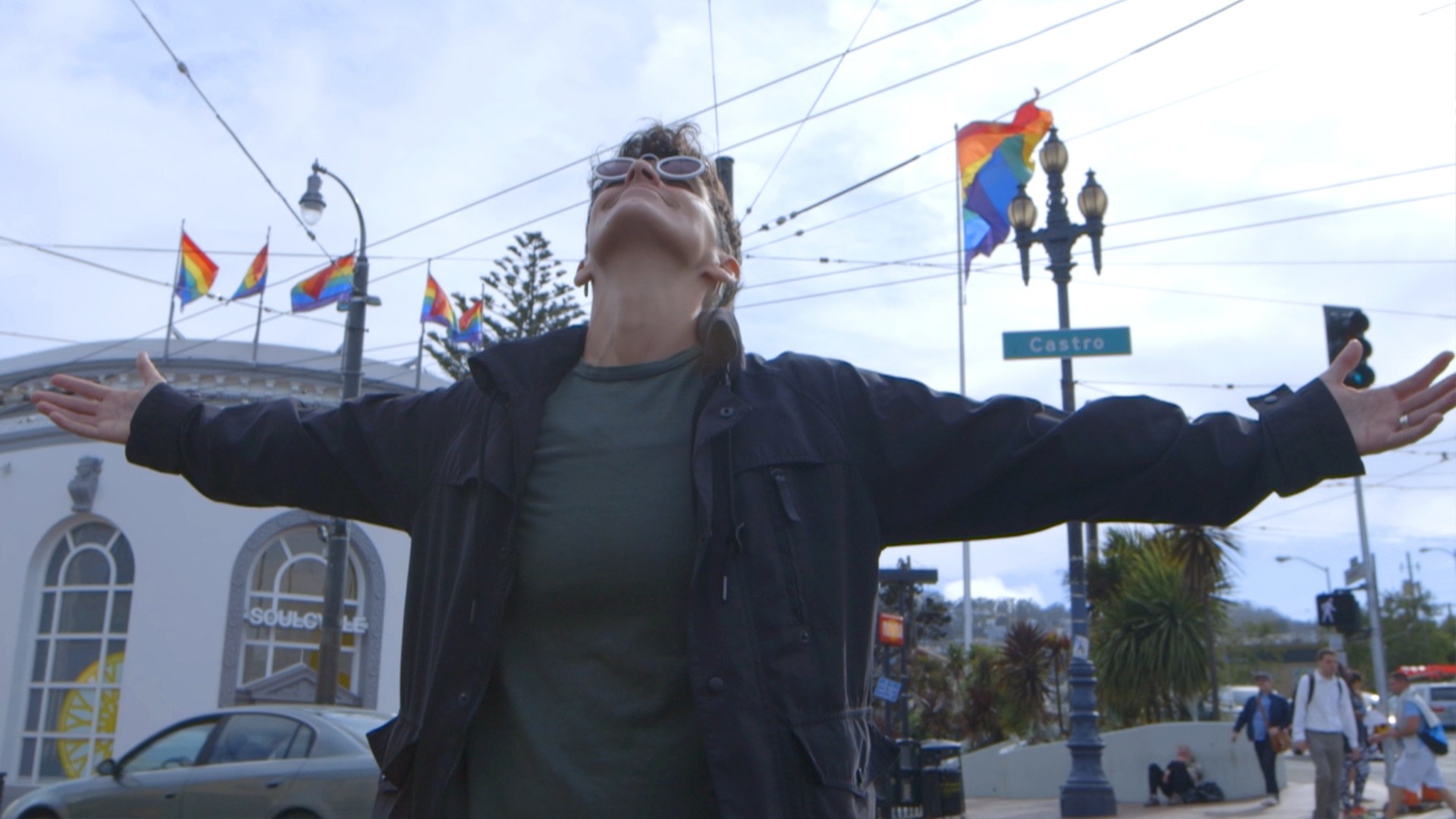 ---
The most frustrating parts of the movie, according to LGBTQ film critic Trish Bendix, were the sugarcoating of Billie Jean's outing and a sex scene between the two. Lesbian sex scenes in mainstream films, Bendix said, are often "either benign and just insinuating hands inside orifices, or completely voyeuristic with scissoring and 69ing. Battle of the Sexes falls into the former."
What's worse is that for all its contrived romantic messaging, Battle of the Sexes completely cuts out the more complex part of Billie Jean and Marilyn's relationship. The film ends right after King defeats Riggs, skipping over the fact that years after the film's titular, climactic tennis match, Marilyn outed her secret girlfriend in 1981, when she sued her for palimony and a Malibu house she claimed Billie Jean promised to her. It's a mistreatment of the story Bendix laments, as did critics for outlets like the Chicago Tribune and Newsweek.
"I think a lot of lesbian-themed films are all about the romance, and romantic dramas are pretty cheesy and dramatic," Bendix explained.
"If you are aiming for realism it is definitely in the work's best interest to have someone writing from experience," said Stephen Tropiano, an associate professor of screen studies at Ithaca College and author of The Prime Time Closet: A History of Gays and Lesbians on Television. And that's experience this film's writer and directors, all being straight, lack. Tropiano spoke similarly of the queer women in the 1982 sports drama Personal Best, noting, "The lesbian and bisexual characters are so clearly being written from a male heterosexual viewpoint. But the film was popular among LGBT audiences because there were so few films released at the time."
That said, it's not like a film needs to be helmed by queer people to accurately portray queer experience—even queer women think some of the best lesbian films have been written by men, like Jamie Babbit's… But I'm a Cheerleader, Lukas Moodysson's Fucking Amal, and Abdellatif Kechiche's Blue is the Warmest Color.
But it's all too frequent that major Hollywood films stumble like Battle of the Sexes did, and other queer women have pointed out that films often stumble over their lesbian plots. In 2015, there was Jenny's Wedding, which Ellen Cushing called "treacly and trite" in a BuzzFeed article titled "Why Are Movies About Queer Women Mostly Terrible?" In the same piece, queer filmmaker Brittani Nichols joked Jenny's Wedding leaned too hard on Mary Lambert's "She Keeps Me Warm" for its emotional weightlifting. Or look to 2010's Black Swan, which film critic Ira Madison thinks of as one of the worst queer movies out there. "It falls into the trap of using lesbianism as shock value," he told me.
According to GLAAD, 83 percent of the LGBTQ characters in last year's 125 top films were gay men. Films featuring queer women are rare, so when they fall victim to common tropes, it's especially disappointing.
At the end of Battle of the Sexes, Billie Jean frantically paces backstage before her monumental match—something is off. Her costumer jests it's the color of her shoes, but she knows it's something else. Suddenly, a balmy piano tune fades in and the tone changes; Marilyn appears in the doorway, suggesting it's her hair. With moments to show time, Marilyn gives Billie Jean one last high-stakes haircut, holding up a live, televised production and a stadium filled with 30,000 spectators. Where Battle of the Sexes may have lacked in subtlety, it made up for in queer representation—and that's a step forward. But when that representation comes as heavy-handed as it did here, it's hard to tell what direction Hollywood is headed after all.
Follow Jillian Gutowitz on Twitter.