From dancing plushies and Funko figures to officially licensed phone cases, Gremlins and its lead character Gizmo still have somewhat of a furry toehold on pop culture's consciousness, despite the fact that it's been close to thirty years since the last official entry into the horror-comedy franchise. Though rumours of another sequel pop off every once in a while like progeny off of a Mogwai's back, Gremlins 3 has languished in production hell in for so long that LA-based independent filmmaker Ryan Patrick decided to give fans the cute-but-gory goods himself last year. His short film, Gremlins: Recall, is a fun and frenzied snapshot of a highway diner being terrorized by the titular green-skinned monsters, and has racked up over 162,000 views on YouTube since being uploaded in December. Beyond the built-in audience that comes with expanding upon a pre-existing fictional world, part of the reason the tribute works is that Patrick went all-out on the effects, paying professional sculptor Eric Fox to build a convincing band of latex-covered, animatronic misfits to wreak havoc on screen.
"The reason you don't see a lot of Gremlins fan films is, at the end of the day, how do you do the puppets? If you're not a sculptor or a creature maker yourself, where do you go to make something that doesn't look like you just bought a puppet off the shelf," the director tells VICE of why he tapped Fox's MORB-X to make high-quality gremlin puppets, which grin and shoot guns during the 11-minute short. Others melt apart gruesomely under the incandescent light of a bug zapper.
Though reboots and superhero cinematic universes are big business, a growing number of independent filmmakers are giving people comparatively low-budget alternatives, often ahead of the official channels. A pair of respectable, but unlicensed Deadpool and Black Panther team-ups, for instance, pre-date either Marvel Comics character's respective box office-smashing feats; Adi Shankar's Power/Rangers bootleg has reached 21 million views since being uploaded in 2015, and arguably influenced the gritty direction of 2017's official Power Rangers. Gremlins: Recall is just one of the many recent additions to the unofficial canon.
It can be legally tricky to put your own twist on heavily copyrighted material, though. Director Mike Pecci was given a cease-and-desist order from Marvel in 2013 during the production of The Dead Can't Be Distracted, a take on the Punisher (the fictional figure was given a fully sanctioned, critically lauded Netflix series in 2017). And while Gremlins: Recall creator Patrick has heard through various channels that Gremlins director Joe Dante has apparently seen and enjoyed his fan film, executive producer Steven Spielberg isn't afraid of being litigious, evidenced by his recent Twitter cease and desist to restaurant chain Carl's Jr. after it began marketing "Spielburger" sliders. For his part, Patrick isn't too worried about getting a letter from Amblin Entertainment over copyright infringement.
"There's always that fear of them saying 'oh you've got to take this down, you've got to put this away. Don't show this to anybody.'" Patrick admits, though he adds that the precedent set by a litany of online fan tributes allayed his concerns. "They can take it down for a few days, but I think, ultimately, studios and copyright holders appreciate fans making these things. We're not out to make money off of these, we're doing this purely for fun."
Patrick says the entire production, which was mostly self-financed, "cost about as much as a new car." Like many fan films you'll find on YouTube, the short includes a disclaimer reiterating that its purely a non-profit experiment "in NO way endorsed" by Warner Bros., which possesses the copyright on Gremlins proper. But while he hasn't monetized the fan film— Gremlins: Recall runs adless on YouTube—the unofficial creature feature has built up Patrick's brand. Shortly after the mini-movie was unveiled online, he signed up with the William Morris Agency, and he's been taking meetings with various film execs from major studios and streaming services to figure out his next step.
Sign up for the VICE Canada Newsletter to get the best of VICE Canada delivered to your inbox daily.
Not all fan films are as obvious a success. "Chains of Betrayal" is a BC-made fan episode of Star Trek: The Next Generation that's being toasted with a 10th anniversary screening next month at Vancouver's Fox Cabaret, despite only yielding 4,000 views since being uploaded to YouTube in 2009. With that in mind, episode co-writer Racan Souiedan, who stars as Spock, clearly isn't the first person that comes to mind when you think of pop culture's favourite Vulcan. Considering Leonard Nimoy had often beamed into the Lower Mainland for TV shoots and Sci-Fi conventions before passing away in 2015, and Zachary Quinto has come through to film parts of the rebooted Star Trek film franchise, Souiedan's even a couple rungs below in a local sense.
The passion project began in 2005 when Souiedan and then-roommate Derek Howard, both fans of Next Generation's seven-season run from 1987 to 1994, conceived a stage recreation of "Unification," a two-part political nail-biter from 1991. After some thought, they decided to continue the storyline on their own as a film project, which was shot in 2008.
"We figured if we're going to put that much into it, why not just write our own script?" Souiedan recalls, explaining that they rallied together Trekkies from their friends groups to film "Chains of Betrayal" at Simon Fraser University's downtown campus. The ethos of the amateur production, Souiedan explains: "We'll just shoot and do quick cuts and close ups, and that'll hide all of our flaws as performers."
Despite the noble attempt, the flaws are front and centre in "Chains of Betrayal." Produced on a budget of less than $200—a green screen was loaned out for a case of beer, while Souiedan and Howard already had a handful of Federation uniforms handy for their castmates—it's low-budget to say the least. One particularly harsh review on YouTube reads: "Even for a fan production this is bad. VERY bad."
Though inspired by the rich characterization of the original series, Darren Bot's William T. Riker is over-the-top and hammy. Other cast members stumble through their dialogue. Rather than cast a Patrick Stewart lookalike, Souiedan's had his flapping lips superimposed over old production stills of Captain Jean Luc Picard. On the production end of things, actors' limbs often disappear into the short's greenscreened set pieces. Souiedan adds of the cut-rate scenery, "For the Bridge stuff, we found somebody's Flickr account of their travel photos visiting the Next Generation set. We just raided those. We never heard from that person…hopefully they're cool with it!"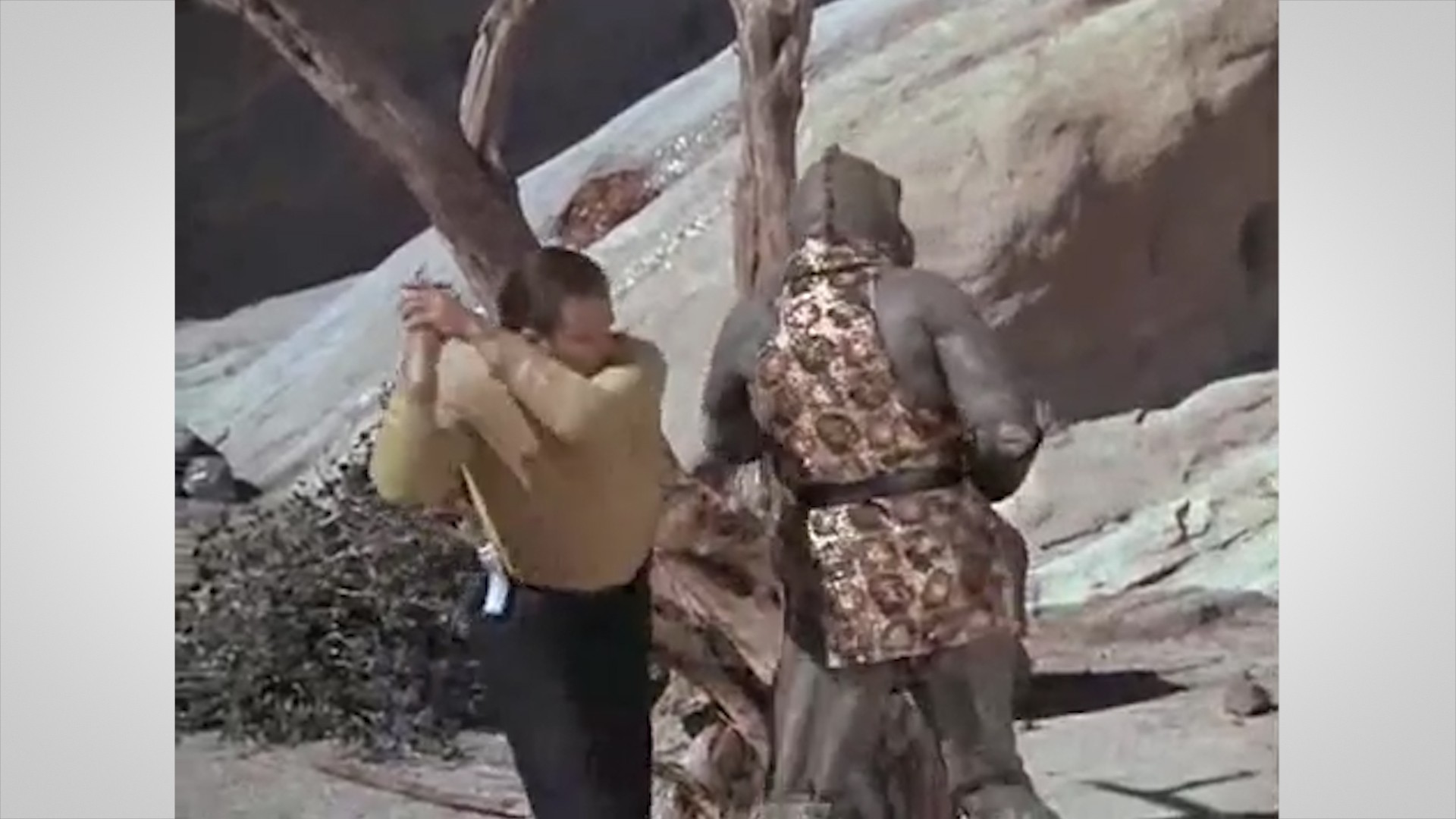 "Some people really didn't like the production, they couldn't get past that. They thought we were just taking the piss," Souiedan continues. "And then there were other people who, I don't know, they seemed to embrace it—the low budget, the characterization, the humour."
There are certainly slicker Star Trek fan films on the market—check out the dutch tilts and hi-def camerawork of the New Voyages series— but some will find the warts-and-all approach of "Chains of Betrayal" endearing. A sold-out premiere at Vancouver's Astoria Hotel in 2008 helped finance a small run of DVDs, while the episode has also been shown at events in Toronto, Panama City Beach, Edmonton, and Atlanta.
Howard has since gone on to film a few documentaries, including 2013's My Prairie Home documentary on cult Canadiana singer Rae Spoon. Souiedan works in private investigations, but still flexes his fanfic chops on occasion. While he's currently working on a script involving once-famous bro rock outfit Puddle of Mudd and the soon-to-be revived XFL, last fall he premiered a stage production of a self-penned episode of M.A.S.H. Without an official reboot in sight, where else was he going to get his fix?
"When we watch a show we love, we always get attached to the characters, and we're sad to see them go. So on some level, [fan fiction] satisfies that urge," he says of the drive to keep old characters alive. "The story doesn't have to end, right? You can still check in on these people and they'll still be around. They're doing OK, you can follow them on their new adventures."
Follow Gregory on Twitter.