The Canadian military confirms that they're looking into yet another soldier in its ranks for "involvement with an extremist group."
Tony McKay, a 21-year-old army reserve infantry soldier with the Royal Westminster Regiment in B.C., is currently being questioned about participation in hateful conduct, according to Department of National Defence spokesperson Jessica Lamirande.
She said the military first learned of McKay's alleged involvement on November 28 but wouldn't go into details since McKay is currently "under examination."
On that day, researchers affiliated with the Anti-Racist Canada (ARC) watchdog group published a report identifying McKay as a former participant in the now-defunct neo-Nazi forum Iron March. Although the forum closed down in November 2017 a large trove of data and materials—including IP addresses and emails—from the site was posted online by a hacker known as "antifa-data" early last month.
The report alleges that McKay used his personal email to register onto the forum with the username "DEAD," including a post where he says he's based in British Columbia.
According to the ARC report, DEAD used derogatory names for Asians and quoted incel killer Elliot Rodger in various posts, but also said they are skilled at "shitposting." The leaked data shows that DEAD posted 13 times in the forum.
McKay told VICE in an email that he posted on Iron March, but never as DEAD. He said he wrote a single post on Iron March under the username "CascadianHapa." In that post, which the ARC also included in its report and attributes to DEAD, McKay said: "I found myself quite satisfied with National Socialism, as with an unbiased eye I discovered that Hitler wasn't the evil devil that wanted to kill all people who weren't blued eyed and blond haired."
He also identifies as "Eurasian" with mixed Filipino, Scottish, and Métis ancestry in the post.
McKay didn't reply when asked about how the leaked files show that he only signed off at the bottom of the post with "CascadianHapa," but was logged in at the time as DEAD. He also did not respond when asked about the DEAD username being connected to his personal email, which he replied to me from.
"I was a dumb 17-year-old kid that didn't think a forum post of facetious nature, me literally just trying to troll Nazis, would be taken as anything more than that," McKay said over email.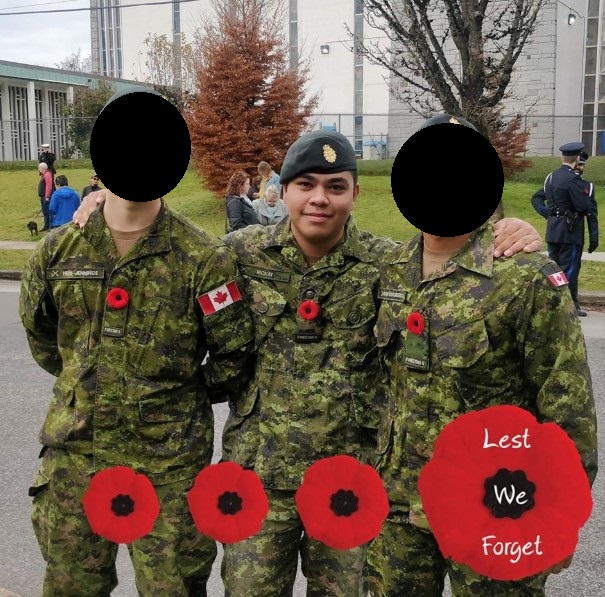 McKay said he learned about Iron March through two leaders of the neo-Nazi paramilitary group Atomwaffen, Brandon Russell and Devon Arthurs. Russell was sentenced to five years in prison last January for having unregistered explosives. Arthurs is currently on trial for allegedly murdering two roommates in 2017.
"I knew them through gaming. We actually played Minecraft, Garry's Mod, and other games like that and troll people for fun," he said. "I would like to make clear that I had no association with the group, and was not a part of the group."
Lamirande said she can't reveal whether the probe into McKay has anything to do with his posts on Iron March. But she said McKay just finished his basic training this May after enrolling in early 2018.
This latest revelation by the Canadian Armed Forces (CAF) comes days after another admission that the Navy is also investigating a sailor in the Navy for allegedly being an Iron March administrator who made about 2,500 posts on the site. According to the CBC, Boris Mihajlovic also allegedly tried to arrange an arms sale via the forum and was reportedly involved with the white supremacist group Blood & Honour, along with its armed wing, Combat 18.
The news puts the spotlight back on Canada's military, which previously admitted to having members linked to violent, white nationalist groups among its ranks.
A November 2018 internal report by Canada's military police shows that, between 2013 and 2018, 51 CAF members "were identified as either being part of a hate group, or who undertook actions and/or made statements which could be viewed as discriminatory or racist." Sixteen of the 51 were linked to six different hate groups. The remaining 35 were reported as having made statements or taken actions that were motivated by hate.
After the report was leaked to the public in May, Minister of Defence Harjit Sajjan asked the military ombudsman to investigate racism in the armed forces.
Lamirande confirmed that of the 51 members, three have been released from the CAF for hateful conduct, and another 18 have been voluntarily or medically released. Another 15 have either been issued warnings or have been assigned counselling, probation, or other disciplinary measures.
Lamirande insisted that the CAF has placed "unprecedented focus on building a strong and diverse organization," and noted that the military's Chief of Defence Staff Jonathan Vance has recently asked for another review that involves liaising with national security agencies.
The Canadian military is hardly the only organization dealing with members posting to neo-Nazi websites. On Tuesday, Airbnb banned 60 accounts of users connected to the Iron March forum.
Follow Steven Zhou on Twitter.