All photos by Elliott Walker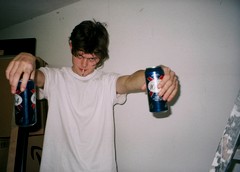 Welcome to House Party Review, where we go to house parties and… yeah... review them.
Hyde Park, Leeds' very own student ghetto. Yes, we've been here before for House Party Review, but apparently – judging by the number of emails I get inviting me to them – there are more parties in present day Leeds than in 1980s New York. I'm serious: walk through Hyde Park any night of the week and you'd think you were strolling through Kreuzberg 40 years ago, just with more posh lads wearing Carhartt.
I also figured there was something to be said for gathering a broader Leeds sample, so I accepted the invite, bought a bag of cans and booked myself into a local Ibis Budget.
On arrival we were greeted by our host Hugo, who told us to head round the side of the building where people were gathered smoking. The back of the house opened out onto a dimly lit alley, full of shoulders juddering in the cold as they rolled cigarettes.
Hugo was very welcoming, but clearly also very nervous. We've all been there: the moment you suddenly realise hundreds of people are relying on you for a good night, that most of them want to invite their friends, even more of them want to piss in your garden and all of them want to do chunky lines of sub-par MDMA off those nice Taschen books in your bedroom. Plus, there are the neighbours either side who will probably end up calling the council or chasing you with the end of a mop if you muster the temerity to play that Big Shaq tune again. Hugo was having that moment, plus the moment you suddenly remember you invited a journalist and a photographer to document the whole thing.
He basically had the charming jitters of a man on the morning of his wedding: trying to enjoy a technically enjoyable thing but failing to do so entirely. (By the way, should you ever be lucky enough to be invited to Hugo's wedding, you can bet your life your prosecco glass will never go empty – that is, it will be filled every six minutes by Hugo himself, as he rushes around tending to his guests despite having shelled out for catering staff.)
He introduced us to his house-mates, got us a drink and said we were free to go wherever we wanted. We figured we'd have a nose inside and leave Hugo to worry about numbers without a camera hovering in front of his face.
The venue was a sort of squat terraced house. The hosts had done the sensible thing of removing the furniture from all the rooms, which always makes the earlier stages and end of any party feel like a particularly bleak episode of Can't Pay? We'll Take it Away!
Live-streaming your emergency pill poos to tens of thousands of bored students every night.
Downstairs we bumped into this guy, who, after making sure there were no available exit routes, launched into a very impassioned pitch about his DJ set that was due to start at 4AM (in four hours).
"You've got to stay until 4AM, that's when I'm DJing…"
"Oh yeah, what sort of stuff are you playing?"
"Imagine a beach, the sun is shining, there are people on the beach relaxing, now the people are stabbing each-other, the people are screaming and dying… my music is the soundtrack to that."
"Oh yeah…"
"The people playing now, they play tech-house, which is fine, but I want the speakers to upset me. I want to put my head between the speakers and be upset."
"Oh yeah…"
"I play grime, dubstep, industrial techno, anything as long as it upsets me."
"Oh yeah…"
We nodded, smiled and ran for the hills.
Outside we were introduced to two of Hugo's mates who had dressed up as bouncers in order to deal with any unwanted guests. It's pretty standard for big parties to hire private security guards in case things get out of control, but this house had decided to test a money-saving alternative by simply giving a couple of people plastic ear-pieces and sticking them in black jumpers. The mad thing was, it actually worked. As a crew of lads from a party further down the street tumbled back from whence they came, it became clear that the fake bouncers were doing a pretty real, and effective, job.
It also became clear that the number of cig-smokers had tripled and there was finally a queue plugging the narrow patio door. We looked back at the windows into the house and saw that dancefloors were beginning to crowd and cluster. Everything was finally coming up Hugo.
Downstairs was the basement – because every student house north of Milton Keynes has to have a basement. (It was very thoughtful of Britain's 20th century architects to factor a "sesh dungeon" into every building.) This one seemed to be the slightly more laid-back room; yes, people were going for it, but they were also eating Doritos.
Upstairs the roof was being raised by a B2B living-room set. Bottles of Echo Falls swinging in hands, cigarette smoke tickling the lampshades, the room quickly reached one-in, one-out.
I should add: this party was taking place on Halloween weekend and the above was pretty much the closest anyone at this party got to a costume. I'm not sure what that hat is supposed be (shark? elephant? sex robot?) and no, I'm not sure why he's looking at you like that either.
Hugo and his gang of party-people had managed to do the impossible and unite the tribes. The sporty lads were there, the "talk a lot about drugs" guys were there, the friendly blokes in supermarket-bought T-shirts were there, the wavey-garmers were there, the quirky vintage girls, the nice guys in cord shirts who like Four Tet, the sparkly face-glitter gang and even the guy who does geography and dresses like your dad on a walking holiday was there. It was a vibe-buffet and everyone was welcome.
The night had triumphed, despite a slightly shaky start, proving once and for all that you should never judge a house party by the first two hours. As we pushed our way out of the main room we caught Hugo – now actually enjoying himself – chuffing on a cigarette, his shirt unbuttoned an extra notch, welcoming more guests in. Even the fake-bouncers seemed to have relaxed from their duties by this stage and the numbers inside were rising fast.
We told him we were on our way and he thanked us for coming, before turning back to the throng of guests who were hugging him and calling his name. His transformation into the absolute boy was complete. I wiped a single tear from my eye and disappeared into the darkness.
Want us to review your house party? Email angus.harrison@vice.com