When 60,000 Polish nationalists took over Warsaw's streets on Saturday, it was no accident that they marched under a slogan used by Donald Trump during his visit this year, says an expert on the Polish far right.
Thousands of ultra-nationalists from across Europe overwhelmed the Polish capital on Nov. 11, the country's independence day, in an annual demonstration that has become Europe's largest far-right gathering.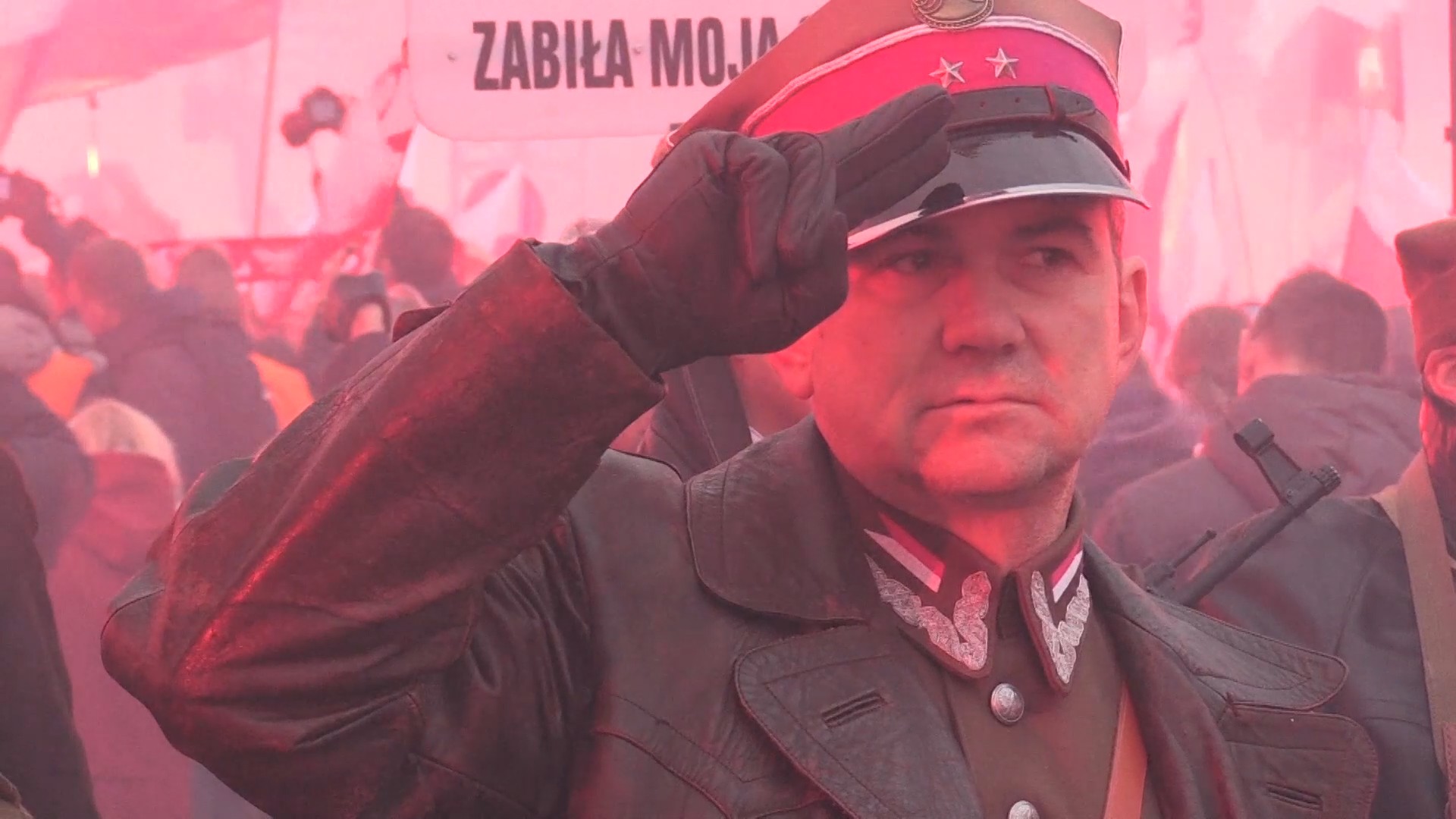 "Pray for an Islamic Holocaust," "Clean blood," and "White Europe" were some of the chillingly racist slogans on display during the march, but it was the official theme that stood out to Rafal Pankowski, a sociologist at Warsaw's Collegium Civitas university and an expert on the Polish far right.
"We want God," a line from a traditional Polish religious song that Trump referenced during his visit in July, was this year's theme, and Pankowski said that the far-right's appropriation of it was "no accident," but a clear nod to the U.S. president.
"They feel very much empowered by the current global wave of nationalist movements and they see Trump as an example of this wave."
Read more: How right-wing extremism exploded into the mainstream in Poland
Pankowski said Poland's xenophobic far-right — a growing force in the central European country — had been "ecstatic" at the messaging of Trump's July 6 address in Warsaw. "They really liked the take that he had on Polish history and identity and the idea of the defense of civilization was something they like a lot."
Questioning "whether the West has the will to survive," Trump warned that Western civilization was under threat and vowed that "our borders will always be closed to terrorism and extremism of any kind." He referenced an historic visit by Pope John Paul II to Communist Poland in 1979 when a crowd of Poles sang "We want God," and said the same wish was still shared by Poles, Europeans, and Americans alike.
"In Trump's words, it symbolized the religious element of national identity," said Pankowski. "The ethno-religious identity in Poland is strong and this is very much instrumentalized by the far-right."
Poland's nationalist movements frame themselves as defenders of traditional European Christian values from the twin threats of Western European liberalism and Muslim immigration.
The annual Independence Day march, organized by far-right nationalist groups, began in 2009 with just a few hundred participants, but has rapidly grown to regularly draw 50,000 people. It attracts marchers from across Poland­ — from hardcore neo-Nazi groups and football hooligans to everyday "patriots" — as well as far-right groups throughout Europe.
"Maybe finally some people are waking up to the scale of the problem of right wing extremism in Poland."
This year's rally included marchers from Spain, Hungary and Slovakia, as well as prominent far-right figures including Britain's Tommy Robinson and Italian fascist Roberto Fiore. U.S. alt-right leader Richard Spencer had been invited to attend but was told by Polish authorities to stay away.
Poland's far-right has thrived under the conservative, anti-immigration Law and Justice government that came to power in 2015, and has been working to roll back socially liberal values in the country ever since.
Interior Minister Mariusz Blaszczak described the rally as a "beautiful sight," while state broadcaster TVP called it a "great march of patriots," rather than an extremist event.
But Pankowski said the greater international spotlight on the event this year — and the more overt racism on display — also seemed to inspire a bigger backlash.
"Maybe finally some people are waking up to the scale of the problem of right wing extremism in Poland."