Photo by Bob DeChiara - USA TODAY Sports
On Tuesday night, the Boston Celtics nearly upset the Cleveland Cavaliers for a second straight time in their second straight game without Isaiah Thomas. On the road, coming off the most lopsided conference finals loss in NBA history, without their leading scorer, Boston's offense somehow managed to score at a rate that was roughly seven points per 100 possessions better than the Golden State Warriors averaged this season.
This was far more of a fluke than a sustainable attack from a team that struggled all year long to produce efficient offense without Thomas leading the way. And in the second half of Game 4, it all came crashing down as Kyrie Irving and LeBron James outscored Boston 48-42.
Up until that point, though, there was a brief window of time for various corners of the sports commentariat to proudly parade their bloated, increasingly preposterous theory: that Boston is better without their best player.
In reality, a lot of what happened since Thomas's season ended is unexplainable—an entertaining byproduct of the randomness that draws millions of people to watch sports in the first place.
Marcus Smart, a career 29.1 percent three-point shooter, drained seven threes in Game 3, something he had done only four times before. The Celtics launched 40 threes altogether that night and made a sizzling 45 percent of them. The Cavaliers, meanwhile, put up 17 in the second half, but only two, both from J.R. Smith's fingertips, went in.
Mix all that with Cleveland's defense, which still isn't very good, plus LeBron James taking a nap for six quarters in the middle of the series, and the Celtics were nearly able to pull off two of the most shocking upsets in recent playoff history.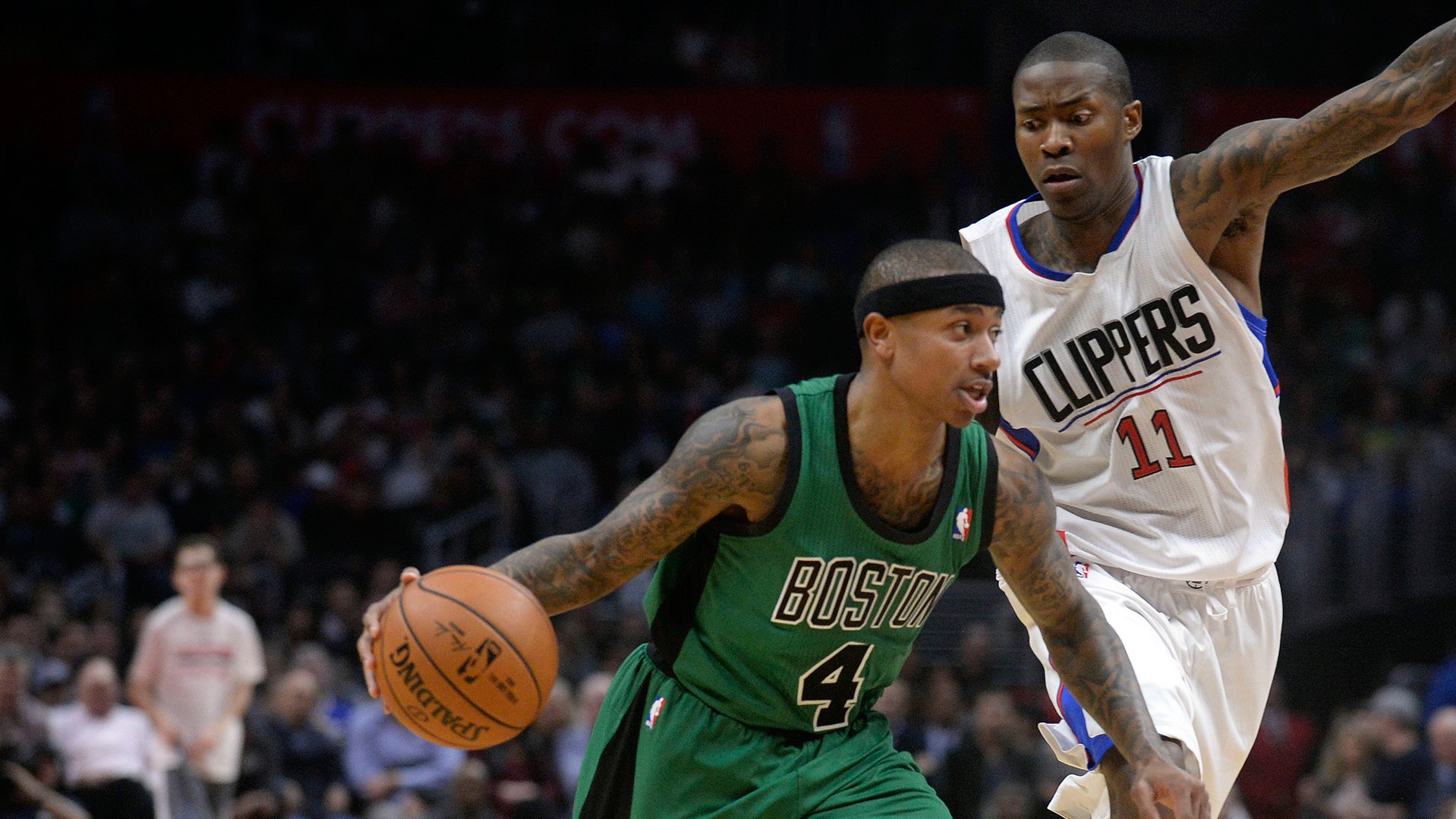 It's hard to evaluate Thomas' postseason performance without mentioning the obstacles in his way. His little sister died in a car accident hours before Game 1 of Boston's first-round series against the Chicago Bulls. His front tooth was knocked out during Game 1 of the second round and he responded by scoring 53 points—more than any active NBA player has ever recorded—a couple days later.
Later on in that same series, Thomas re-aggravated a hip injury he suffered in March. And then, finally, in Game 2 of the Eastern Conference Finals, a "right femoral-acetabular impingement with labral tear" ended his magical season.
None of this is to say that he's perfect, but it's fascinating how people denigrate what they can't comprehend. How does a 5'9" player average the third most points in the league, with the fifth-highest usage rate, and ninth-best True Shooting percentage? It seems to good to be true, so therefore it can't be. Critics chisel into the cracks of Thomas's game without stopping to consider that the Celtics would not have made the playoffs if he weren't on the roster.
This team does not move the ball with more purpose sans Thomas. They do not play with more freedom. They do not generate easier shots. His presence does not restrict anyone from being their best self. He is not Russell Westbrook or James Harden, autocratic focal points whose team's entire offense hinges on how they read the defense.
Instead, the 28-year-old is a complementary centerpiece who provides enough spontaneous production to make Boston's offense hum. Roughly four quarters against an undisciplined defense that might not have even taken the Celtics seriously aren't enough to claim otherwise.
Boston managed a feeble 95.6 offensive rating in the fourth quarter of Game 4, as Cleveland was happy to switch ball screens and let the Celtics' Thomas-less attack hang itself on contested threes and hurried drives from Smart and Jae Crowder. Even off a Cavalier turnover or missed shot, most of what the Celtics did was executed in a panic. Prayers were not answered.
It's silly to argue a different result would occur had Thomas been there. That would ignore how effective the Celtics were in the first half, when their offensive rating was 118.8, along with the negative impact IT would likely have on the other end. But it's equally ridiculous to say this team is better off without him.
Boston's assist rate was higher during the regular season when Thomas didn't play, but when he did it was 63.8 percent, which still placed higher than 28 other NBA teams. His 1.7 secondary assists per game ranked second only to Steph Curry; Allen Iverson is the only other player in league history to take care of the ball like Thomas did, under the strain of such a high usage rate and consistent playmaking responsibility.
And even though IT's individual scoring numbers dropped during the playoffs, his teammates would never say their job is easier when he isn't around. Al Horford, Kelly Olynyk, and Smart all saw their effective field goal percentages climb by at least three points with Thomas by their side this year. In the playoffs, Horford made 86.1 percent of his twos and 52.4 percent of his threes when Thomas passed him the ball. Olynyk was at 73.3 and 42.9 percent, respectively.
One of this postseason's most unstoppable plays occurred each time one of those two bigs set Thomas up with a high screen 30 feet from the cup. No big is quick enough to corral him that far from paydirt, meaning he can pull up for a wide-open three or sled downhill and either draw a foul in the paint or kick it out to an open teammate as help defenders cave in.
Thomas is far too quick to be contained on a switch, and even though his size leaves him vulnerable against a well-executed trap—he's constantly harassed coming off ball screens, and even when he does skitter free, a third defender has already rotated from the weak side to clog up his driving lane—IT can shovel the ball to his release valve (whoever sets the screen) before the defense rotates back into position.
According to Synergy Sports, Boston scored 1.52 points per possession when Thomas fed the roll man, which ranks in the 97th percentile. He's an exceptional off-the-bounce creator for himself and others, even as he's the crux of every opponent's defensive game plan.
During the regular season, the Celtics went from outscoring opponents by 5.0 points per 100 possessions when Thomas played to getting outscored by 0.7 points per 100 possessions when he sat. Their offense plummeted from first to last in the league. First. To. Last.
It's true that their defense rose from 25th to the top, but even in the analytically advanced era we currently enjoy, defensive numbers can be tricky. Smart is a 6'4" cinderblock who moves like a hungry bobcat; having him out there instead of Thomas makes Boston's defense better. That much is straightforward. Dig a little deeper, though, and it's fair to conclude that while there's still so much we don't know, having a minus defender at point guard is not the apocalypse.
Take Horford's defensive rating with and without Thomas on the floor as an example. The Celtics have allowed 110 points per 100 possessions in the playoffs when they share the court. When Horford is by himself, that number rises to 119.5. Weird. Horford is one of the best defenders at his position, a versatile genius who protects the rim, erases passing lanes, and allows the Celtics to execute various pick-and-roll schemes whether they're big or small.
During the regular season, Boston also allowed a team-high 11.8 fewer points per 100 possessions with Avery Bradley off the court. Bradley has cracked the NBA's All-Defensive team twice in his career and is considered one of the most grueling on-ball defenders in the league.
A lot goes into these numbers, uncontrollable variables that no one individual player—especially a guard—can control. Boston's opponents made 38.2 percent of their threes when Thomas was on the floor this year. That dropped to 31.4 percent when he sat. Luck has more to do with this change than anything Thomas—a smart, tough, albeit physically challenged defender—can or can't accomplish.
And then there's the question of whether or not it actually benefits Boston to have an opposing offense go out of their way to attack him with a mismatch. Is it smart to repeatedly post up Otto Porter instead of run typically devastating pick-and-roll action with John Wall and Marcin Gortat?
We know iso offense is relatively ineffective over the course of a large sample size, but teams can still make the Celtics sweat. Inverted screen-and-roll action, where a ball-handling bruiser calls for Thomas's man to set a screen and, ideally, force a switch, is an obvious quagmire. But it's also not exclusive to Boston. Most point guards have difficulty guarding larger players! The Cavaliers abused Steph Curry during the 2016 Finals and, more recently, Jeff Teague during the first round. That said, Thomas actually had quite bit of success in these playoffs when teams went out of their way to attack him.
According to Synergy Sports, opponents averaged a paltry 0.68 points per possession in isolation and 0.87 in the post when he defended them. On pick-and-roll switches, Thomas held his man to 0.75 points per possession, which was best among all players who participated in at least ten such plays.
These numbers don't account for scenarios when the Celtics load up to help Thomas and are then beat by a cutter from the weak-side, or a skip pass to an open three-point shooter, or an offensive putback because one of Boston's bigs is out of position. But they also don't disqualify the Celtics from winning a title with Thomas playing big minutes.
Arguing Thomas's present-day value is laughable, but his looming max contract is still deliberated as if agreeing to it would fix a hard ceiling on what the Celtics can accomplish over the next few years.
Boston's front office will eventually reach that fork in the road—Should they trade Thomas?—but there isn't enough information to make a decision right now. Markelle Fultz is a part of this conversation, as is Gordon Hayward, Smart, and Bradley. We don't know where Hayward plans to sign, or whether any godfather offers will be made for the first pick. How might hip surgery or age-related decline affect Thomas's athleticism? That's all unknowable, and makes a five-year maximum contract hard to swallow.
But that's not something the organization will have to answer until next summer. For now, Thomas is not holding them back. The real question to ask might be: Why do clouds of doubt still hover over a player who's the primary engine of his team's success, and who has proven time and time again that he's capable of taking over down the stretch of a tight game—a skill every team so desperately needs, yet only a few have?
Thomas is not a mercenary, he's a critical building block, and the Celtics wouldn't be three wins from the Finals without him.