Photo by Aila Images via Stocksy
Last spring, Colette was called in for an interview at a local charity in Manchester where she had applied for volunteer work. Three years after quitting sex work, she wanted to work with vulnerable young people. (Colette asked us to withhold her last name because of privacy concerns.)
But then she was asked the question she was most afraid of: Could she list in detail the specifics of her multiple prostitution-specific criminal convictions? Her audience was a middle-aged male manager. "Starting from 1990, for each prostitution charge, they wanted to know every gory detail, including the position I was in and why I did it."
Twenty-seven-year-old Simone*, who declined to be named due to concerns over her own privacy and her family's privacy, has a similar story. "I was applying for a course in child psychology. I got called in for what I thought was a second interview, but instead they told me they 'knew about me' and one of the managers asked me really awkward, inappropriate personal questions about my history. They wanted to know exactly what I was doing and where I was when I was arrested for prostitution, and they asked if I was drunk at the time of my arrest."
Simone was mortified. "I don't really know how [to describe] the shame. If I had known what feminism was then, I would have just walked out of there and given them the finger. But I didn't know what it was, and I let them ask what they wanted."
---
Watch: Spain's Sex Supermarket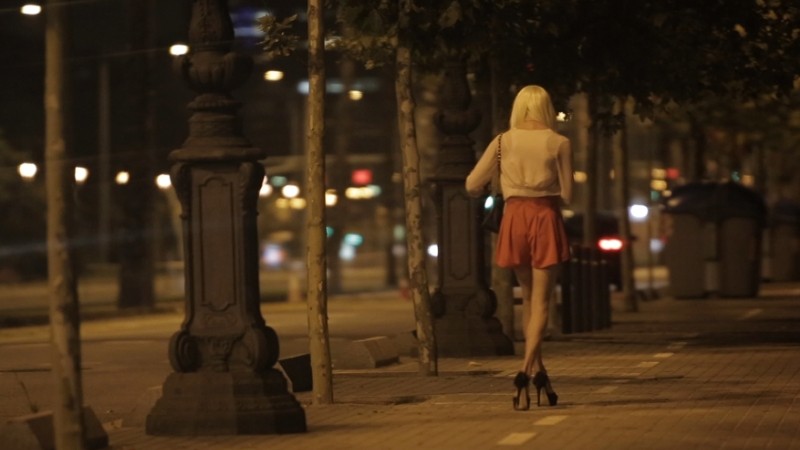 ---
Two years on, Simone is refusing to take the abuse any longer. She wants her criminal record completely wiped and is campaigning for the erasure of prostitution-specific criminal records. "I don't want to live with this shame anymore," she says.
Read more: What We Owe to the Hidden, Groundbreaking Activism of Sex Workers
According to women's charity the Nia Project, Simone and Colette are just two of the tens of thousands of British women who have been convicted of prostitution-related crimes; any criminal record check will show that their past convictions were linked to sex work. Because of this, Simone and Colette explain, women who leave sex work often face discrimination and prejudice when trying to find new jobs.
On July 11, the Nia Project launched I'm No Criminal, a major in-depth survey into the impact that prostitution-specific records have on British women. The organization is also helping to bring a landmark legal case to court, in which three women—all of whom were coerced into sex as children—are asking for the expungement of a lifetime of criminal records relating to the solicitation of sex. A stay on the case has been lifted and the Nia Project hopes the case will be fully heard this autumn.
According to the Nia report, 49 percent of female sex workers identified prostitution-related criminal records as a barrier to leaving the industry. The independent charity spoke to 71 women involved or formerly involved in prostitution, and ten stakeholders with working knowledge of the prostitution-related criminal justice system for their report.
The Nia Project found that when sex workers wanted to quit the industry, their criminal records would often hold them back from successfully moving onto another job. This was also cited as the most common reason why women didn't leave the industry, even if they wanted to. The women surveyed said that they would rather divulge crimes related to drugs or robbery than prostitution.
One woman, when asked if she'd apply for a job where she had to disclose her history of prostitution, said: "No, I wouldn't because I'd be too embarrassed… I feel like it's messed up the rest of my life."
In the wake of these findings, Nia is arguing that such criminal records actually contradict government policy that seeks to facilitate the rehabilitation of women involved in or exiting prostitution to reduce re-offending.
"Workers everywhere are sick of having criminal records mount up and we want to change it. We want to do something about it ourselves," Simone says. She says the harassment she experienced at work after disclosing her record never let up. In one job, her employer "would remind me not to dress cheaply when I went out for meetings… Some men would make sex jokes around me; one asked me about buying sex on a stag do."
Heather Harvey of the Nia Project, who led the I'm No Criminal report from its inception at the now-closed women's charity Eaves, agrees. "This is a critical time for women currently or formerly involved in prostitution… People are realizing that these women should not have been criminalized in the first place."
Linda Thompson of the Women's Support Project, sees the impact of these records every day. "It's a vicious cycle. They get the confidence to exit, then their [criminal] records come up, and bang, back to square one. It's easy to get into prostitution; it's very, very difficult to get out."
In the 2016/17 Home Affairs Committee prostitution report, Vera Baird QC, Police and Crime Commissioner for Northumbria Police directly addressed this problem, suggesting legislation "for the deletion of previous convictions/cautions for prostitution from the record as these are a significant barrier to exiting prostitution or gaining employment."
So why has reform fallen off the government's agenda, despite the backing of senior police officers? "There are clear laws prohibiting men paying for sex," Thangam Debbonaire told me, the Labour party politician who is officially backing the I'm No Criminal campaign. "That's really quite a large power, but I believe that power is being significantly underused."
Debbonaire's statement chimes with government statistics. The 2016-17 Home Affairs Committee prostitution report revealed that there were 456 prosecutions for loitering and soliciting, but only 227 prosecutions for kerb-crawling—where male customers drive around known prostitution hotspots in search of sex workers—between 2014 and 2015. "Police always go after women," Colette laughs. "I was literally caught in the act with a man outside by the police once. I was arrested and he was allowed to go… I've seen it so many times."
British lawmakers like Debonaire believe that wiping of prostitution-specific records is a vital frontier for women's human rights. "I'll champion this cause by whatever means necessary," she says defiantly. "If the court case isn't successful, the first thing I'll do is to write to the Justice Secretary and ask for her views on whether the government would consider a policy change. If that doesn't work I'll put forward an amendment to the law."
The sex workers fighting for justice believe that these criminal records should be treated as a feminist issue. If the Nia Project's court case is successful, it will be a victory for feminism and a significant change in the way we view sex workers.
Debbonaire says there are plenty of ways to help. "Email your local MP and the home office, link to the I'm No Criminal report, and keep doing it," she says.
"If my life hadn't been spent carrying this criminal record around with me, it could have been completely different," Bradfoot says. "We have to change the way women with a history of sex work are treated, and now is the time."
* Name has been changed