Photo by Juan P Martinez Photography Chicago
British cosmetics business Lush is known for its approach to ethics and its fair trade initiatives. Now a former employee is suing the company over allegations of racial discrimination and victimization.
Mercedez Gonzalez, a 27-year-old Mexican-American massage therapist, is taking Lush to court this week. She is seeking compensation for loss of earnings and damages for injury to feelings.
Gonzalez claims that Lush failed to provide her with the same level of training, support, and opportunities as her white colleagues, resulting in her dismissal from the company in September 2016. Her case will be heard over the next three days at the Central Employment Tribunal in London.
Before moving to the UK, Gonzalez had worked as a massage therapist in Chicago for eight years. In July 2016, she was offered a position as a spa therapist at the Lush flagship store on Oxford Street in London. As part of the job offer, Gonzalez was sent on a training program in Poole, Dorset, where Lush's headquarters are based.
"I was super excited because I love Lush products and the idea of self-care," she says. "I thought, This would be an environment that will appreciate me and my skills. Lush paints a picture that they're really accepting and accommodating."
According to Gonzalez, she was one of only two women of color on the seven-week course; six out of the eight new recruits were white. When one white trainee struggled to remember the complex massage techniques, she says, "a new trainer was brought in to support her, give her one-on-one help, extra support and talk her through the treatments."
Read more: How Freelancers Are Forced to Fend for Themselves Against Sexual Harassment
In her second week of training, Gonzalez says she was asked to perform one of Lush's signature treatments on a trainer. "They have these detailed, intricate, almost theatrical massages," she says.
According to Gonzalez, she was told she'd receive her feedback the following day. She wasn't hugely worried. "I hadn't been told I was at risk of being sent home or that I would need extra support," she says. "I thought that while I had some things to work on, I was no worse than anyone else in the group."
---
The Australian Model Calling Out Fashion's Size Hierarchy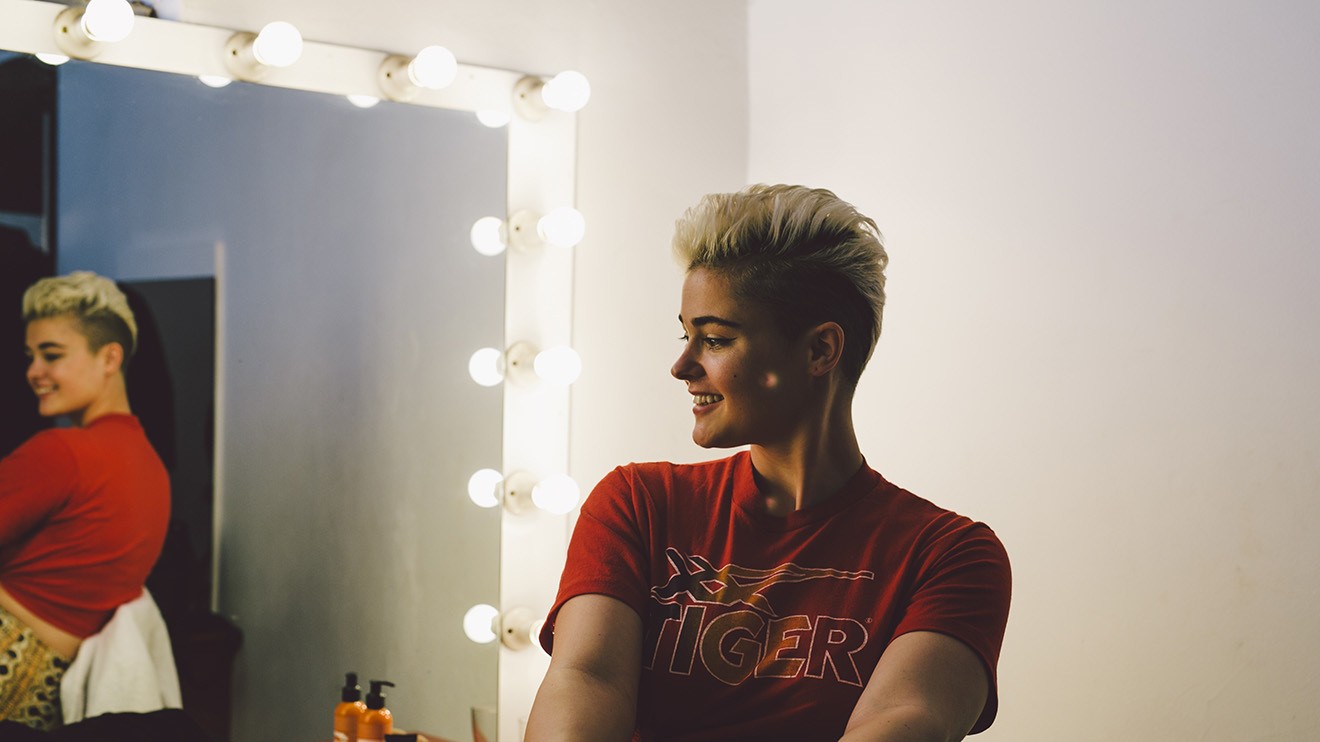 ---
The next day, Gonzalez claims, she was taken into a room with another trainee—the only other woman of color on the course—and told their training in Poole was over.
"They told us that we weren't progressing quickly enough, and that we would work closely with the spa team and maybe eventually come back to Poole when we were ready," she says.
Although distraught to be sent to London with no prior warning—especially as she had moved to Poole for the course and had nowhere to stay in London—Gonzalez tried to remain positive.
"I was crying and asked if I could do anything differently—like, what had I done wrong?" she remembers. "I tried to remain professional and optimistic, even though I was scared shitless."
Gonzalez later found out that Olivia Lee, a white therapist she had lived with in Poole, was allowed to continue on the course despite receiving bad feedback.
"She told me that in her feedback meeting they said she was a concern, she was way behind, she didn't know the material, she wasn't taking it seriously," Gonzalez says. "But she told me that they said to her, 'We're going to get you there.'"
When Gonzalez began working at Lush's Oxford Street store in London, she was still on her probation period. According to her, she was also told that her training hours as a massage therapist would be cut from 40 hours a week to 32 hours. Instead, she was assigned to work on the shop floor of the store.
After returning to London, Gonzalez raised concerns with Lush management that she'd been pushed off the Poole training program because of her ethnicity and body shape. "I feel like I was unfairly cheated out of the full training experience," she wrote in an email seen by Broadly. "I could have been back in London working my other job and saving money. Now I have to pay for transportation, housing and my weekly food, not because I deserved to be sent home, but because [the trainer] picked her favorites based on…. maybe race, body size or appearance?
"It is clear this is not normal procedure and that we were unfairly sent home."
According to court documents, Gonzalez was asked to take a practice examination four days later to determine if she had passed the probation period. Her lack of training, Gonzalez says, meant that failed the massage exam on August 30 and was subsequently dismissed on September 2. In emails seen by Broadly, Gonzalez was told she had not passed her probation because she failed "to meet our expected standards of performance despite comprehensive training and feedback."
Gonzalez is now facing Lush in a central London employment tribunal on Wednesday. Lee's testimony is central to Gonzalez's case. Both Gonzalez and her lawyer expect that Lee will testify that she failed multiple exams without getting fired and was allowed to skip the exam Gonzalez was made to take—and subsequently failed—in London.
"Discrimination cases are hard to prove in this country," says Gonzalez's lawyer Musthak Ahmed. "It's all about finding that silver bullet that shows discrimination has taken place. There's an inherent risk in taking these claims to a tribunal."
A similar claim—brought by the other woman of color that Gonzalez worked alongside in Poole, alleging victimization and direct racial discrimination—was unsuccessful. However, Gonzalez is cautiously optimistic about the outcome of the case.
"White colleagues got plenty of other support and the opportunity to succeed. But I wasn't given the same support or opportunities," she says. "But you never know if you'll get justice from the court."
Lush declined to comment on Gonzalez's case.