STATES
U.S. Immigration and Customs Enforcement (ICE) officers conduct a targeted enforcement operation in Atlanta, Georgia, U.S. on February 9, 2017. Picture taken on February 9, 2017. Courtesy Bryan Cox/U.S. Immigration and Customs Enforcement via REUTERS
One of the first questions that Immigration and Customs Enforcement agents asked Daniel Ramirez Medina before arresting him in February 2017 was "Are you legally here?" Ramirez Medina, an undocumented immigrant living in the U.S. under President Obama's Deferred Action for Childhood Arrivals program, replied that he had a work permit. ICE arrested him anyway, making him the first DACA recipient to be detained under President Trump, and setting in motion a series of legal battles that will affect the collective fate of some 800,000 undocumented Americans. More than a year after his arrest, Medina, now 24, remains in what his lawyer calls "kind of weird limbo," much like the DACA program itself. And though Trump's efforts to kill DACA have so far been blocked in federal courts, he made it clear with a recent flurry of tweets that he no longer has any intention of striking a deal to save the program.
With the future of DACA in jeopardy, immigration advocates and lawyers are again worried that instead of giving its recipients a modicum of protection from deportation and the ability to work legally in the United States, DACA may soon be weaponized against them, with ICE using the sensitive information they provided to track down, detain and deport anyone who ever applied to the program and their family members. "The very real concern … is that information that might have been furnished for one purpose can now get into the hands of another agency and be used for a different purpose, such as immigration enforcement," said Neema Singh Guliani, a legislative counsel with the American Civil Liberties Union.
U.S. Citizenship and Immigration Services — the agency within the Department of Homeland Security that administers DACA — maintains that only limited information from the program is shared with ICE and other DHS enforcement agencies. And in the cases of Ramirez Medina and several other DACA recipients who have been detained since Trump took office, it appears that ICE agents merely encountered them in the field while pursuing other targets for deportation.
But the full extent to which ICE enjoys access to information about DACA recipients — who are required in their initial application to provide biometric data, employment records, and information about family members — through shared Homeland Security databases remains unclear. And there are looming questions about whether ICE intends to seek even more from USCIS in the future.
Read: The Supreme Court created a legal mess for detained immigrants
In January, VICE News filed a request with the Department of Homeland Security under the Freedom of Information Act for a list of all instances in which ICE contacted USCIS to seek information about DACA applicants. We also requested all correspondence between ICE and USCIS regarding DACA and enforcement operations. ICE responded on March 30 with a letter (see PDF below) that said "no records responsive to your request were found."
But ACLU attorneys said it's entirely possible that no formal inquiries have been made from ICE to USCIS regarding DACA because immigration enforcement agents already have all the information they need at their fingertips.
Guliani, who previously worked in the chief of staff's office at the Department Homeland Security, pointed to two "Privacy Impact Assessments" that indicate information about DACA recipients is available through at least one database that ICE agents can access. The assessments, which agencies must file to disclose how personal information is stored and shared internally, say DACA information is entered into a database called CLAIMS 3, which ICE and Customs and Border Protection can access for "border enforcement purposes," and "immigration investigations."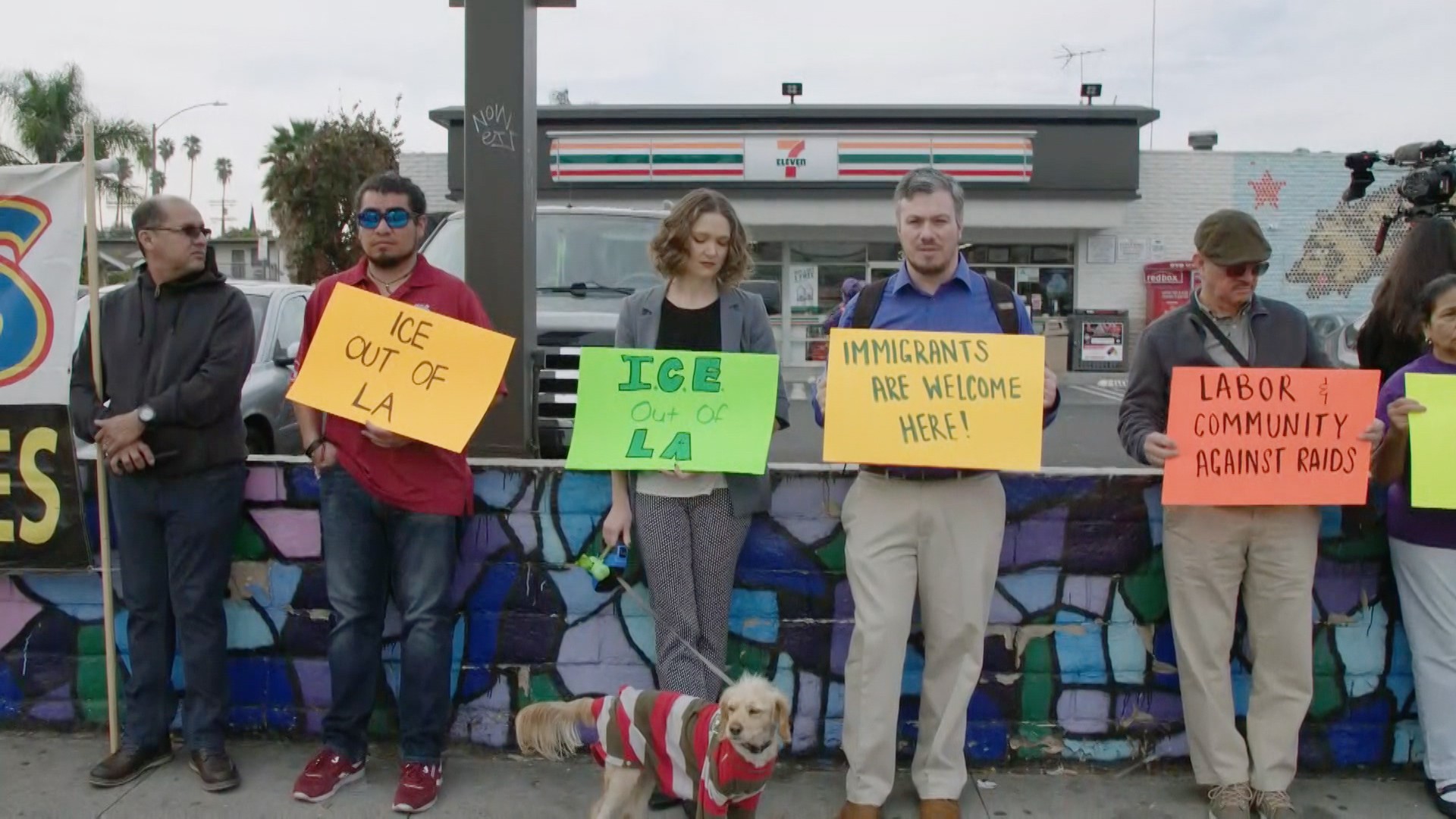 But the assessments don't spell out exactly what those circumstances entail and the full extent of the DACA information that is available to ICE. Guliani also noted that there may be other internal Homeland Security databases that include DACA information. States and cities also maintain records — such as driver's license registries — that ICE can sometimes access.
"It's still not entirely clear to the public not only which databases exist but at a practical level how they're being used and who is accessing them," Guliani said. "It's difficult to sort of piece together the entire universe of what's happening."
ICE and USCIS did not directly address questions about the databases when contacted by VICE News.
USCIS spokesperson Steve Blando said in a statement that "information provided in a DACA request is protected from disclosure to ICE and CBP for the purpose of immigration enforcement," unless the person has been put into deportation proceedings, which can happen for a variety of reasons. The agency said DACA information can also be handed over to ICE "for purposes other than removal, including for assistance in the consideration of DACA, to identify or prevent fraudulent claims, for national security purposes, or for the investigation or prosecution of a criminal offense."
FAMILY MEMBERS AND GUARDIANS
USCIS also said info about "family members and guardians" can be shared with ICE under those circumstances, which is especially troubling for young people with DACA since their parents and older relatives do not qualify for the same protections from deportation.
"I think relatives and parents, their info, that's definitely something I'd be concerned about from the application information," said Jennifer Chang Newell, a managing attorney with the ACLU Immigrants' Rights Project.
ICE spokesperson Sarah Rodriguez said in a statement that people with DACA "are not categorically targeted for immigration enforcement," but if agents encounter someone whose status has expired they will "evaluate the totality" of the circumstances and decide how to proceed.
Read: ICE keeps rounding up "non-criminal" immigrants while Congress tries to fix DACA
"ICE continues to focus its enforcement resources on those who pose a threat to national security or public safety, illegal reentrants, and aliens with final orders of removal," the ICE statement said, noting that agents typically arrest people with DACA "only if the period of deferred action has expired or if DACA has been or will be revoked due to criminal conviction, gang affiliation, or some other violation of the program requirements."
The issue of DACA information sharing also factored into a recent federal court ruling in Maryland, one of several jurisdictions where immigrant rights advocates have challenged the legality of Trump's decision to end DACA last September.
In that case, Trump administration lawyers acknowledged that the official USCIS policy about not sharing DACA information for enforcement purposes was subject to change at any time. In response, the judge ruled that the government cannot use the information except on a "case-by-case basis" for national security or public safety reasons, and in that situation the court would have to review and approve the decision.
The fate of DACA will likely be eventually decided by the Supreme Court, and in the meantime the Trump administration has been forced to continue processing renewal applications for people who have already been approved in the past. More than 55,000 applications were approved in the first three months of 2018.
If Homeland Security ultimately decides to go back on its word and officially sanctions the use of DACA information for deportation purposes, Ignacia Rodriguez, an immigration policy advocate with the National Immigration Law Center, warned that it could affect future immigration reform efforts.
"It would be really hard to regain that trust because people relied on the promise that their information wouldn't be shared and if it would be shared it would be for very limited purposes," said "Any shift from that, especially in the context we're in where there's already a lot of fear and uncertainty, would create a lot of damage."
Even without full-fledged ICE access to DACA data, the latest statistics from USCIS show that an increasing number of young people are being stripped of their DACA protections under the Trump administration, a trend that VICE News first reported last May. At the end of the 2017 fiscal year, 850 people had their DACA status revoked due to allegations "related to criminal and gang activity," a 7 percent increase from the previous year under the Obama administration.
Luis Cortes, a Seattle immigration attorney who represents Ramirez Medina, said that even a mere accusation of criminal behavior is enough justification for ICE to strip away a young person's DACA status.
"Anybody who is accused of breaking the law, even if they haven't been convicted, they'll go after them," Cortes said. "They're already targeting DACA beneficiaries and finding pretexts."
Read: How Trump made "chain migration" an anti-immigrant buzzword
In Ramirez Medina's case, ICE agents came looking for his father, who was arrested and eventually prosecuted for illegally re-entering the U.S. after a previous deportation. When the agents found Ramirez in his father's house, they asked him about his legal status. He was taken into custody and spent more than six weeks in an immigration detention center, with ICE accusing him of being a gang member — a charge he has steadfastly denied.
In February, an immigration court judge issued an order of deportation against Ramirez Medina. That ruling is currently under appeal. Separately, he was able to get his DACA status reinstated thanks to a class-action lawsuit in California. In that case, which was brought by the ACLU, a federal judge ruled that the Trump administration had unlawfully revoked DACA protections for three undocumented immigrants from the state's Inland Empire area. The judge granted a temporary injunction saying the plaintiffs and others like them across the country, including Ramirez Medina, could qualify once again for DACA and that the government would have to provide advance notice and an explanation in order to revoke the protections again in the future.
Cortes said Ramirez Media continues to hold out hope for a victory in his fight for legal status, especially because he has a young child who is a U.S. citizen. But the arrest and subsequent battle has taken its toll; his father was deported back to Mexico last year, and he lives each day hoping he's not next.
"When his dad was being deported, it caused a weird introspective situation where Daniel was losing his dad, but as a dad he's thinking 'I'm going to be losing my son,'" Cortes said. "He was a having a big, tough time with the whole situation and a big life crisis."
Cover image: U.S. Immigration and Customs Enforcement (ICE) officers conduct a targeted enforcement operation in Atlanta, Georgia, U.S. on February 9, 2017. Picture taken on February 9, 2017. Courtesy Bryan Cox/U.S. Immigration and Customs Enforcement via REUTERS