Getty Images
Donald Trump's newfound antagonism toward Moscow escalated to outright military threats Wednesday, with the president tweeting that Russia should "get ready" for U.S. missiles to be fired into Syria.
Posting in response to the alleged Syrian chemical attack in Eastern Ghouta over the weekend, Trump bragged that "new and 'smart'" missiles would be able to evade missile defense systems.
"Russia vows to shoot down any and all missiles fired at Syria," he tweeted. "Get ready Russia, because they will be coming, nice and new and 'smart!' You shouldn't be partners with a Gas Killing Animal who kills his people and enjoys it!"
He then tweeted the relationship with Russia was worse than it had ever been — including during the Cold War — and extended an unlikely olive branch.
"There is no reason for this. Russia needs us to help with their economy, something that would be very easy to do, and we need all nations to work together. Stop the arms race?" he tweeted.
Russian Foreign Ministry spokeswoman Maria Zakharova swiftly shot back that "smart missiles should fly towards terrorists, not a lawful government which has spent several years fighting against international terrorism on its territory." She suggested that the U.S. strikes could be used to "cover up all evidence of this fabricated attack" before international chemical weapons inspectors had a chance to investigate what had happened.
The Russian military then said it would send troops to Douma, the site of the alleged attack, to ensure the security of the town.
Trump's goading of Moscow was an apparent response to a warning from a Russian diplomat Tuesday that Russia would shoot down any U.S. missiles fired into Syria in retaliation for Saturday's alleged attack by the Assad regime.
Alexander Zasypkin, the Russian ambassador to Lebanon, made the comments to a Lebanese television station Tuesday night.
"If there is a strike by the Americans, then … the missiles will be downed and even the sources from which the missiles were fired," Zasypkin said in Arabic, speaking to Hezbollah's al-Manar TV.
He said he was referring to a statement from President Vladimir Putin and Russian military chiefs. Last month, the Russian military warned it would respond to any U.S. strikes with force.
The comments have drastically ratcheted up tensions ahead of an expected military response by the U.S. and European allies to Syria's alleged use of a banned chemical agent. The World Health Organization said Tuesday that 500 people had presented to health facilities with "signs and symptoms consistent with exposure to toxic chemicals" in the wake of the attack on the rebel-held town of Douma.
Trump, who canceled a planned trip to South America this week to respond to the issue, spoke again to British Prime Minister Theresa May and French President Emmanuel Macron Tuesday as they continued to coordinate on a response intended to hold the Assad regime and its backers to account.
READ MORE: Trump wants to send Assad a message – but his options are all bad
Macron suggested Wednesday that a military response had been decided on, and that allies were discussing the details of the operations. He tweeted that his government was "continuing to exchange technical and strategic intelligence with our allies to define our reaction, which will take place in the coming days." Macron added that Paris was also trying to boost diplomatic efforts against chemical weapons, and attempting to gain humanitarian access to victims.
Citing a U.S. official, CNN reported that a U.S.-French response was most likely, due to concerns the British Parliament may not grant approval for strikes.
Meanwhile, at the U.N. Security Council, efforts to find a diplomatic resolution to the standoff faltered Tuesday, as Russia and Western powers failed to reach agreement on an international response.
Russia vetoed a U.S. resolution to create an independent investigative mechanism for chemical attacks in Syria, saying it would simply be used to advance Western interests, as it accused the U.S. and its allies of using the issue as a pretext to attack Syria.
Vasily Nebenzia, Russia's permanent representative to the U.N., warned that U.S. military action would risk triggering "grave and tragic events."
Inspectors from the Organization for the Prohibition of Chemical Weapons are preparing to travel to Syria after the Assad regime invited them to investigate the issue, although it is unclear whether they will have access to Douma, on the outskirts of Damascus. The World Health Organization also demanded immediate unhindered access to the town Tuesday to provide treatment to those affected. U.N. aid agencies do not have access to much of Eastern Ghouta, the rebel-held enclave where Douma is located.
The tensions have led European air traffic control agency Eurocontrol to issue a warning to airlines to be cautious in the eastern Mediterranean region, where Russian warplanes have been flying over U.S. and French naval ships armed with cruise missiles. The agency warned of a potential launch of air strikes into Syria in next 72 hours.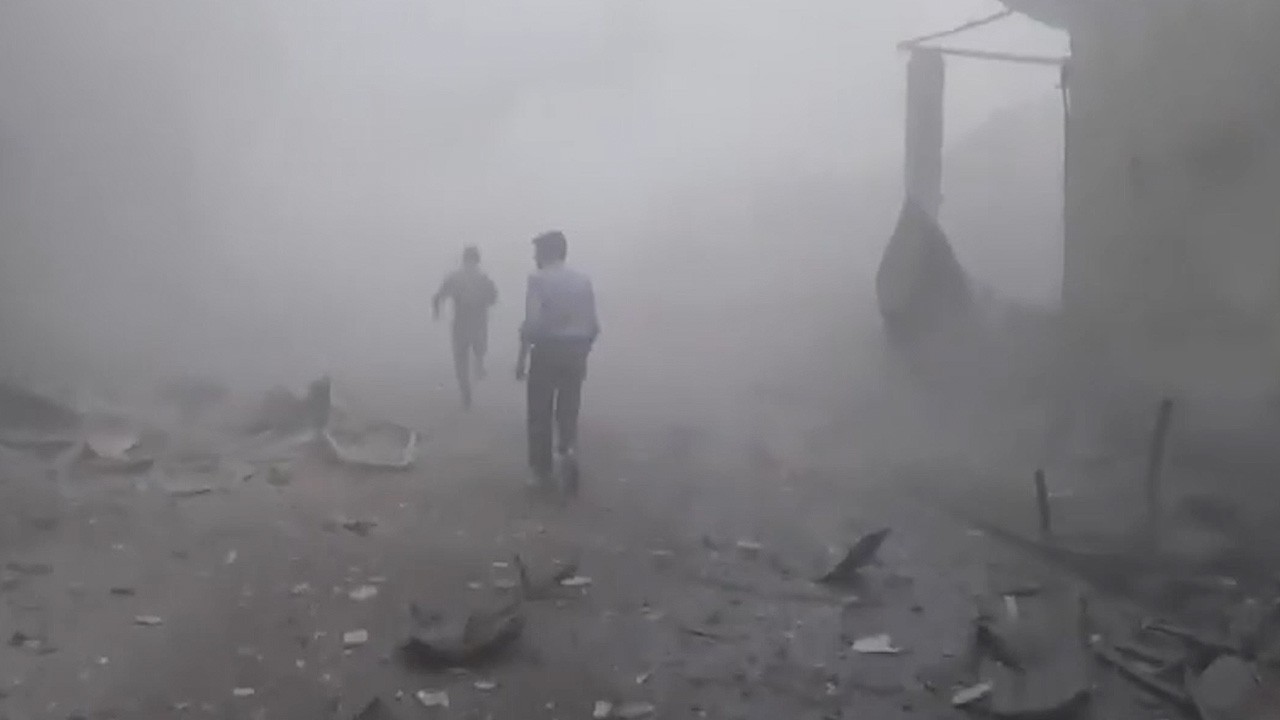 Cover image: Donald Trump speaks during a meeting with the Emir of Qatar Sheikh Tamim bin Hamad Al Thani, in the Oval Office at the White House, on April 10, 2018 in Washington, DC. (Mark Wilson/Getty Images)