The attack that changed Darren Pidgeon's life came out of nowhere. The British father of two had narrowly missed a collision at an intersection in the Southern England town of Rayleigh one night three years ago, when the other driver chased him down and blocked him in his vehicle.
The driver and her passenger were in a fit of rage, Pidgeon said. "Then he got out and sprayed me with acid."
Pidgeon, now 30, had no idea what was happening when the man sprayed drain cleaner through his open car window and onto his face. He didn't realize he was joining the growing list of acid attack victims in the U.K., or the extent to which the attack would change his life, leaving him with years of painful medical treatment and a lifetime of physical and mental scars.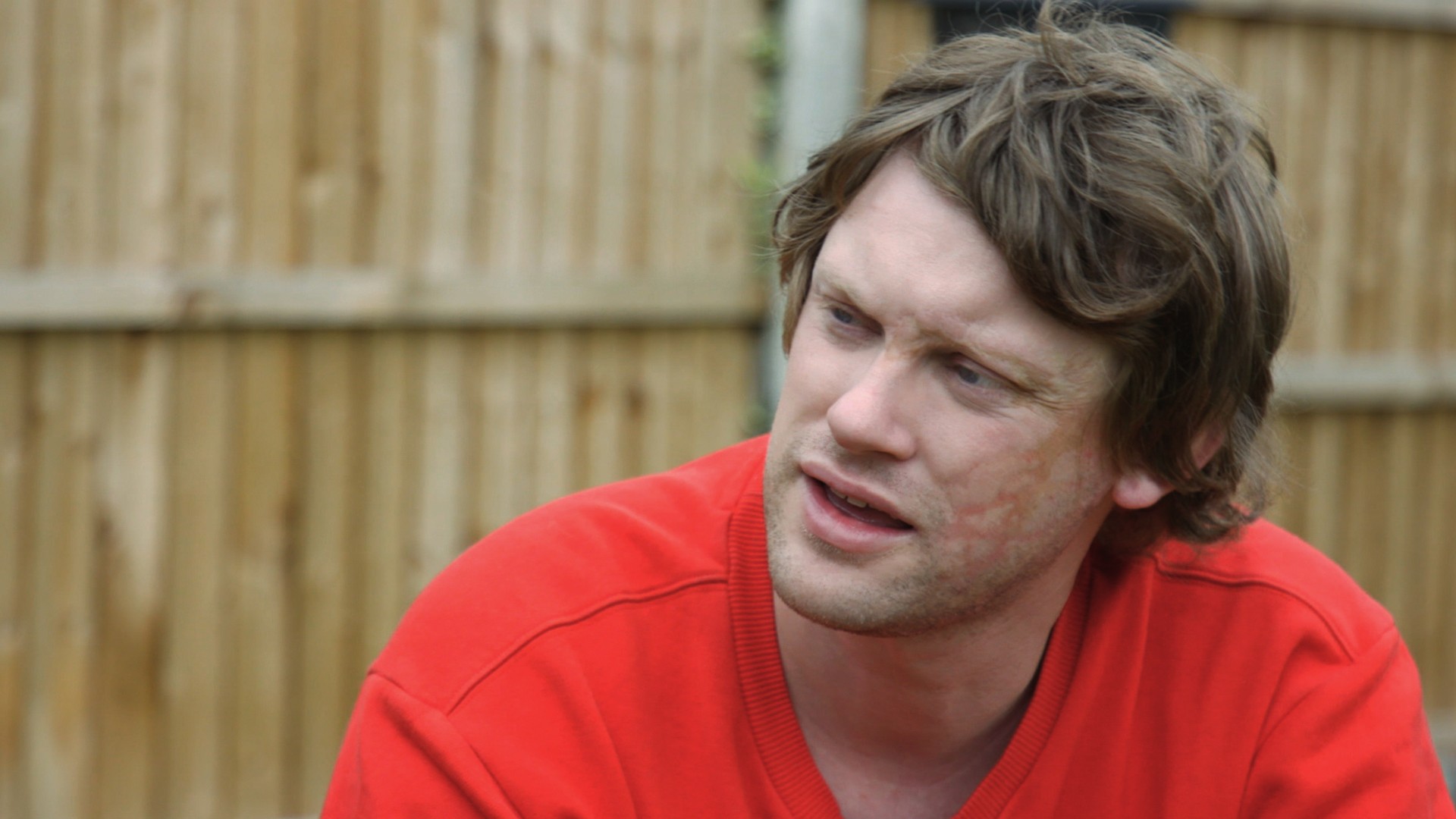 "It's something you've got to live every day with — everyone looking at you wondering what happened," he said.
The U.K. is experiencing a major spike in acid attacks, as increasing numbers of people arm themselves with cheap, widely available but highly corrosive household products, such as drain cleaners, to use as weapons in street violence. In the capital alone, there were 431 cases of attacks with corrosive fluids last year, compared with between 162 and 261 cases in each of the previous five years.
"It's so horrific and really medieval."
The issue has been in the spotlight since last month, when a man flung acid across a crowded London nightclub, injuring 20 and leaving two people blinded in one eye – a major risk in acid attacks. The rising number of attacks has raised concern among police and politicians, prompting some politicians to call for new legislation to regulate the sale of cleaning products most commonly used as weapons, and appeals to manufacturers to change the formula of corrosive cleaning products to make them more viscous and therefore less easy to fling or spray at victims.
"It's so horrific and really medieval," says James Berry, a Conservative MP from the Greater London electorate of Kingston and Surbiton, who has been investigating the issue.
"More young men are carrying acid around"
Jaf Shah is the executive director of the London-based charity Acid Survivors Trust International, an organization that confronts the problem of acid violence in the developing world, where acid attacks are predominantly a gender-violence issue overwhelmingly affecting women. Acid is sometimes used in revenge to disfigure women who may have rejected a romantic advance or broken off a relationship, as their attackers seeks to destroy their physical beauty.
But in recent years the organization has also had to confront the problem in the U.K., where the pattern of acid violence has been different. While the U.K. has its share of attacks categorized as gender violence, more than 60 percent of British acid victims are men. Shah said the "shocking" number of recent attacks appear to be a result of the weapon spreading beyond traditional gangland culture.
"What is new is the incredibly high number of acid attacks," he said. "It goes back to this male status thing about inflicting harm and leaving a visible scar – a reminder of the damage that one person has done to another. Every survivor I've spoken to carries enormous psychological burdens as a result."
But why acid? Shah explained it's a popular weapon because it's easier to carry than a knife — which has a higher chance of being found by law enforcement — and it's cheap and accessible. In one recent case, the attackers had specifically sought a particular brand of drain cleaner that contains more than 90 percent sulphuric acid and costs about $7 a bottle. One of the attackers referred to the product as a "face melter."
"It seems more young men are carrying acid around," Berry said. "The worry is that it's not just hardened criminals using acid as a weapon — if you look at some of these recent cases, the attackers are young people without long criminal histories."
Shah points out that the problem is not new to Britain. Sulphuric acid, used in many manufacturing processes, was first produced on a large scale in the U.K. in the 18th century and by the following century had come to be widely used in attacks, particularly in industrial areas of Scotland. Since then, it has continued as a largely hidden form of violence in gang culture — Pinkie Brown, the teenage gangster in Graham Greene's 1938 novel "Brighton Rock," carried a bottle of acid as a weapon.
A spokeswoman for London's Metropolitan Police said that assaults involving acids are "horrific, and the impact on victims is devastating." She said police were working to understand why more people were carrying it as a weapon, and appealing to parents and teachers to be vigilant if young people might be carrying it. Police also want to raise awareness among retailers that the household cleaning products they're selling could have a criminal use, she said.
In one recent case, injuries from an attack proved fatal. Mark van Dongen, a 29-year-old Dutch national, sustained burns to 80 percent of his body and was paralyzed after an attacker poured acid on him in the English city of Bristol in September 2015. He died from his injuries in January.
"I'm stuck with it for life"
The acid attack on Pidgeon resulted in third-degree burns to 5 percent of his body, and left him requiring numerous skin grafts. After three years of grueling medical treatment, the scars on his face have reduced, but are still visible, and remain something he feels self-conscious about.
"My hair's long … to cover the scars, you know. I keep it messy. I would like to have nice cut," he says, pointing to parts of his scalp, "but I've lost there, there and there."
The attack has impacted him psychologically, and made him reluctant to go out in public at times.
"I've been really down," he said. "I don't really want to see some of my friends all the time, you know, some of my family members. I just wanted to be in my room at one time. I just didn't really want to laugh and joke."
He tries not to think too much of his attackers, who last year were sentenced to 17 and eight years respectively. "But obviously I'm stuck with it for life, and they can still get out and live their life one day."
"Why me?"
Samir Hussain, a 29-year-old phone shop manager from Redhill, Surrey, was injured in a similarly senseless acid attack after leaving a movie theater with a friend in the nearby town of Crawley in August 2015.
Two men who'd been throwing candy at Hussain and his friend in the cinema approached them after the screening and assaulted them, before running off. As Hussain got in his car to drive away, one of the men ran at the vehicle trying to smash the window. When Hussain got out to confront him, the man threw drain cleaner in his face.
"Apart from the horrific pain, my first thought was, 'Why me?'" Hussain told VICE News. "I'm not a bad person, I didn't think I'd done anything wrong. I just didn't know why it had happened. It was a complete shock, and still is, I guess."
Hussain's attacker, a 27-year-old man, was sentenced to eight years in jail last month. Hussain has been left with painful ongoing medical procedures to treat the extensive burns to his face, forearms, and hand. He still wears a mask every day to reduce the scarring, and, like Pidgeon, is thankful his sight was spared.
"These scars are not going to disappear," he said. "I'm going to have to live with what those two individuals done, whenever I look in the mirror. Whenever I have a happy moment in my life, it's going to be sort of scarred."
He says the initiatives called for by campaigners Berry and Shah are urgently needed to clamp down on the availability of acid. If he wins another term in Parliament in the forthcoming election, Berry intends to propose a law change that will require customers to show ID when buying highly corrosive acids or alkalis, creating a record of purchase that could help track acid attackers or deter the products' use as a weapon.
"I think these products are so easy to come by that if people had to produce ID and log who they were, it would make people think twice about getting hold of it," Berry told VICE News.