This article originally appeared on VICE Canada.
UPDATE:  On Thursday, the Sûreté du Québec contacted VICE to say that court documents associating their officer Marie Élaine Gagnon with the @GSloanMDK Twitter account we in fact erroneous. Gagnon, they say, was simply in charge of keeping watch over social networks to flag worrisome posts and did not interact with other Twitter users. The Montreal police, who led the investigation into Padula's tweets, told VICE the error wasn't theirs and that the court documents had been prepared by prosecutors. The Director of Criminal and Penal Prosecutions declined to comment on the case.
The case of a Montreal-area man charged with inciting hate and uttering threats on social media has taken a weird turn. VICE has uncovered that Antonio Padula's tweets may not only have been misinterpreted by police, but were possibly directed at a xenophobic Twitter account allegedly managed by a Quebec police officer.
On Tuesday night, 45-year-old Padula was arrested by Montreal police (SPVM) and detained for making what were being described as anti-Muslim threats. In the media, police widely used this case to send the message that online hate-mongering—which had reached a fever pitch after Sunday's attack on a Quebec mosque—would not be tolerated.
"Threats are taken very seriously by different police forces and they lead to investigations and potentially to charges," an SPVM spokesperson told VICE.
Padula's lawyer declined to comment on her client's story.
But the irony of the case is that Padula may been using his Twitter account to call out racist views, not to espouse them. What's more, he may have unknowingly attacked an anonymous account managed by an officer with the Sûreté du Québec, the province's provincial police force, who had been tweeting xenophobic material.
Court documents reveal Padula is charged with uttering threats at user @GSloanMDK, or "Arlo The Good Human," whose now-deleted account shared several anti-Muslim tweets and often acted as a troll, as a cached version of their feed reveals.


"Protect the Christians from the Muslims and protect us Conservatives from the Liberals," @GSloanMDK tweeted in January.
The case documents identify @GSloanMDK as Marie-Élaine Gagnon. According to sources with knowledge of the case, Gagnon is an investigator with the Sûreté du Québec.
Neither the SQ nor the SPVM, which is handling the case, would confirm or deny that Gagnon is in fact an employee of the SQ.
Half of the conversation has now been deleted, but here are @Hermit_Spirit's interactions with @GSloanMDK. For context, the two other users Padula called a moron in the threat below had been blaming refugees or Muslims for the Quebec shooting.
While Quebec police received more than 200 reports of online hate-mongering and have made other arrests since last Sunday's attack, it seems the first case they chose to make an example of was a misunderstood case of sarcasm, rhetoric Padula was using to shut down xenophobic trolls.
After the anonymous Twitter handle allegedly being used by Padula was released in court on Thursday, a cursory read of his tweet history revealed a story different to the one being reported by police and media.
In a series of tweets dated January 31, a user with the handle @Hermit_Spirit, who police say is Padula, levelled insults and criticism at a slew of users who espoused anti-Muslim views.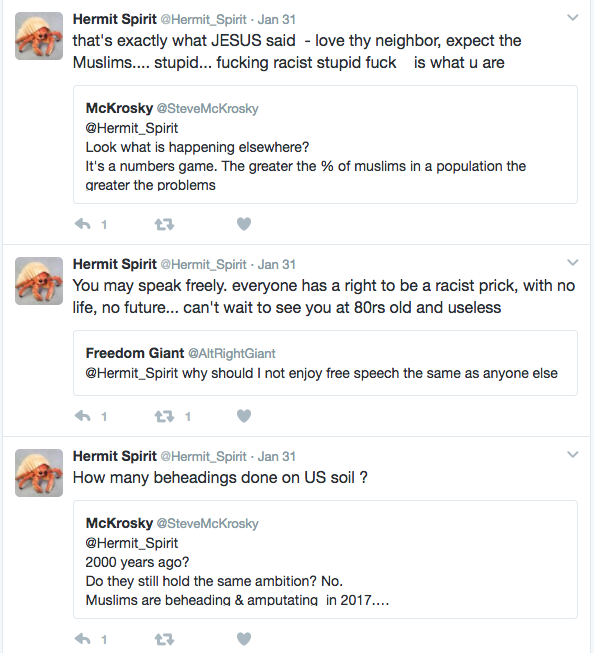 @Hermit_Spirit's brand of writing—short on punctuation, heavy on swears, and often stream-of-consciousness—included such, seemingly sarcastic, asides as "that's exactly what JESUS said—love thy neighbor, except the Muslims…stupid" and "everyone has the right to be a racist prick."
According to court documents, it was the tweets he sent to @GSloanMDK that warranted the criminal charge of uttering threats to cause bodily harm or death. The documents do not indicate which specific tweets or interactions led to the other charge Padula faces, that of inciting hatred.
Follow Brigitte Noël on Twitter