Mario Tama / Staff via Getty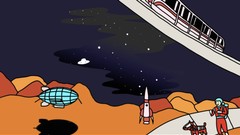 Moveable explores the future of transportation, infrastructure, energy, and cities.
Californians voted overwhelmingly against Proposition 30, a ballot measure that would have taxed the rich to fund emission-reducing electric vehicle programs for low- and middle-income Californians as well as fund programs to fight wildfires. The Associated Press called a No victory last night. As of this writing, No has 3,080,825 votes, or 58.9 percent, with 38 percent of expected votes counted.
The ballot proposed adding a 1.75 percent tax to income over $2 million. The windfall would have been used to fund EV-subsidy programs and charging-station initiatives, and provide funding for fighting and preventing wildfires, over the next 20 years.
Prop 30 polled well initially, until a coalition of right-leaning anti-tax groups joined with Gov. Gavin Newsom (who won re-election yesterday) to oppose it. In a frequently-aired TV spot, Newsom called Prop 30 "one company's cynical scheme to grab a huge taxpayer subsidy." The company in question is Lyft, the ridehailing firm, because its drivers would be able to use the subsidy to convert their fleet to electric cars.
Transportation and electrification experts said this characterization of Prop 30 was not accurate. Gregory Pierce, a professor at the UCLA Luskin Center for Innovation, told Motherboard earlier this week that "it's ridiculous" to characterize Prop 30 as a corporate handout. "There is no carveout. There's nothing about Lyft drivers or Lyft, or anything in particular benefiting them except that Lyft drivers have vehicles like other folks who might benefit from a lot more money for EVs."
Nevertheless, polling on Prop 30 swiftly swung after Newsom came out against it and, as a result, the defeat was expected.