Getty Images
Donald Trump's sudden announcement Wednesday that he intends to pull all U.S. troops out of Syria blindsided his aides and allies — and opened the door for a potential ISIS resurgence, experts warn.
Trump committed as recently as September to the 2,000-strong troop deployment remaining in Syria indefinitely until ISIS was defeated, a political solution was in place, and Iranian forces and their proxies had left.
None of those goals have been accomplished, but Trump said he was bringing the troops home anyway.
"We have won against ISIS," he declared in a video message. "We've beaten them and we've beaten them badly. We've taken back the land, and now it's time for our troops to come back home."
The abrupt policy reversal attracted a storm of criticism from lawmakers, military partners on the ground, and analysts.
The battle against ISIS is far from over, they say. What's more, the pullout looms as a repeat of an Obama-era foreign policy decision that the president has repeatedly criticized — the withdrawal from Iraq, which left a power vacuum that enabled the rise of ISIS. "Withdrawal of this small American force in Syria would be a huge Obama-like mistake," tweeted Republican Sen. Lindsey Graham.
The pullout would also leave the Kurds, a key regional ally, without support as they face an imminent threat, while effectively ceding victory in the conflict to Syria's key backers, Russia and Iran — even though the Trump administration has repeatedly cited Tehran as Washington's main regional threat.
"I see any such U.S. decision as just as wrongheaded and counterproductive as Obama's to leave Iraq in 2012 — and likely with just as many adverse consequences," Michael O'Hanlon, senior fellow at the Brookings Institution, told VICE News.
"Allies will suffer. Assad and Iran and Russia will gain."
Charles Lister, director of the Countering Terrorism and Extremism Program at the Middle East Institute, described the move as "the greatest gift and insurance policy that ISIS could have wished for."
"Geopolitically, this is not just a dream scenario for ISIS but also for Russia, Iran and the Assad regime, all of whom stand to benefit substantially from a U.S. withdrawal."
Why the experts are worried
The 2,000 U.S. troops have been stationed in support of the Syrian Defense Forces (SDF), a Kurdish-dominated militia that has been the most effective ground force in the fight against ISIS, reducing its one-time "caliphate" to a mere footprint in Syria.
With the might of a superpower behind it, the SDF has gained control of about a third of Syria's territory in the northeast.
But the Kurds are surrounded by enemies —Turkey, which sees the Kurds as terrorists and fears they will fuel an insurgency in the country's heavily Kurdish southeast; Syria and its Russian and Iranian backers; and ISIS.
The Kurds fear that once the U.S. withdraws, the recent battlefield equilibrium will be shattered and Syria will revert to chaos.
An SDF statement Wednesday said that Trump's move would "create a political and military vacuum… leaving its people between the claws of hostile parties" — a situation that would jeopardize the anti-ISIS campaign and allow the terror group "to revive itself again."
Trump's move comes as Turkey, a U.S. ally that has already carved out a pocket of influence bordering Kurdish areas in Syria, is threatening to launch an attack on the SDF.
"Turkey will take advantage of there no longer being a risk of clashing with U.S. troops in northeast Syria to pursue its planned military campaign against" the SDF, Lina Khatib, head of the Middle East and North Africa Programme at Chatham House, told VICE News. She said that with the Kurds occupied in renewed hostilities with Turkey, "the ground would be left wide open for ISIS to regroup and regenerate."
READ: This Syrian family dug a cellar to hide from Assad's bombs
Lister said the Syrian regime may respond to the U.S. withdrawal by buying the loyalty of the Arab militias affiliated with the SDF in northeast Syria, leaving the Kurds more vulnerable to Turkish aggression.
"It's a sad state of affairs when our key allies on the ground, who've shed blood and thousands of lives for our fight against ISIS, are to be well and truly abandoned," he said.
The move benefits the U.S.' geopolitical rivals in the region
American withdrawal would also cede the Syrian conflict to the regime and its Russian and Iranian backers, analysts warn.
The move will undermine the administration's sanctions policy intended to exert maximum pressure on Tehran, according to analysts at the Foundation for Defense of Democracies think tank.
"A full U.S. troop withdrawal from Syria will signal that as the administration calls for maximum pressure on Iran, it is not even willing to do the bare minimum to counter Iran at the regional level," said research fellow Behnam Ben Taleblu.
If Assad reclaims Kurdish-held territories, where 90 percent of the country's oil supplies are located, it will ease the pressure on Tehran to subsidize Syria's oil needs and alleviate the pressure from U.S. sanctions. It would also allow Iran to complete a strategically valuable land-bridge from its territory to the Mediterranean.
Russian President Vladimir Putin himself commended Trump's decision to pull out Thursday. "On this, Donald is right. I agree with him," he said in a news conference.
Why ISIS could mount a comeback
Obama's reason for entering the Syrian quagmire was "to degrade and ultimately destroy ISIS." But despite Trump's claim that "we have defeated ISIS in Syria," the job is far from done.
The "caliphate" that once stretched across two countries and governed an estimated 8 million people has all but collapsed. Yet ISIS still controls small, organized pockets of territory — which U.S. officials say could take months to win back — and the group is believed to command thousands of militants across the country who have gone underground and reverted to insurgency tactics.
A U.S. Defense Department assessment in August estimated the number of ISIS fighters in Syria at 14,500.
Lister said any defeat was "arguably years" away. "To make that fact as clear as day, ISIS claimed responsibility for an attack in Raqqa only 10 minutes before Trump's 'mission accomplished' tweet," he said. "That's a city the U.S. liberated and in which U.S. troops and USAID and State personnel are deployed to this day."
Paul Salem, president at the Middle East Institute, told VICE News that ISIS was already regrouping in parts of Syria and Iraq "and will certainly try to come back in parts of Syria if it sees an opportunity."
He added: "It is certainly not 'out' by any stretch of the imagination."
Salem said it was a mistake to think that the group, as a manifestation of violent Islamic fundamentalism, could ever be truly defeated on the battlefield alone. "As long as it exists as an idea and skeleton network in part of Syria and Iraq — and parts of other countries like Yemen, Libya, or elsewhere — it can bide its time, regroup and fight another day. They have played the long game before, and they will play it again."
Contrary to his comments Wednesday, Trump appeared to concede Thursday that the group hadn't actually been defeated — but argued instead that the fight was the responsibility of Assad and his allies.
"Russia, Iran, Syria & others are the local enemy of ISIS. We were doing there (sic) work," he tweeted. "Now they will have to fight ISIS and others, who they hate, without us."
But that stance could be disastrous if the terror group capitalizes on the new security vacuum to make a comeback in the region. Several analysts said that by the 2020 U.S. elections, Trump could be among the many, many people rueing that decision.
"Trump blamed Obama for withdrawing too soon from Iraq and allowing ISIS to rise there," said Salem. "In the run-up to the 2020 election, Trump might be faced with the reality of a resurgent ISIS in Syria that he might take the blame for."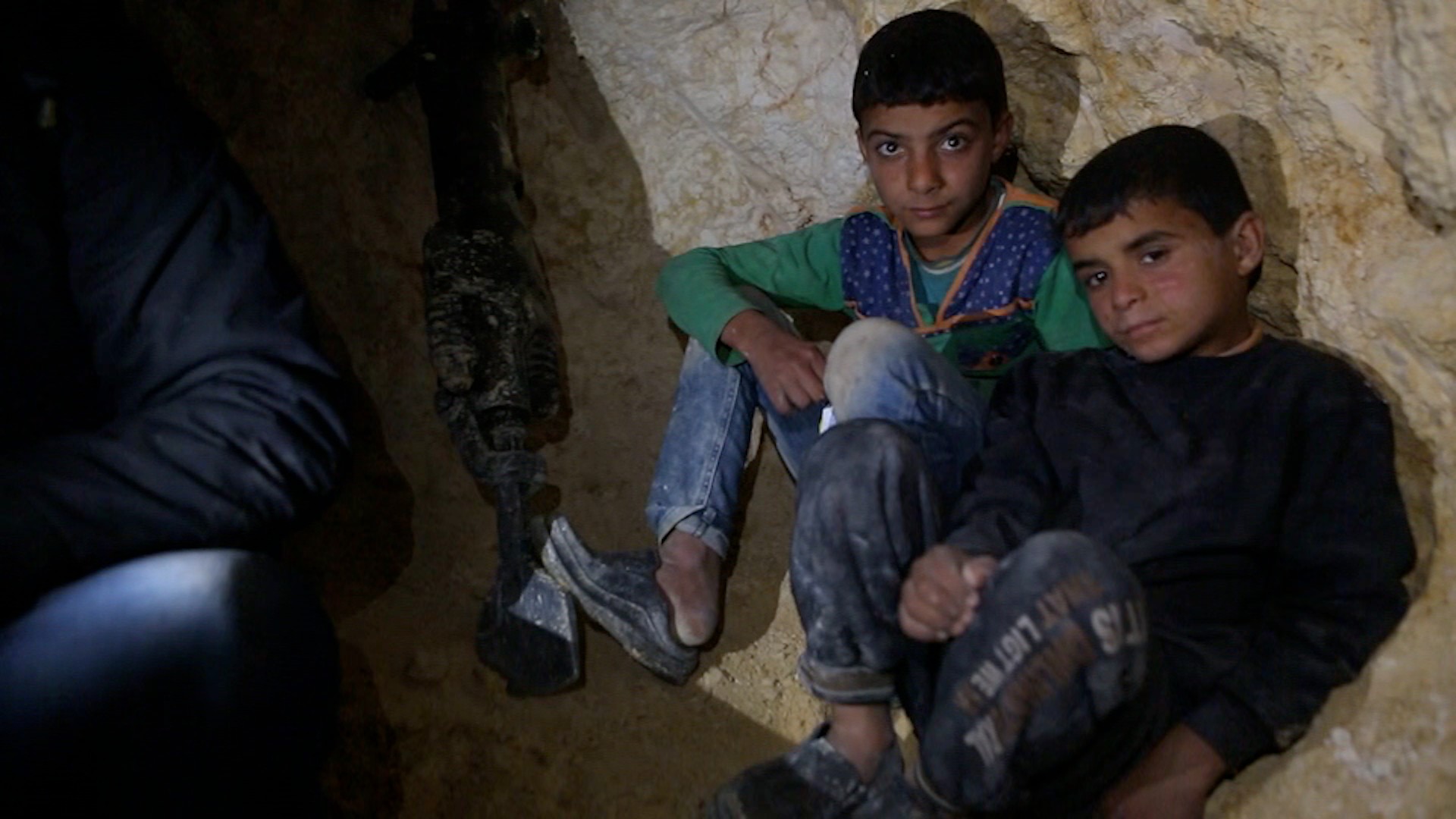 Cover image: U.S. President Donald Trump listens during a roundtable discussion on the Federal Commission on School Safety report in the Roosevelt Room at the White House in Washington, D.C., U.S., on Tuesday, Dec. 18, 2018. (Al Drago/Bloomberg via Getty Images)